Universal Pictures International (UPI) has reached the $3bn ticket sales milestone faster than any other studio in history, obliterating the previous mark set by Fox International in October 2014.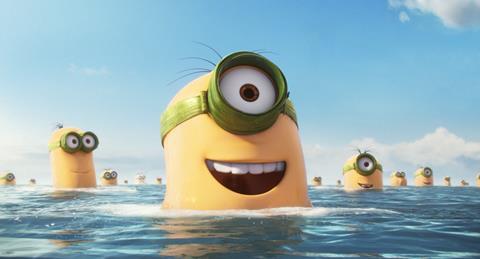 This is the first time in the studio's 103-year history that it has accomplished the feat
"We are proud of our slate and the accompanying success, which is due to the hard work of our filmmakers and our tireless Universal Pictures team," said UPI president of distribution Duncan Clark.
"From our production group, who have been so brilliant at nurturing our home-grown franchises, to the best marketing and distribution teams in the business – both in London and Los Angeles – and our dedicated teams around the world, this year has been a joy for every member of our organisation."
The key drivers have been Fast & Furious 7 on $1.16bn, Jurassic World on $843.9m and counting, Fifty Shades Of Grey on $403.6m, Universal and Illumination's Minions on an early $141.7m and Pitch Perfect 2 on $96.6m.
Minions arrives in a further 25 territories this weekend day-and-date with North America.
In a slew of notable achievements:
Universal currently has three of the top four highest grossing films of the year
The studio's films opened at number one worldwide three times so far this year and have been number one at the international box office for nine weeks – more than any other studio
Minions has scored the highest debut of all time for an animated film in five territories
Jurassic World scored the biggest opening weekend of all time internationally, domestically and worldwide. It ranks number five in the all-time global pantheon and places ninth on the international roster
Jurassic World became the fastest film to reach $1bn worldwide after 13 days
Fast & Furious 7 ranks as the highest grossing film ever in China on $390.8m and the third highest grossing film at the international box office
Fifty Shades Of Grey is the studio's biggest R-rated release.
Still to come from Universal this year are: Trainwreck, Venice Film Festival opener Everest, Steve Jobs, Crimson Peak and Krampus, among others.
In other Universal news, Clarissa Weirick has been named general counsel of the Universal Filmed Entertainment Group. Weirick arrives after 18 years of various legal roles at Warner Bros.