Singaporean filmmaker Anthony Chen is in Busan this year at the Asian Film Academy (AFA) as directing mentor.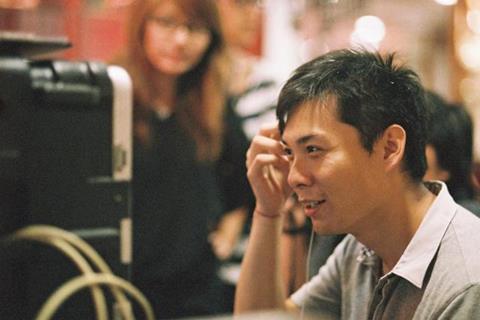 This is his second time at Busan, his first visit having been when his Cannes Camera d'or winner Ilo Ilo played in 2013. He also had a short film, Ah Ma (Grandma), screen at Busan in 2007.
The 11th AFA has Chinese filmmaker Wang Xiaoshuai as dean, Korean filmmaker and director of Busan Film Commission Oh Seok-geun as deputy dean and Polish cinematographer Jerzy Zieliński as cinematography mentor.
They are mentoring 24 fellows from 13 countries who have been in Busan since Sept 24 and who will produce and present two short films at the end of the festival.
How's AFA going? What have you done so far?
It's going well - I do enjoy working with young filmmakers. It's so odd to call them young filmmakers because I'm quite young myself - probably just a couple years older. It's great to have passionate people in a room wanting to make cinema.
I've done a few consultations for two teams on scripts, execution, storyboards for their shorts, and I've done two directing passes with them.
Now they are in full shooting mode. They are not having a lot of sleep, having meetings until 1AM… It's good to see they are working hard.
I've mentored students before on some short projects in Singapore, and I've done masterclasses, panels and sessions at different festivals around the world, but not in such a way. This is the first time I've done this for such a long time - 18 to 19 days, brought here and working with young filmmakers with a specific goal of making shorts.
Your production company Giraffe Pictures has its first film, the omnibus Distance set to open the Taipei Golden Horse Film Festival. Can you talk a bit about what's going on with the company and your next projects?
We are world premiering there and really happy about the news. I can't wait to share the film with audiences in Taiwan and hopefully subsequently all over the world. This is a passion project of mine, directed by three very talented young filmmakers from Thailand, Singapore and China – Sivaroj Konsakul, Tan Shijie and Xin Yukun.
I'm very excited about Kirsten Tan's first feature, Popeye. It's about a middle-aged man in crisis with an elephant on a road trip across Thailand. I've never filmed an elephant before. And in this film, every scene has a huge elephant. We haven't finalized yet, but we have a good script and a talented director, and should start shooting in Thailand in the first quarter [of next year].
Then we are also actively developing Tan Shijie's untitled debut feature. I think it's a strong story, a special story, but not ready to share it yet. I think he's one of the most promising young filmmakers I've seen in our region for a long time.
What about your own directorial projects?
I'm working on a few things. My company is based in Singapore but I myself live in London with my wife. I have two UK projects that are in development with Film Four and we're going through drafts of the scripts.
I'm also writing another feature I'm hoping to shoot back home in Singapore, maybe next year, produced by Giraffe Pictures. I can't say much but it's a female driven film. I've been told by many people that I'm good at crafting female characters, like the maid in Ilo Ilo. Also that I'm also good with children. I tend to have women and children even in my short films.
It's been two years now since Ilo Ilo premiered in Cannes and my hands and feet and whole body are itching to make a film, which is why it's great for me to be involved in something like AFA and Distance - I love going on set, being fired up by the whole process.
What do you see as the challenges of making films in the Asian industry?
I think the challenge right now - particularly for young filmmaker in Southeast Asia, is getting the support, the resources and the funding to make their first and second films. My sense is Asia as a continent, a region, is getting more and more commercial. Probably a lot of industry players would say that's the same around the world but look at China, the numbers, what is happening now.
I see a lot of companies trying to invest a lot of money on filmmakers that haven't had a lot of education or expertise, but they think they can offer a quick return and profit.
A lot of companies and investors are writing off a lot of filmmakers who I feel are really talented and stories that have real talent. "Oh, they are not commercial enough." Or, "not slapstick enough."
If they are allowed to make their first films in a very personal, rigorous way like I did, without any compromise, they might move on to make more accessible films and challenge themselves to make bigger ones. If you look at filmmakers from Ang Lee to Steven Soderbergh, most of them started with making very personal films.
Which is why me and my production partner decided to make this company to nurture talent and to support young filmmakers who wouldn't be offered that sort of opportunity.
Are there advantages in Asia?
With the rise of China and funding from China, with the number of cinemas and slots sort of doubling and tripling, there is an increase in funding and possibilities from that part of the world. For example, Distance was a Singapore-China co-production and the majority of the funding is from China.
I see more and more possibilities to help fund young talented filmmakers so I myself feel I'm quite glad to have in the past two years found a lot of like-minded financiers and supporters who believe in what I want to do, not just with my own work but helping to produce young filmmakers.
As a company, we have found like-minded people who want to make good cinema and films that matter. I hope that's a start.
Because I am really a firm believer - if you look at the careers of a lot of filmmakers from Europe to Hollywood, to big Chinese filmmakers like Zhang Yimou and all that sort, before they made the big commercial works, they all started making small personal independent films – that's how they honed their craft and grew from stature to stature.
What do you think of the role of the Busan film fest in the Asian film industry?
Busan is sort of Asian filmmakers' dream. When you have a film, you want to come here. I was disappointed I didn't get to come here with my short years ago because I was traveling to other festivals. I was glad I could finally come with my first feature film because everyone tells you Busan is the best film festival in Asia.
The great thing about Busan is it's when great cinema and great food come together. Filmmakers meet up, hang out and come together over cinema. And it's a great nurturer of Asian filmmakers' culture.
And I think you really get a sense that BIFF has garnered itself a sort of reputation and credibility because this is the festival that lots of programmers from Europe and other parts of the world outside of Asia come to - they come here to see what the upcoming Asian films are.
This is where all the Asian buyers gather here as well. Last time I was here, I bumped into so many of my distributors including from Hong Kong and Japan. You know literally everyone is in town.