The line-up of the 69th Cannes Film Festival in full.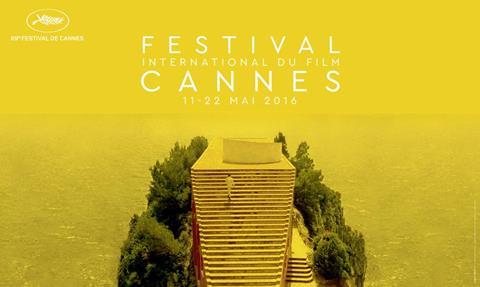 At a press conference this morning, Cannes chief Thierry Frémaux and president Pierre Lescure revealed 49 films selected for inclusion in this year's festival, set to run May 11-22.
The annoncement was delayed by a peaceful protest at the UGC Normandie movie theatre on the Champs-Elysees in Paris. A tweet from the festival said: "Due to an intervention of Entertaintement workers, the announcement of the Selection is slightly delayed. Stay with us!"
As previously announced, Woody Allen's Café Society will open the festival on May 11.
Also previously announced, the competition jury will be presided over by Australian director George Miller, whose Oscar-winning Mad Max: Fury Road received its world premiere at Cannes last year.
Competition
Jury chair: George Miller
American Honey, Andrea Arnold (UK)
Aquarius, Kleber Mendonça Filho (Brazil)
Elle, Paul Verhoeven (Netherlands)
From The Land Of The Moon (Mal De Pierres), Nicole Garcia (France)
Graduation (Bacalaureat), Cristian Mungiu (Romania)
The Handmaiden (Agassi), Park Chan-Wook (S Korea)
I, Daniel Blake, Ken Loach (UK)
It's Only The End Of The World (Juste La Fin Du Monde), Xavier Dolan (Canada)
Julieta, Pedro Almodóvar (Spain)
The Last Face, Sean Penn (US)
Loving, Jeff Nichols (US)
Ma' Rosa, Brillante Mendoza (Philippines)
The Neon Demon, Nicolas Winding Refn (Denmark)
Paterson, Jim Jarmusch (US)
Personal Shopper, Olivier Assayas (France)
The Salesman, Asghar Farhadi (Iran)
Sierra-Nevada (Sieranevada), Cristi Puiu (Romania)
Slack Bay (Ma Loute), Bruno Dumont (France)
Staying Vertical (Rester Vertical), Alain Guiraudie (France)
Toni Erdmann, Maren Ade (Germany)
The Unknown Girl (La Fille Inconnue), Jean-Pierre Dardenne & Luc Dardenne (Belgium)
Out Of Competition
Café Society, Woody Allen (opening film) (US)


The BFG, Steven Spielberg (US)
Goksung, Na Hong-Jin (S Korea)
Money Monster, Jodie Foster (US)
The Nice Guys, Shane Black (US)
Un Certain Regard
Clash (Eshtebak), Mohamed Diab (Egypt) opening film


Inversion (Varoonegi), Behnam Behzadi (Iran)
Apprentice, Boo Junfeng (Singapore)
The Stopover (Voir Du Pays), Delphine Coulin & Muriel Coulin (France)
The Dancer (La Danseuse), Stéphanie Di Giusto (France)
Clash (Eshtebak), Mohamed Diab (Egypt)
The Red Turtle (La Tortue Rouge), Michael Dudok De Wit (Netherlands)
Harmonium (Fuchi Ni Tatsu), Fukada Kôji (Japan)
Personal Affairs (Omor Shakhsiya), Maha Haj (Israel)
Beyond The Mountains And Hills (Me'ever Laharim Vehagvaot), Eran Kolirin (Israel)
After The Storm, Hirokazu Kore-Eda (Japan)
The Happiest Day In The Life Of Olli Maki (Hymyilevä Mies), Juho Kuosmanen (Finland)
Hell Or High Water, David Mackenzie (UK)
Francisco Sanctis's Long Night (La Larga Noche De Francisco Sanctis), Francisco Márquez & Andrea Testa (Argentina)
Dogs (Caini), Bogdan Mirica (Romania)
Pericle Il Nero, Stefano Mordini (Italy)
The Transfiguration, Michael O'Shea (US)
Captain Fantastic, Matt Ross (US)
The Student (Uchenik), Kirill Serebrennikov (Russia)
Midnight Screenings
Gimme Danger, Jim Jarmusch (US)
Blood Father, Jean-François Richet (France)
Train To Busan (Bu-San-Haeng), Yeon Sang-Ho (S Korea)
Special Screenings
The Last Resort (L'Ultima Spiaggia), Thanos Anastopoulos (Greece) & Davide Del Degan (Italy)


Chouf, Karim Dridi (France/Tunisia)


Hissein Habré, A Chadian Tragedy (Hissein Habré, Une Tragédie Tchadienne), Mahamat-Saleh Haroun (Chad)


La Foret de Quinconces,Grégoire Leprince-Ringuet (France)


Wrong Elements, Jonathan Littell (US)


Exile, Rithy Panh (Cambodia)


Last Days Of Louis XIV (La Mort De Louis XIV), Albert Serra (Spain)


Le Cancre, Paul Vecchiali (France)