Takashi Miike, Jeremy Saulnier and Jaco Van Dormael among line-up; Jia Zhangke to receive Golden Coach.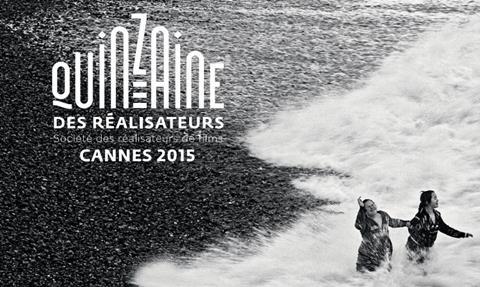 A 17-strong line-up of titles for the 47th Directors' Fortnight, a parallel section of the Cannes Film Festival (May 13-24) run by the French Director's Guild, has been announced by artistic director Edouard Waintrop at a press conference in Paris this morning.
As previously announced, the opening film on May 14 will be In The Shadow Of Women, by Directors' Fortnight habitué Philippe Garrel.
The closing film on May 22 will be Rick Famuyiwa's LA-set comedy drama Dope, a US film first seen at the Sundance Film Festival in January.
Also previously announced was Arnaud Desplechin's My Golden Days and Portuguese filmmaker Miguel Gomes' Arabian Nights, a contemporary re-telling of One Thousand And One Nights that comprises three films spanning more than six hours.
A special screening will be given to Takashi Miike's gangster-vampire hybrid thriller Yakuza Apocalypse: The Great War Of The Underworld. Miike was previously nominated for the Palme d'Or with Hara-Kiri: Death Of A Samurai in 2011 and Shield of Straw in 2013.
Other notable titles in the line-up include Jaco Van Dormael's religious satire The Brand New Testament. The director of Mr Nobody (2009) won Cannes' Golden Camera in 1991 for Toto the Hero and was nominated for the Palme d'Or in 1996 with The Eighth Day.
Allende, Mi Abuelo Allende is a documentary portrait of deposed Chilean president Salvador Allende by his granddaughter Marcia Tambutti; while a starry cast features in Spanish director Fernando León de Aranoa's first English-language film A Perfect Day, a Balkans-set drama starring Benicio Del Toro, Tim Robbins and Olga Kurylenko
US director Jeremy Saulnier, whose Blue Ruin won the FIPRESCI prize at Directors' Fortnight 2013, returns with the world premiere of Green Room, a story of punk rockers battling neo-Nazis starring Anton Yelchin, Imogen Poots and Patrick Stewart.
Also from the US is Chloe Zhao's Native American drama Songs My Brothers Taught Me, which debuted at Sundance.
Zhao is one of three female filmmakers in this year's Directors' Fortnight, the others being the previously mentioned Tambutti and Turkey's Deniz Gamze Erguven, who presents her debut Mustang, a drama about intolerance in a Turkish village.
As previously announced, this year's Carrosse d'Or (Golden Coach) Prize, awarded to a director from the international filmmaking community for the innovative qualities, courage and independent-mindedness of his or her work, goes to Chinese director Jia Zhangke, who will also give a masterclass and screen his underground film Platform (2000).
A total 1,623 feature-length submissions were made to the section - an increase on last year.
While Directors' Fortnight does not have a jury, prizes are awarded from various associations including the international critics' FIPRESCI prize, Art Cinema Award, SACD Prize, Europa Cinemas Label and illy Prize.
First-time filmmakers in all of Cannes' competition categories are in the running for the Camera d'Or.
Directors' Fortnight
OPENING FILM
In The Shadow Of Women, Philippe Garrel (Fra)
CLOSING FILM
FEATURES
Allende Mi Abuelo Allende, Marcia Tambutti (Chile-Mex)
A Perfect Day, Fernando León de Aranoa (Spa)
Arabian Nights, Miguel Gomes (Por)
The Brand New Testament, Jaco Van Dormael (Lux-Fra-Bel)
The Cowboys, Thomas Bidegain (Fra)
Embrace Of The Serpent, Ciro Guerra (Col-Ven-Arg)
Fatima, Philippe Faucon (Fra-Can)
Green Room, Jeremy Saulnier (US)
The Here After (Efterskalv), Magnus von Horn (Fra-Pol-Swe)
Much Loved, Nabil Ayouch (Morr-Fra)
Mustang, Deniz Gamze Ergüven (Fra)
My Golden Days (Trois Souvenirs De Ma Jeunesse), Arnaud Desplechin (Fra)
Peace To Us In Our Dreams, Sharunas Bartas (Lith-Fra)
Songs My Brothers Taught Me, Chloé Zhao (US)
SPECIAL SCREENING
Yakuza Apocalypse : The Great War Of The Underworld (Gokudo Daisenso), Takashi Miike (Jap)
Short films
Blue Thunder by Jean-Marc E. Roy & Philippe David Gagné / 21 min
Calme Ta Joie by Emmanuel Laskar / 24 min
The Broken Past by Martín Morgenfeld & Sebastián Schjaer / 17 min
Kung Fury by David Sandberg / 30 min
Pitchoune by Reda Kateb / 23 min
Trials, Exorcisms by Susana Nobre / 25 min
Pueblo by Elena Lopez Riera / 30 min
A Few Secondes by Nora El Hourch / 16 min
Backyard by André Novais Oliveira / 18 min
Rate Me by Fyzal Boulifa / 15 min
The Exquisite Corpus by Peter Tscherkassky / 18 min