Two Latin American films take home top awards.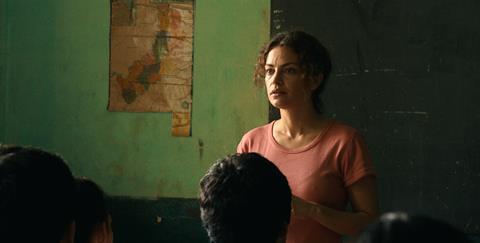 Argentine director Santiago Mitre's Paulina (Patota) has won the Nespresso Grand Prize at the 54th Critics' Week – the Cannes Film Festival sidebar devoted to first and second features.
The film stars Dolorès Fonzi as a promising young lawyer who ditches a hot shot career in Buenos Aires to teach in an impoverished town on the border with Brazil and Paraguay. Brutally attacked by a group of youths shortly after her arrival, she has to decide whether to continue with her mission.
Mitre won the €10,000 prize, which has previously been awarded to Guillermo del Toro, Gaspar Noe and Alejandro Gonzalez Inarritu among others.
Paulina marks Mitre's second film after The Student, which won Locarno's special jury prize in 2011.
Land and Shade (La tierra y la sombra), from Colombian filmmaker César Augusto Acevado, won the France 4 Visionary Award, which rewards "outstanding creativity and innovation" and includes a prize of €4,000.
Acevado's directorial debut centres on an old man who returns to his home in the middle of a sugar plantation to see his son who is gravely ill. He discovers his son's illness is related to pollution caused by the exploitation of the sugar cane and decides to do something about it.
The film also won the SACD (Authors Society) Award, which also includes a €4,000 prize.
Chickenpox (Varicella) by Italy's Fulvio Risuelo won the Sony Cinealta Discovery Prize and €4,000. Risuelo won a Cinefondation award at Cannes last year for his short film Lievito Madre.
The Wakhan Front (Ni le ciel, ni la terre) from French director Clément Cogitore won the Gan Foundation Support For Distribution, which helps distribute a first or second feature in France in an effort to promote new filmmakers.
The film stars Jérémie Renier as a French army captain on a mission along the Afghan border with Pakistan, whose men start mysteriously disappearing in the middle of the night.
Finally, Ramona from Romanian filmmaker Andrei Crețulescu won the Canal+ Award for Short Film, which sees the broadcaster buy rights for the winning film to screen it on TV.
The jury was headed by Israeli actress and director Ronit Elkabetz and comprised director Katell Quillevéré, cinematographer Peter Suschitzky, Toronto programmer Andréa Picard, and film critic Boyd Van Hoeij.
In total, 1,000 features and 1,750 shorts were submitted for consideration.