Daniel Lee's latest feature is based on a novel and screenplay from Uncle Three.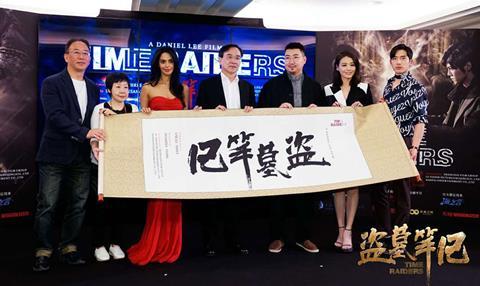 Indian actress Mallika Sherawat has signed up to the cast of Le Vision Pictures' big-budget action adventure Time Raiders, directed by Daniel Lee.
The news was revealed at a press conference in Cannes [pictured].
Based on a best-selling novel written by Uncle Three, the film also stars Jing Boran (Monster Hunt), Lu Han, Ma Sichun and Wang Jingchun.
Uncle Three also scripted and is one of the producers on the film, which tells the story of explorers searching for the secrets of immortality in ancient tombs.
In post-production for a summer 2016 release, the film is co-produced by Le Vision, Shanghai Film Group and NanPai Entertainment.
Time Raiders will be Sherawat's second Chinese movie following Stanley Tong's The Myth (2005), in which she starred with Jackie Chan.