Screen's US editor Jeremy Kay takes the pulse on activity so far at this year's EFM in Berlin.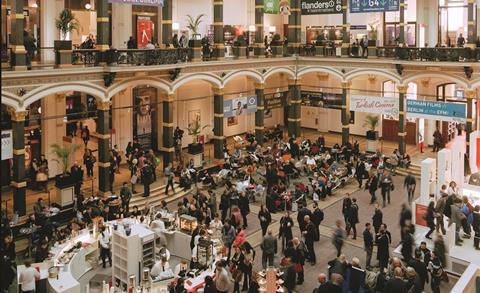 A typically quiet start to the European Film Market (EFM) in Berlin punctuated by one headline-grabbing worldwide buy has only reinforced the belief that this is a tough time to be in the independent business.
While top sellers with shiny packages talk stoically about Brexit and the cyclical nature of production and exchange rates, the deeper lava flow beneath the landscape poses a far more confronting challenge.
MGM's lavish deal with WME Global for worldwide rights to wrestling drama Fighting With My Family – for about $15m or $17.5m depending on who you talk to – has thrown into sharp focus the divide between the haves and have-nots.
Only the studios, Netflix and Amazon Studios can afford the bigger titles and their worldwide deals are making life hard for international distributors. The overpaying in evidence at Sundance has segued into unreasonable pricing levels in Berlin – the ask on US rights for Studiocanal's coveted Hard Powder is reportedly $17.5m.
It is nigh on impossible to get a seat at the table for an independent distributor without the resources to match the heavyweights or acquire at script stage.
Still, there is plenty of less ostentatious business to be done on more modest packages and of course this is a year-round business now, so deal-flow at markets like this should not be taken too literally as a gauge of appetite or ability. It is also worth bearing in mind that most distributors have filled their 2017 pipelines and are looking at 2018 and beyond.
To compound things, the digital titans are staking claim to the arthouse space. Amazon Studios has the appetite and taste to become the most deep-pocketed arthouse buyer on the planet and it may not be alone in that ambition. Netflix is in Berlin looking for territory pick-ups and is circling Sundance entry My Happy Family from Georgia. The eastern European country is enjoying its moment in the sun and Rezo Gigineishvili's Panorama selection Hostages is already one of the more buzzed-about films in town.
Beyond that, the chatter is all about Donald Trump. Attending Berlinale talent like Django star Reda Kateb, competition juror Diego Luna and Richard Gere have not shied away from expressing their concerns in this most political of festivals.
It remains to be seen whether the US president's ban on certain countries, and by extension their films and filmmakers, will be in effect by Cannes. The question for independent buyers who cannot adapt and invest in their content is, will they be excluded from the film business?