Bong Joon Ho's black comedy Parasite has finished top of the Screen Cannes 2019 jury grid, with an average score of 3.5 from 10 critics.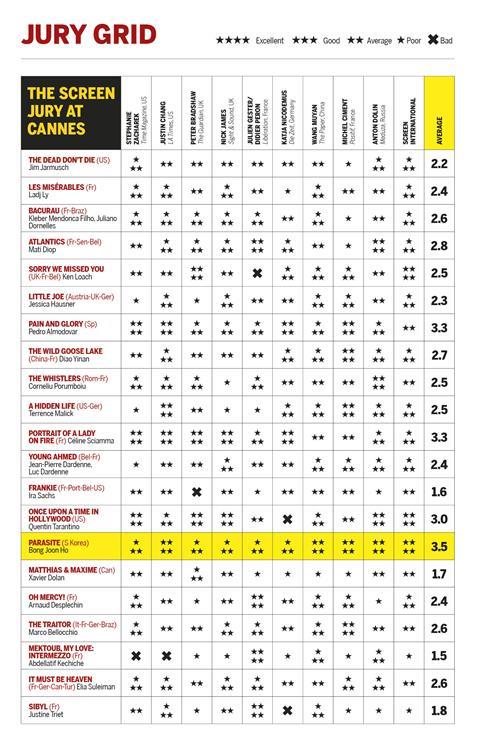 The film, which premiered on Wednesday (May 22), was not matched by either of the final two films to take their spots on the grid.
Elia Suleiman's It Must Be Heaven received decent scores from all 10 critics, becoming the only film this year to receive solely twos (average) and threes (good), for a mean score of 2.6.
The film explores life in exile, with Suleiman playing a man who escapes Palestine for a new beginning, only to encounter the same problems as back home.
The score exactly matches that of Suleiman's last Competition title, 2009's The Time That Remains, even recording exactly the same number of twos and threes.
The closing Competition film, Justine Triet's Sibyl, fared less well, with a 1.8 average coming in as the fourth-lowest of this year's grid.
It had its admirers, in the shape of threes from the LA Times' Justin Chang and The Paper's Wang Muyan, and a four from Julien Gester and Didier Peron of Libération. However more scores were below average, including four ones (poor) from The Guardian's Peter Bradshaw, Positif's Michel Ciment, Meduza's Anton Dolin and Screen's own critic, and a zero (bad) from Die Zeit's Katja Nicodemus.
Sibyl reunites Triet with her Victoria star Virginie Efira in the role of a jaded psychotherapist with aspirations to become a writer. Adèle Exarchopoulos plays a troubled young actress who is one of her patients.
Parasite takes the number one ranking as Bong's highest rated film on the grid, ahead of 2017's Okja (2.3).
It is slightly behind Burning's all-time record score of 3.8 from last year, but does mark the second year in succession that a South Korean film has topped the grid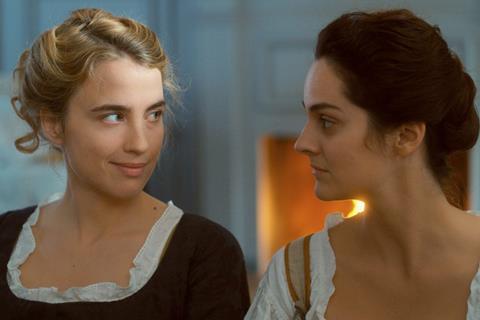 Second place is a tie between Pedro Almodóvar's Pain And Glory, and Céline Sciamma's Portrait Of A Lady On Fire with 3.3 each, while Quentin Tarantino's Once Upon A Time… In Hollywood finishes fourth with 3.0.
At the other end of the table, Abdellatif Kechiche's sequel Mektoub, My Love: Intermezzo finished bottom with a 1.5, just below Ira Sachs' Frankie with 1.6 and Xavier Dolan's Matthias & Maxime with 1.7.
The average score across all titles on this year's grid comes out as 2.5, a mark between 'average' and 'good', and slightly up on last year's 2.4.
Have you completed your Screen Cannes 2019 jury grid poster? How about filling in your own scores, and predicting the Palme d'Or winner? Share your results with us at @screendaily on Twitter, Facebook and Instagram, with the grid image available to print here.
Also, be sure to follow the ceremony tonight with Screen, on the site here and on Twitter.