This year will mark my 10th to select Screen International's Stars of Tomorrow after Patricia Dobson started the young talent initiative in 2004. Dobson produced six issues which included the three stars in yesterday's Screen Talks – David Oyelowo, Andrea Riseborough, and Noel Clarke.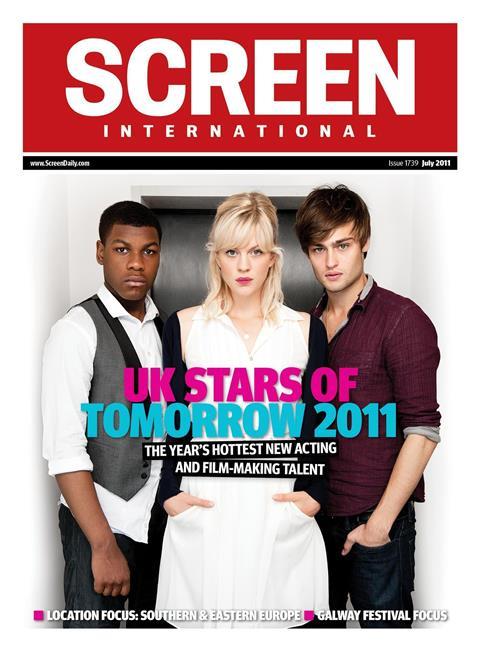 There have been almost 300 stars chosen since 2011; thousands of fresh faces (this year alone there have been over 500 submissions). The sense of time passing was reinforced by John Boyega's picture on the front page of several newspapers this week: the shoot for Stars of Tomorrow 2011, where he appeared on the cover, was my first. He was 18.
As the pictures from London's Black Lives Matter protest in Hyde Park attest, his dazzling, peculiar, covetable star quality – the kind you can't manufacture in an expensive drama school – has, if anything, grown over the years. 2011 was a time when it was still generally accepted that to be a "proper" actor, you needed the training, the network, that comes from a certain kind of background; the UK film business was, and to a great extent remains, upscale, white, confident, privately educated – grammar school, perhaps, but almost always followed by a good university. (The lack of money at entry level is also an effective deterrent to social mobility within the ranks.) It's an industry which tends to duplicate whatever was successful last – and that didn't include films with black stars. And it's institutionally resistant to change.
Hollywood film stars spend years learning how to say precisely nothing, especially on the tinderbox of race relations.
Working-class John, from Peckham, of Nigerian heritage and the son of a minister, blended in quietly during the shoot but he also stood out. He was extremely focused, polite and attentive. He knew then and he knows now that he can't afford to make mistakes if he's going to realise his full potential. It was no surprise when he landed the Star Wars role after exhaustive screentesting, making him a movie star in a huge franchise, perhaps the biggest of them all. And yet he has spoken out. Hollywood film stars spend years learning how to say precisely nothing, especially on the tinderbox of race relations.
That's why John Boyega is a hero. "Now is the time," he said. "And I ain't waiting."
The outspoken Clarke, who has battled the system over and over again – and won – paid tribute to Boyega on Screen Talks, and guessed that the young actor was likely to keep his career, despite his fears. He and Oyelowo – both aged 44 – believe they would not have worked again had they said something similar at his age.
All three Screen Talk guests have moved into producing as a way of taking control of the stories they tell. Oyelowo, who left the UK in order to forge a significant career in the US, has spoken eloquently in the past of the limited way in which the black experience is, or has been, depicted onscreen in the UK. (That, coincidentally, will take a giant step forward when Michaela Coel's black British drama/comedy I May Destroy You premieres on BBC1 on Monday night (June 8); it will be a game-changer. And Steve McQueen's Small Axe also holds out the hope for more where that came from.)
It's difficult, says Oyelowo, to get out of bed in these traumatic times: living through a pandemic which takes its toll disproportionately on BAME communities, the cruel death of George Floyd and the outpouring of hurt and anger in its wake. In the UK, many of these communities are the same ones cruelly targetted by Windrush. Systemic racism, said Oyelowo, "permeates every single industry – ours particularly." Nobody in the UK film business, much like those who work at Screen International, would want to be racist. But implicit bias is insidious. ("Not seeing it," says Clarke, "it's not good enough. It's not acceptable.")
In the ten editions of Stars of Tomorrow I've put together, and the six years before that, Screen International has watched hundreds of young actors, writers and directors step out into a tough system. (The names of those in the industry who support the outsiders, who help the ones who look different or come from a challenging background, are always the same, by the way.) And the progression of black talents has been slow. For actors, it has almost always come via the US (take young Daniel Kaluuya, from 2009, or Letitia Wright, as well, who came to us the year after John Boyega, when she was 16, or Cush Jumbo, back in 2014).
Now, Oyelowo says, is "a breaking point – where you have to speak out". He has also called for the British industry to stand proud of everything that it is, for the Baftas to cease being a road stop for Hollywood on the way to the Oscars. Oyelowo, Clarke and Boyega think the time is upon us, "the change is with us".
Things are bad, and Oyelowo isn't the only one having trouble getting up in the morning. But this sounds like an opportunity: a galvanising, exciting chance for a future that we at Screen International all want to be part of.
#blacklivesmatter


Screen International's chief critic and reviews editor, based in the UK