Screen profiles some of the hottest projects available to buyers at the American Film Market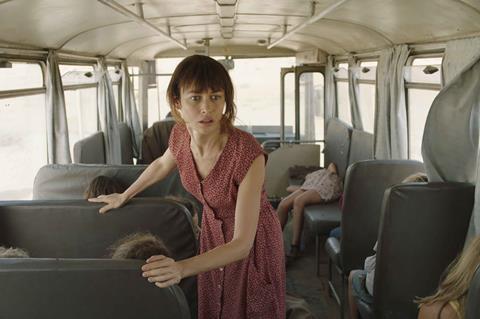 Read more:
AFM 2017: The buzz titles from North America
AFM 2017: The buzz titles from the UK
France
Wild Bunch will launch sales on two animated features: Ari Folman's Where Is Anne Frank?, an adaptation of his own graphic novel, and Foxy Trotter, about the psychedelic adventures of a female rock photographer in 1970s Los Angeles, which Natalie Portman is producing. The actress-producer will hit the market for a special presentation. New live-action titles include Pablo Trapero's La Quietud and Régis Roinsard's The Translators.
Returning to AFM for the first time in years, Daniela Elstner's Doc & Film will launch two US-focused feature documentaries. Alina Skrzeszewska's Game Girls is about women living in extreme poverty on Skid Row in Los Angeles, while The Penalty is an exploration of the human cost of the US's death penalty by filmmakers Will Francome and Mark Pizzey.
Playtime (formerly known as Films Distribution) will show first images for Fred Grivois' action drama 15 Minutes Of War, based on a true story about the rescue by elite French forces of 31 schoolchildren taken hostage by Somalian rebels in Djibouti in 1976. The company will also be selling Spanish-language drama Gun City, which follows a police inspector's efforts to track down a stockpile of stolen weapons in a politically charged 1920s Barcelona.
TF1 Studio is launching Daniel Roby's adventure film Just A Breath Away, which stars Romain Duris and Olga Kurylenko as parents battling to get their sick daughter out of a disaster-stricken Paris. Other new titles on the slate include In Your Hands, about a young troublemaker with a rare talent for the piano. The French outfit will also show first images for Remi, Nobody's Boy and The Extraordinary Journey Of The Fakir.
Elle Driver will kick off sales on Road Of The Dead, directed by Matt Birman, a longtime collaborator of the late George A Romero, from a screenplay they wrote together. It will also show first images of Eva Husson's Girls Of The Sun. Golshifteh Farahani stars in the tale of female Kurdish fighters.
Gaumont will hold a market premiere of Alain Chabat's seasonal comedy Christmas & Co, featuring the actor-director as Father Christmas in a race against time to save the day after his trusty elves keel over with a mysterious bug. It will also launch sales on Jean-Francois Richet's The Emperor Of Paris, starring Vincent Cassel as Vidocq, the real-life 19th-century criminal-turned-criminalist who inspired Victor Hugo and Edgar Allan Poe.
Celluloid Dreams will show first images from Sébastien Marnier's high-school thriller School's Out, starring Laurent Lafitte as a teacher who gets on the wrong side of a group of nihilistic students. Hengameh Panahi's outfit will also consolidate sales on Venice titles Custody, Lean On Pete, The Sower and Nico, 1988.
New titles on WTFilms' slate include real-life drama Through The Fire, starring Pierre Niney as a former fireman left horribly disfigured while saving his colleagues, and cult director Quentin Dupieux's retro comedy Keep An Eye Out with Benoit Poelvoorde.
At its first AFM, Charades will launch sales on Sarajevo-set drama Sympathy For The Devil, starring Niels Schneider as the late French war correspondent Paul Marchand; Chilly Gonzales documentary Shut Up And Play The Piano; and feature-length animation The Queen's Corgi by Ben Stassen.
Indie Sales brings to market Adil El Arbi and Bilall Fallah's Belgium-set drug-dealing thriller Gangsta.
Hot titles on the mk2 films slate include Stéphane Brizé's social drama At War; Christophe Honoré's bittersweet semi-autobiographical love story Sorry Angel; and Eric Khoo's culinary coming-of-age tale Ramen Shop.
Other Angle will launch sales on Daniel Auteuil's comedy-drama The Other Woman, about a man who starts fantasising about leaving his wife to make a fresh start with a hypothetical new love. The company will also show first images from Xavier Gens' stag-party comedy Budapest.
Kinology will have market premieres for Pascal Laugier's horror film Incident In A Ghost Land, starring Crystal Reed and Anastasia Phillips as two girls whose personas are changed forever by a traumatic childhood event, and Xavier Gens' sci-fi adventure Cold Skin. The company will also show first images from Terry Gilliam's long-awaited The Man Who Killed Don Quixote.
Recent additions on the Pathé International slate include Mario Martone's Capri-Batterie, about a group of northern Europeans who set up an artists' commune on the island of Capri just as Italy is about to enter the First World War.
EuropaCorp will screen Olivier Marchal's Carbon, starring Benoit Magimel, which recently world-premiered in Busan, and Fabrice Eboué's comedy Coexist. It may also have first images for Taxi 5, submarine drama Kursk and Benoit Jacquot's Eva, starring Gaspard Ulliel as a young writer who becomes obsessed with the mysterious Eva, played by Isabelle Huppert. All three films are in post-production.
Highlights of BAC Films' slate include Babak Jalali's US-set Land, about a Native American family dealing with the alcoholism and death of one of its sons while on military service in Afghanistan.
The Bureau Sales is launching Harry Wootliff's debut feature Only You, starring Laia Costa and Josh O'Connor as a couple who meet and quickly decide to conceive a child together. But their relationship is thrown into question when a baby does not arrive. The slate also features San Sebastian titles Sollers Point and So Help Me God.
Versatile unveils South African director Sibs Shongwe-La Mer's Sao Paulo-set thriller The Sound Of Animals Fighting about two brothers who flee South Africa for Brazil after a close friend is killed on a decadent night out. It stars Emile Hirsch and Alice Braga.
SND introduces the market to Christian Duguay's adaptation of Jack London's The Call Of The Wild, which is due to start shooting in Alberta early next year. It is based on a screenplay by Juliette Sales and Fabien Suarez.
Le Pacte continues sales on Dario Albertini's Venice title Manuel, about a young man who, after spending most of his childhood in care, finds himself responsible for his mother when she is released from prison.
Titles on the Studiocanal slate include Laurent Tirard's 1809-set comedy-drama Le Retour Du Héros, starring Jean Dujardin as a sea captain opposite Mélanie Laurent as the sister of his fiancée. She writes heroic letters to her sister from the captain to save her from depression after he is believed to be lost at sea. But then he returns.
Germany
Beta Cinema is giving its first big market push to Trautmann, about German soldier Bert Trautmann, who was captured during the Second World War and became a sporting hero after playing in the FA Cup final for Manchester City with a broken neck. Beta has a promo for the film, which stars David Kross and Freya Mavor. Other new market titles include Eran Riklis's thriller Shelter, Aku Louhimies's Unknown Soldier and Iram Haq's acclaimed What Will People Say.
Arri Media is coming to Santa Monica with a new focus on genre fare underlined by titles such as conspiracy thriller Lockdown and Oliver Kienle's psychological drama Four Hands. The latter is about a young woman trying to get over both the recent death of her sister and the trauma of witnessing the killing of her parents when she was a child. Other films on Arri's slate include Tim Trageser's family-oriented comedy-drama Help, I Shrunk My Parents and Manuel Flurin Hendry's Mr Moll & The Chocolate Factory. The company will also screen 30 minutes of animated feature Ploey — You Never Fly Alone, which should be ready for the European Film Market in February.
Global Screen is giving market premieres to two animated features. One is Wolfgang and Christoph Lauenstein's Luis And The Aliens, the story of a 12-year-old boy who befriends three awkward aliens. The German outfit's second animated feature is Capt'n Sharky, a big-screen version of the children's books. Global's live-action features include Whatever Happens starring Sylvia Hoeks. The company will also hope to entice buyers with action movie Berlin Falling, starring Tom Wlaschiha (Game Of Thrones).
The Match Factory is focusing on its selection of six titles contending for the foreign-language Oscar, among them Fatih Akin's In The Fade (Germany's selection), Samuel Maoz's Israeli drama Foxtrot and Argentinian filmmaker Lucrecia Martel's Zama. Other titles presented at AFM fresh from their Tokyo International Film Festival screenings are Margarethe Von Trotta's Forget About Nick and Semih Kaplanoglu's drama Grain, starring Jean-Marc Barr.
Sola Media has been adding to its slate. On the eve of AFM, the company struck a deal to represent computer-animated feature Hodja And The Magic Carpet in multiple territories (excluding Scandinavia and the Baltics). Directed by animation veteran Karsten Kiilerich (The Little Vampire), the film is produced by M&M and A Film Production. Sola Media has also come on board to handle sales on Space Chicken in all territories excluding Latin America and the US. Based on the comic strip Condorito, the film is directed by animation veterans Alex Orelle and Eduardo Schuldt. Its Latin American release is being overseen by 20th Century Fox.
Media Luna has new pick-up Virginia Casta, a Colombia-made romantic drama about a young woman so upset by a break-up that she tries to commit suicide, but ends up as an infamous social-media personality instead.
Picture Tree International will be holding private screenings of action comedy Hot Dog, starring Til Schweiger, in advance of its German release through Warner Bros. The company will also hold the international market premiere of Teenosaurus Rex, the teen movie that has already proved a hit in Germany. Picture Tree will continue pre-sales on Clara van Gool's Henry James adaptation The Beast In The Jungle. Other titles on the slate include Alen Drljevic's Men Don't Cry and Swedish family film Monky.
Italy
True Colours' AFM slate is fronted by new acquisition The Place. The Paolo Genovese-directed drama tells the story of a mysterious man who grants people wishes in exchange for favours. The company is also showing a first promo of Francesca Archibugi's Couch Potatoes, a comedy about family relationships, as well as first images from Jacopo Rondinelli's motocross thriller Ride, written and produced by Fabio Guaglione and Fabio Resinaro (Mine) with Lucky Red.
Intramovies is kickstarting sales on feelgood drama Radiogram, about a father searching for a radio in 1971 communist Bulgaria so his son can listen to rock 'n' roll. The Rome-based outfit is also selling spoof comedy Wacky Heroes, about two brothers with no special powers who become superheroes for hire in Naples. A pair of Italian films that premiered at Venice Film Festival round out its slate: The Ark Of Disperata, a comedy by Edoardo Winspeare; and Equilibrium, a drama about a smalltown priest fighting the local mafia.
Fandango is starting sales on Where The Shadows Fall. Directed by Valentina Pedicini (It Was Yesterday), the film is a dark story inspired by true events around the life of poet Mariella Mehr and the disappearance of 700 children of the nomadic Yenish people.
Minerva Pictures will be in Santa Monica with Killer Mosquitos, which Sky Television is producing. The B-movie horror centres on a group of youngsters trapped in a cabin by the titular insects.
FilmExport is launching two Argentinian titles: The Godmother, a black comedy about a housewife who becomes a killer for hire; and Soldiers Only Known By God, about three boys whose lives are changed by the 1982 Falklands War.
Spain
With a strong Latin American slate, Latido Films is showcasing Laura Mora's Killing Jesus, a Colombia-Argentina co-production that premiered in Toronto and won prizes in San Sebastian. Set in Medellin, the film is a tale of revenge about a woman seeking her father's assassin. The Madrid-based company is also selling The Last Suit, a Spain-Argentina co-production directed by Pablo Solarz and starring Angela Molina and Miguel Angel Sola. The film tells the story of a Holocaust survivor living in Buenos Aires who decides to travel to Poland in search of the man who saved his life.
Film Factory Entertainment's AFM line-up includes Sarah's Notebook and The Warning, both in post-production. Sarah's Notebook stars Belen Rueda (The Orphanage) as a woman who travels through a Congolese jungle controlled by warlords in search of her missing sister. Norberto Lopez Amado is directing from a script by Jorge Guerricaechevarria (Cell 211). The latter also co-wrote the screenplay for supernatural thriller The Warning with Chris Sparling (Buried). The Spanish sales outfit is also introducing Gold, a period film about the conquistadors' obsession with El Dorado. Agustin Diaz Yanes (Alatriste) is directing and the cast includes Barbara Lennie, Jose Coronado and Raul Arevalo. The film premieres at this month's Seville European Film Festival.
Filmax International's slate again demonstrates its expertise in the horror genre, with the company screening market premieres of Muse, directed by [Rec]'s Jaume Balaguero, and Errementari — The Blacksmith And The Devil, the feature debut of Paul Urkijo Alijo that was co-produced by Alex de la Iglesia. Finished films on the Filmax slate include Cannibal director Manuel Martin Cuenca's black comedy The Motive, which won the Fipresci prize in Toronto before playing in San Sebastian and Busan.
Scandinavia
TrustNordisk has just boarded sales for Erik Poppe's U, a drama told mostly in real time about Anders Breivik's murderous assault on Utoya Island, Norway in 2011. The company also comes to market with five films in production or post.
Anne Sewitsky's Queen Of Ice is an $8.4m biopic about famed Norwegian figure skater-turned-actress Sonja Henie; Marius Holst's Congo is inspired by the true story of two Norwegians (played by Aksel Hennie and Tobias Santelmann) accused of murder in the Democratic Republic of Congo in 2009; Twin is Kristoffer Metcalfe and Erika Calmeyer's drama-thriller about what happens when a twin steals his more successful brother's identity; Pernille Fischer Christensen's Becoming Astrid is the story of the formative younger years of Pippi Longstocking author Astrid Lindgren; and Swoon, from The Bridge creators Mans Marlind and Bjorn Stein, is a love story set against the backdrop of two rival amusement parks. TrustNordisk's promo reel includes footage of the first four titles and mood images for Swoon.
LevelK has three completed films: family animation The Incredible Story Of The Giant Pear, which opened to strong numbers in Denmark on October 12; Christian Tafdrup's modern relationship story A Horrible Woman, which had its premiere at Warsaw Film Festival; and Haunted, a Norwegian horror film that will be released locally on November 14 on 230 screens.
SF Studios has added Sunny Side, a film based on the Swedish hit TV comedy of the same name, to its slate. The 101-Year-Old Man Who Skipped Out On The Bill And Disappeared director Felix Herngren co-directs with Mans Herngren. The line-up also includes children's films Casper And Emma At The Theatre and Casper And Emma Go Treasure Hunting, and action thriller Kings Bay. With 2018 marking the centenary of Ingmar Bergman's birth, SF Studios represents more than 40 of the Swedish filmmaker's works.
The Yellow Affair has three titles currently in post-production: Tony Simpson's family comedy Kiwi Christmas, about what happens when Santa Claus visits New Zealand; Kerstin Polte's German drama Cloud Whispers, about a 60-year-old woman who wants to break free from her old life; and Simo Halinen's Finnish suspense drama East Of Sweden, starring The Ones Below's Laura Birn. The sales outfit is also hosting a market screening of Maya Dardel, a drama starring Lena Olin and Rosanna Arquette.
Further territories
The Russians will be out in force in Santa Monica. Mars Media is launching its international sales division with footage from T-34, an epic Second World War adventure written and directed by Aleksey Sidorov and co-produced by Len Blavatnik.
Animation studio Licensing Brands is also launching an international sales division at AFM, with Juraj Barabas on board as president of international distribution. The company, established in 2014 in Moscow by veteran producers and distributors Roman Borisevich, Vasily Rovensky and Maxim Rogalsky, has five feature animations in the pipeline. The company will be screening footage from The Big Trip 3D, the tale of a baby panda delivered to the wrong address. It is written by Billy Frolick, whose credits include Madagascar. Other forthcoming projects include Two Tails and Princess In Wonderland.
Central Partnership is offering animated feature The Fixies: Top Secret as well as sports drama Three Seconds, about the Soviet basketball team beating their supposedly invincible US opponents at the Munich Olympics in 1972.
Russian World Vision will present dark family drama Strange, directed by Svetlana Sazonova, and fiery romantic comedy-drama About Love 2, the cast of which includes John Malkovich and Fyodor Bondarchuk.
Pim Van Collem's Dutch Features Global Entertainment will introduce comedy Bella Donna. Directed by Jon Karthaus, the film follows three women who try to complete their friend's bucket list after she dies. Dutch Features will also host a market premiere screening of rowdy comedy Ron Goossens: Low-Budget Stuntman, and continue sales on cyber thriller Silk Road, directed by Mark de Cloe and starring Olivia Lonsdale as a 20-year-old who becomes a successful drug dealer. The company also has two new titles available in AFM's Screenings On Demand platform: Flemish drama Speechless and Marc Conen's English-language feature debut Sunset Contract, in which the devil tempts a businessman into signing a contract.
Austrian outfit EastWest Film Distribution is presenting black comedy Killing God, about a gatecrasher at a New Year's Eve party who claims to be the Almighty.
HNFF World Sales, the sales arm of the Hungarian National Film Fund, has action drama The Whiskey Bandit from Nimrod Antal, and Ferenc Torok's historical drama 1945.
Serbia's Soul Food is presenting Requiem For Mrs J, the black comedy from Bojan Vuletic, which is representing the country in the foreign-language Oscars race.
Warsaw-based Sonovision is bringing crime thriller White Titanium to AFM.
Just before the market, Australian outfit Odin's Eye took worldwide sales rights to US project Deadtectives, a comedy-horror from Daniel Posada (producer of TV's El Chapo) along with Bad Idea's Jason Tamasco and Jerry Careccio. Martha Higareda and Chris Geere star in the feature debut of writer and director Tony West.
Read more:
AFM 2017: The buzz titles from North America
AFM 2017: The buzz titles from the UK