As the 2018 American Film Market kicks off, Screen highlights some of the buzziest projects being offered by international sales companies.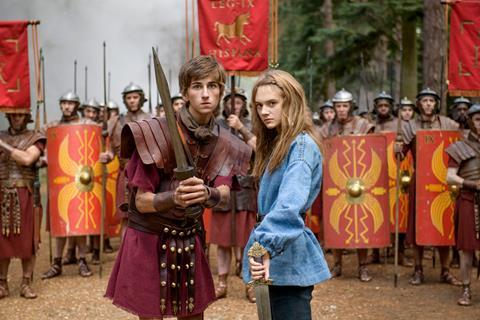 Embankment Films is now in production on Military Wives, Peter Cattaneo's story about a military wives choir starring Kristin Scott Thomas and Sharon Horgan. London and Los Angeles-based 42 is producing with Tempo Productions' Piers Tempest. CAA is co-representing the US sale, while Lionsgate has taken UK rights.
Mister Smith Entertainment is launching sci-fi thriller Haven — Above Sky to buyers at the market. The film, which began production last month, will star Nora Arnezeder and Iain Glen in a story set after a global catastrophe that has wiped out most of humanity. Tim Fehlbaum is directing, with German outfit Constantin Film producing and Roland Emmerich as an exec producer.
The Song Of Names is HanWay Films' buzz title at this market. Francois Girard directs Tim Roth and Clive Owen in the story based on Norman Lebrecht's novel, which follows a man who discovers a musical clue that sheds light on the disappearance of his friend when they were boys in wartime London. Currently in production, the film is shooting across London, Budapest, Treblinka, Montreal and New York.
Altitude Film Sales has Horrible Histories: The Movie — Rotten Romans, the feature adaptation of the popular children's book and TV series that Altitude is producing in-house. Nick Frost, Craig Roberts and Kim Cattrall star, with Dominic Brigstocke directing. Altitude will also distribute in the UK and Ireland in partnership with Lorton Entertainment.
Bankside Films will be showing a promo for Normal People, the Northern Ireland-set love story starring Liam Neeson and Lesley Manville. The film tells the tale of a couple dealing with the wife's breast-cancer diagnosis and treatment. Lisa Barros D'Sa and Glenn Leyburn are co-directing. CAA is representing US rights.
Rocket Science has Resistance currently in production and will be sharing first images. Written and directed by Jonathan Jakubowicz, the film stars Jesse Eisenberg, Bella Ramsey and Matthias Schweighöfer in the story of a group of Jewish boy scouts who worked with the French Resistance to save the lives of 10,000 orphans during the Second World War.
Also in production is Dirt Music, which Cornerstone Films is bringing to AFM. Kelly Macdonald, Garrett Hedlund and David Wenham star in the haunting love story set against the backdrop of Western Australia's evocative landscape, which was adapted from Tim Winton's Man Booker-prize shortlisted novel. Universal Pictures will distribute in Australia and New Zealand.
Protagonist Pictures is now in post-production on How To Build A Girl, the adaptation of Caitlin Moran's novel directed by Coky Giedroyc. Beanie Feldstein stars as an opinionated and overweight teenager who leaves her hometown to reinvent herself as a bad-ass and adventurous music critic.
WestEnd Films brings its buzz title The Banishing to the AFM. Christopher Smith directs the story of a young reverend, his wife and daughter who move into a manor with a horrifying secret.
Shooting wrapped prior to the market on New Zealand gang film Savage, on which Film Constellation is handling sales. Jake Ryan, John Tui and Chelsie Preston Crayford star in the film, which is based on real-life stories of New Zealand's fearsome street gangs of the 1960s-1980s. Sam Kelly is directing.
STXinternational's buzz title at AFM is UglyDolls, the first entry in what is envisioned to be a franchise of animated features. Kelly Asbury is directing and Robert Rodriguez is producing the project, which is based on the toy brand. The voice cast includes Kelly Clarkson, Blake Shelton, Emma Roberts and Nick Jonas. The film is an STX Entertainment production and the company will also handle US distribution.
Independent Film Company has sci-fi Archive, the feature directing debut of Gavin Rothery, who was the concept designer on Duncan Jones' Moon. Theo James and Stacy Martin star in the film about a scientist working in a remote facility developing humanoid androids, whose secret motive is to be reunited with his dead wife. The project begins shooting this month in Hungary.
Horror film Z is in post-production for AMP International. It is a collaboration between writer/director Brandon Christensen and writer/producer Colin Minihan and is about a family that finds itself terrorised by the eight-year-old son's imaginary friend. ICM is representing rights in North America.
Great Point Media has William McGregor's Gwen, fresh from its premiere in Toronto's Discovery strand. Starring Eleanor Worthington-Cox, the film is a period piece set in rural Wales following the fates of a mother and two young daughters plagued by a series of ominous events on their hillside farm. Maxine Peake also stars.
GFM Films has Saint Seiya: Knights Of The Zodiac, a superhero-style live-action film based on the Japanese Saint Seiya franchise, which has generated $1.1bn to date through its IP across TV series, manga and licensing. The project will be directed by Tomek Baginski, with Toei Animation and A Really Good Film producing. It is in pre-production with an expected start date of late spring 2019.
Completed Irish western Never Grow Old is Metro International's buzz title at this AFM. John Cusack, Emile Hirsch and Déborah Francois star in writer/director Ivan Kavanagh's story of an undertaker who faces a moral dilemma when a ruthless gang of outlaws terrorises his sleepy frontier town.
Evolutionary Films is handling There's A Hole In My Bucket. The feature documentary is made by Royd Tolkien, the great-grandson of The Lord Of The Rings author JRR Tolkien, and is about his journey to complete a bucket list of 50 challenges created for him by his brother Mike, who died after a battle with motor neurone disease. The film is narrated by Benedict Cumberbatch.
SC Films is screening Legend Of Hallowaiian in the market. The feature animation, set over the course of one Halloween evening on the islands of Hawaii, features a voice cast of Mark Hamill, Noah Schnapp and Vanessa Williams. Viva Pictures has North America rights.
Timeless Films will be selling Jungle Beat The Movie at this market. From writer/director Brent Dawes, the animated feature, currently in production, is about a group of jungle animals visited by an alien that has been sent to conquer them.
Goalpost Film is handling sales on Ben Wheatley's Happy New Year, Colin Burstead, which premiered at this year's BFI London Film Festival. The film centres on a man who hires a lavish manor for his extended family to celebrate New Year. BBC Films backed the production, and the broadcaster has retained UK rights.
Documentary specialist Dogwoof has Without Compromise, Reiner Holzemer's portrait of fashion designer Martin Margiela, which is now in production.
Film Seekers has newly signed comedy I Love My Mum from Spanish writer/director Alberto Sciamma. The film has a European ensemble cast featuring Kierston Wareing, Dominique Pinon, Aida Folch and former soccer star Frank Leboeuf. It tells the tale of a mother and her worried son who must find their way back to England after waking up in a shipping container in Morocco wearing only their pyjamas.
Moviehouse Entertainment has A War Story, John Laing's New Zealand drama about Pulitzer Prize-winning CNN correspondent Peter Arnett's mission to locate and interview the then little-known Osama bin Laden.
Parkland Pictures has Titanium White, Piotr Smigasiewicz's crime thriller about an art researcher who, while surveying the final works of Michelangelo Caravaggio, discovers a series of criminal events has taken place. Piotr Adamczyk and Alessandra Mastronardi star in the film.
Cinestaan Film Company is handling sales on Aasha The Street Dog, which is now in post-production. The live-action all-animal family feature, set on the streets of Delhi, is directed by Frederik Du Chau. The English-language feature will be delivered in the second quarter of 2019.
Carnaby International is selling Rise Of The Footsoldier 4: Marbella at this AFM. Andrew Loveday directs this instalment in the UK gangster franchise, which follows a notorious criminal who heads to Marbella to settle a score with a rival. Loveday also stars alongside Craig Fairbrass and Emily Wyatt.
Reason8 will be market screening select footage from suspense thriller Stray. The film is based on an original story by Anna Starobinets and is about a couple who adopt an orphan. The mother begins to believe the child is their son who went missing several years ago, while the father fears something more sinister. Olga Gorodetskaya is directing. 20th Century Fox will distribute the film in Russia and the CIS in March 2019.
Devilworks has Ryan Simons' supernatural horror Demon Eye, which follows a young woman who returns to her father's country house following his mysterious death where she finds a cursed amulet. Darren Day and Ellie Goffe star.
Jinga Films' buzz title is horror Reborn, which is screening in the market prior to its world premiere at FrightFest Halloween in London on November 3. Julian Richards directs the story of a stillborn baby girl who is brought back to life by electro-kinetic power before being abducted from the hospital and raised as a captive. Barbara Crampton and Chaz Bono star.
Park Circus is representing Free Solo for international theatrical rights (excluding UK and North America) on behalf of National Geographic, as part of the company's ongoing deal to represent the National Geographic catalogue internationally. The film, which has grossed more than $1m at the US box office, is about one man's attempt to free solo climb Yosemite's 3,000ft high El Capitan wall.
7&7 Producers' Sales Service will be selling Dark Sense at AFM. The UK paranormal thriller is based on Peter A Flannery's novel First And Only, and follows psychic Simon who, after foreseeing his own death at the hands of a serial killer, enlists the help of an ex-special forces soldier.
Kew Media Group has The Go Go's, Alison Ellwood's feature documentary about the titular American new wave band. Trevor Birney and Corey Russell produce.