As AFM presents its inaugural virtual edition (November 9-13), Screen profiles a selection of key titles that are looking to tempt buyers during the market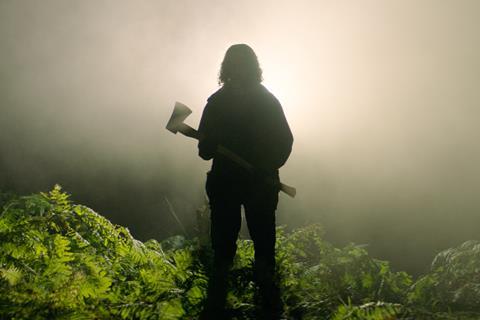 Altitude hopes buyers will dig for Gold, its Zac Efron survival thriller. Directed by Anthony Hayes and based on a screenplay he co-wrote with Polly Smyth, it is the story of two strangers travelling through the remote desert who stumble across the biggest gold nugget ever found. The film is about to go into production in Australia. Altitude is also beginning sales on thriller Jet Ski, currently shooting in Malta, starring Holly Earl and Catherine Hannay and directed by James Nunn. The story features friends who steal jet skis but then are stranded miles from land in dangerous waters.
Film Constellation is continuing to talk to buyers about Outside The Wire, starring Garrett Hedlund. The film follows a US soldier and an Iraqi insurgent who find themselves dependent on each other for survival. The company also has renegade female surfer doc Girls Can't Surf and Cathy Brady's family drama Wildfire, which premiered at Toronto International Film Festival, on its slate.
Film Seekers is unveiling elevated horror Blood Conscious, written and directed by Timothy Covell and starring Oghenero Gbaje, DeShawn White and Lenny Thomas. The film is about a family on holiday that turns the tables on a mass shooter who claims to be fighting demonic forces. Film Seekers is also screening its shark preservation documentary Envoy: Shark Cull for the first time.
HanWay Films has sales on pop superstar Sia's feature directing debut Music starring Kate Hudson and Leslie Odom Jr. CAA Media Finance is representing US rights. HanWay also has psychological horror A Banquet, directed by Ruth Paxton and starring Sienna Guillory, and Amma Asante's Cold War thriller The Billion Dollar Spy, starring Mads Mikkelsen and Armie Hammer.
Parkland Pictures has taken on sales rights to James Crow's gangster drama Nemesis, produced by Jonathan Sothcott (Vendetta, We Still Kill The Old Way) of Shogun Films. The story of an underworld kingpin in a violent feud with a vengeful cop stars Billy Murray, Nick Moran, Julian Glover and Frank Harper. Parkland is giving a market premiere to crime thriller Silent Night, also starring Harper.
Bankside Films is introducing buyers to The Almond And The Seahorse starring Rebel Wilson, Janet McTeer and Celyn Jones, about two couples where one partner has survived traumatic brain injury.
Genre specialists Devilworks is unveiling its latest horror feature Sacrilege, about four women who join in local celebrations for the summer solstice only to discover they are in the grip of a mysterious pagan cult.
Protagonist Pictures is launching sales on Ben Wheatley's topical horror feature In The Earth, completed during the pandemic. The film, starring Joel Fry and Ellora Torchia, is set as the world searches for a cure to a disastrous virus. Andy Starke produced for Wheatley and Starke's Rook Films alongside Tom Quinn and Jeff Deutchman who executive produced on behalf of Neon. Protagonist will be sharing footage during the market.
Rocket Science's AFM slate is headlined by Living, directed by Oliver Hermanus, starring Bill Nighy and Aimee Lou Wood and produced through Elizabeth Karlsen and Stephen Woolley's Number 9 Films. Inspired by Akira Kurosawa's 1952 classic Ikiru, Living has been adapted by Booker Prize-winning author Kazuo Ishiguro.
Dogwoof is starting sales on Playing With Sharks: The Valerie Taylor Story, a feature documentary about scuba diver Taylor who is renowned for getting up close and personal with the most menacing underwater creatures.
Metro International has the first market screening of Creation Stories, the biopic of music impresario Alan McGee starring Ewen Bremner and Jason Isaacs. It is executive produced by Danny Boyle, co-scripted by Irvine Welsh and directed by Nick Moran.
Mister Smith Entertainment is talking to buyers about drama Lakewood, which is in post-production. Phillip Noyce directs Naomi Watts as a mother racing against time to save her child as authorities pursue an active shooter in her town.
Anton Corp will be starting sales on Olivier Masset-Depasse's The Mothers' Instinct, an English-language remake of his hit Belgian thriller, which is set to star Jessica Chastain and Anne Hathaway.
Cornerstone Films is introducing buyers to Good Luck To You, Leo Grande, from Sundance award-winning director Sophie Hyde. The film stars Emma Thompson as a 55-year-old widow yearning for adventure, human connection and sex. Corner-stone also has romantic comedy Not Bloody Likely, about the true story behind the 1914 London stage production of Pygmalion. Pierce Brosnan and Helena Bonham Carter star.
Embankment Films' slate includes Elizabeth, a documentary about the UK's long-reigning monarch. Roger Michell directs with Kevin Loader producing, and the film will use archive footage to tell the story of her many decades on the throne.
Simon Crowe's SC Films will launch animated adventure Stonerunner, a co-production between New Zealand's Huhu Animation Studios, and Australia's Accent Media Group and FG Film Productions. The film is scheduled for delivery in 2022. Blue Finch Film Releasing, Crowe's UK distribution outfit run by Mike Chapman, is also moving into sales and will be presenting You Cannot Kill David Arquette.
WestEnd Films is presenting The Score, the feature debut of Malachi Smyth (Gateway 6), and will have a first promo for buyers. Currently in post-production, the offbeat romance starring Johnny Flynn, Naomi Ackie and Will Poulter was part of the BFI London Film Festival's UK work-in-progress titles. WestEnd is also selling The Last Rifleman starring Pierce Brosnan as a Second World War veteran, living in a care home in Northern Ireland, who has just lost his wife. He decides to stage an escape on the 75th anniversary of the D-Day landings in Normandy.
Alongside its animation projects (Blazing Samurai, A Greyhound Of A Girl), GFM has live-action horror Lockdown Hauntings starring Tony Todd, shot entirely during lockdown. Due for delivery early next year, this is the story of a notorious serial killer who died in prison but is back and on the prowl for young women stuck at home on their own during the pandemic. GFM is also introducing Frostbite, about an American tech billionaire who attempts to climb Mount Everest but encounters deadly events as he does.
Reason8 has Natalya Vorozhbit's Bad Roads, a Ukrainian drama that was selected for Venice Critics' Week. The company also has Ivan I Tverdovskiy's Lido title Conference, about a commemoration of the 2002 terrorist attack on the Dubrovka theatre in Moscow. The film won the best feature prize at Riga International Film Festival.
Carnaby is back on the march with its Footsoldier series and will introduce the latest instalment in the gangster cycle, Rise Of The Footsoldier: Origins, starring Craig Fairbrass, Vinnie Jones and Keith Allen.
Film Republic is handling sales on Nothing But The Sun (Apenas El Sol), a documentary about the Ayoreo people from Paraguayan director Arami Ullon.
Celsius Entertainment will be showing scenes from Juniper starring Charlotte Rampling, about a self-destructive teenager who is sent to look after his feisty alcoholic grandmother.
Evolutionary Films is beginning sales on horror Shadow-land starring Amelia Eve from Netflix series The Haunting Of Bly Manor. The company is also presenting anthology thriller Dark Whispers Volume 1, a set of short stories by 11 female Australian filmmakers and features Ed Speleers and Anthony LaPaglia. It sold to SP Releasing in North America on the eve of AFM.
Jinga Films is presenting Spain-Argentina co-production Exquisite Corpse, a macabre story of love, obsession and sexual transgression.
Amp International brings Jakob's Wife, directed by Travis Stevens and starring Barbara Crampton. It is also pre-selling Andrew Traucki's The Reef: Stalked, a sequel to his shark thriller The Reef, scheduled to shoot early next year.