The story of Aml Ameen's Boxing Day began, appropriately enough, at Idris Elba's wedding to Sabrina Dhowre in Morocco in 2019.
Ameen, a UK actor who had starred in Elba's feature directing debut Yardie, was trying to get his own directorial debut off the ground and was even considering self-financing with a budget of £500,000.
"It wasn't that doors were shut in my face but Boxing Day is the first of its kind in British cinema where a Christmas-set rom-com is led by an all-Black cast," Ameen suggests. "I was willing to pay for it myself upfront and get started on the process.
"Then I went to one of the fanciest weddings in the world when Idris Elba got married and I met my now agents Roger Charteris and Robert Taylor from The Artists Partnership and we had such a good time. They read the script and sent it to BFI and Film4."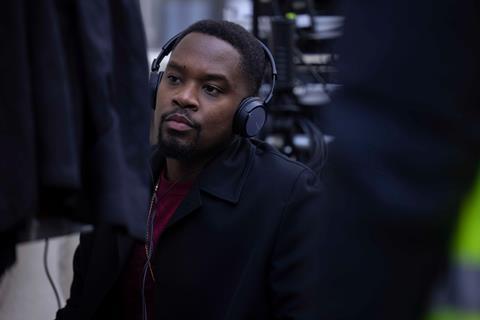 Ameen's agents later introduced the project to Warner Bros UK and producer Damian Jones of DJ Films. "We got in front of all the right people and they loved the script," says Ameen. "They all felt the joy, the love and the laughter of the film.
"Our impulse and initiative to self-finance the film empowered me and my core team and is what made people take serious interest in the project."
Ameen – who lived in Los Angeles for several years winning roles in Lee Daniels' The Butler, YA thriller The Maze Runner and Netflix series Sense8 – co-wrote Boxing Day with Bruce Purnell, his partner in London-based production outfit Studio 113.
In the early days of the project, Ameen initially tried to set it up in the US with private financing, with US producers Matthew G. Zamias, whose include Echo Boomers, and Dominique Telson of Astute Films both coming on board, before Elba's wedding opened up a UK-centric path to making the film.
Drawing on his own family experiences, the film sees Ameen star as a UK author living in the US who returns home to London for Christmas with his US fiancée played by Aja Naomi King, who he introduces to his eccentric British-Caribbean family.
"It's a quintessentially British film but it's a part of Britain we have never really focused on in cinema," says Ameen. "I'm a big fan of Love Actually and Richard Curtis films and took inspiration from his work but I wouldn't call it the 'Black Love Actually'."
Production on the film began in the late summer of 2020 and shot for six weeks in London amid the UK's national lockdown, where it filmed across key locations across the city including Southbank, Carnaby Street and The Jazz Cafe.
"There was only one location I wanted that we failed to get which was a shopping mall, but we got lucky because although it was Christmas time everything was in lockdown and because of the pandemic we were able to salvage the spirit and joy of Christmas while everyone else was locked indoors.
"It was important to see Black people in wealthy environments in this film and not just the expected estate buildings which have become customary to the Black experience on screen," he continues. "It was important to see Black people in the London we all love."
The cast also features Marianne Jean-Baptiste and Little Mix singer Leigh-Anne Pinnock making her acting debut.
The talent behind the camera also includes co-producers Telson, Blue Story producer and former Screen Star of Tomorrow Joy Gharoro-Akpojotor, and hair and make-up designer Nora Robertson, who also worked on Rocks.
"We tried our best to build and push forward Black talent who might not have the opportunity to work in film," Ameen explains. "The crew was diverse, we had Black producers and Black people in key roles that were important. Hair and make-up were very important to me, I was adamant that one needs to know what they were doing and have cultural references when working with dark skin and Black hair."
Warner Bros is releasing the film in the UK and Ireland on December 3. Rocket Science has international rights.
Ameen and Purnell are now developing a slate of film and TV projects through their Studio 113 outfit that will showcase Black talent.
"Studio 113 is designed to address the Black diaspora experience," Ameen says. "Our desire is to capture and deliver universal stories that collectively house the Black diaspora, where all different cultures among the Black community around the world are voiced.
"We're open for business and we're working on different projects at the moment across different genres and we're also looking for projects to voice for people who haven't had the opportunity yet."