The Farewell depicts an émigré family reconnecting with their native China. And US star Awkwafina drew on her Asian heritage to play the drama's central role, she tells Screen.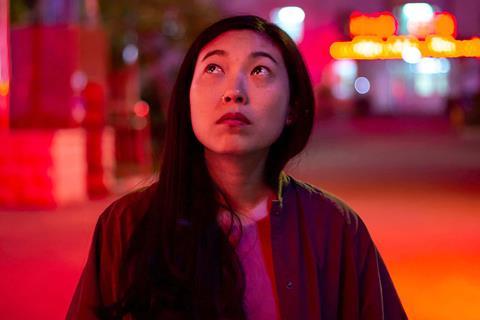 Awkwafina had already experienced success with comedic roles in Ocean's 8 and Crazy Rich Asians, but signing on to play Billi in Lulu Wang's The Farewell was a big leap. The New York-based writer/musician/actress (real name Nora Lum) was taking on her first drama, appearing in every scene and often speaking Mandarin.
"There were certainly challenges — it was my first real dramatic role and a lot of it was in Chinese," the actress recalls. No matter the difficulties, however, she knew it was a role she had to do. "When I first read the script, I was flabbergasted how I could relate to it… how real it felt culturally," she says.
She plays Billi, a Chinese American woman in New York who returns to China when her grandmother (played by Zhao Shuzhen) is diagnosed with terminal lung cancer. With respect to tradition, her family decides to keep the diagnosis a secret from the grandmother, affectionately known as Nai Nai. The film was inspired by events in Wang's life — the poster touts that the film is "based on a true lie".
There were a lot of aspects of Billi to which Awkwafina could relate. The actress is the daughter of a South Korean mother and a Chinese American father; when she was four her mother died and she was then raised mostly by her Chinese grandmother. "This connection with the grandmother in particular was something I understood. That was very real to me and felt very deep."
Drama debut
She did not panic about the fact it was her first dramatic role. "It wasn't a feeling if I was up for it or not, it was more, 'I'm going to work for it,'" she says. Awkwafina had not grown up speaking Mandarin but, when she was in her late teens, took an intensive language course to impress her grandmother (who, the actress says with a laugh, "didn't give a shit"). When this role came up she did intensive "brushing up" on the language and her accent.
Thankfully, perfect Mandarin was never the goal. "Speaking bad Chinese is more interesting," says Awkwafina with a laugh. "I'm more comfortable speaking that way - when I'd go to China or Korea for a visit, that's how I'd speak. So that felt natural."
Shooting the film partially in Changchun, China, also helped with that authenticity. "It was really cool to shoot in China. Usually on a film set you feel like you could be anywhere in the world, but one of the memories that stood out is when we had a ceremony before we started shooting. We had a camera on stage [in a banquet hall], and it was covered with a sheet that was lifted off. It was to bring good luck to the shoot. So we started with this sense of optimism and camaraderie."
The whole cast and crew grew "very close" on the set, she says, and Wang's relatives, including her grandmother, would stop by. Of course, everyone had to keep grandma in the dark about the plot of the film. "We would whisper. We wouldn't tell her what the movie was about," says Awkwafina. "It then became our burden as well as Lulu's, because we cared for her."
Wang and Awkwafina had a strong working relationship. Because Billi is a somewhat-autobiographical character, it was important that Wang gave the actress the freedom to develop the character on her own. "Lulu and I built Billi together — she was never possessive of the character. Billi wasn't Lulu. Billi also wasn't me. She is a vehicle. She became like a vessel for the Asian American experience. That makes her relatable."
Indeed, audiences around the globe have connected strongly with The Farewell. After its Sundance premiere, the film has gone on to box-office success in the US for A24 — earning more than $17m as of press time. It also won Sundance London's audience award.
"When we were working in China, we didn't know where this film would end up," says Awkwafina. "It's a great feeling to see audiences responding to the film. People are reacting to the material because they maybe went through experiences like that. That relatability makes it universal."
The actress says The Farewell has opened her up to all kinds of roles. Up next, she has a slew of diverse projects: Jumanji: The Next Level; Awkwafina Is Nora From Queens, a Comedy Central series based on her own life; Marvel's Shang-Chi And The Legend Of The Ten Rings; and Disney's live-action remake of The Little Mermaid.
"With The Farewell," she says, "it didn't matter that it was more dramatic, I just thought it was such an incredible story. I really look for roles that are good stories. I'm open to any genre."