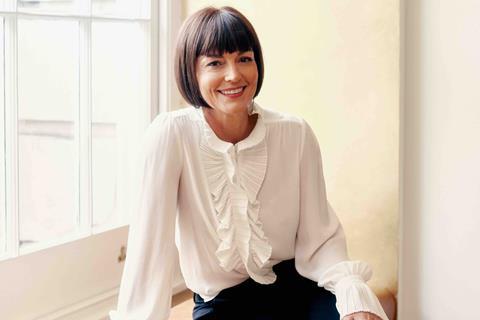 Four months into the job, Jane Millichip is about to oversee her first Bafta Film Awards since taking over from long-time chief executive Amanda Berry.
This Sunday's event is shaping up to be well-attended by nominees, with talent such as Ana de Armas, Austin Butler, Brendan Fraser, Cate Blanchett, Colin Farrell, Michelle Yeoh and Viola Davis on the red carpet. The former Sky Studios chief content officer says it is a testament to Bafta that it can attract so many celebrities from "on our doorstep" and from Hollywood.
Millichip points to several changes to this year's ceremony, many of which were in train before she joined. For a start, the awards will take place at London's Royal Festival Hall, instead of The Royal Albert Hall, which has hosted the event since 2017. Located on London's South Bank, the mid-20th century building is more accessible for both disabled and non-disabled guests, she says. "There's also a modernity about that building, so the look and feel of the awards will be fresh. The location is amazing too – it feels like a real love letter to London."
For attendees, the reception, dinner and after party, for once, are all in the same venue. It means there is no need for buses to ferry guests around, as previously happened at the Royal Albert Hall. "It's a quintessentially British thing to put everybody on the bus," says Millichip. "But we don't have to this time."
Hosting duties
The Awards will also be hosted by Richard E. Grant for the first time. He will bring "warmth and charm" to the event, says Millichip. "We want it to have light-hearted moments, but the most important thing is that it is warm, welcoming, celebratory and entertaining. And he brings all of that."
TV presenter Alison Hammond, meanwhile, will host a new Bafta Studio overlooking the Thames from the Royal Festival Hall, which will give viewers at home an Access-All-Areas experience. This means the TV coverage won't have to slavishly follow the format of the ceremony. "On television that can get a bit dull," Millichip acknowledges. This year's ceremony is being produced for the first time by Spun Gold, which takes over production duties from longtime awards partner Whizz Kid.
In another first, the final four category winners – EE Rising Star, leading actor, leading actress and best film – will be announced live on BBC One, rather than in a time-delayed 'as live' format. It means Bafta will be "in a position to announce our own news" to viewers, says Millichip, and no longer be behind other news outlets.
Whether the changes can arrest a general decline in TV ratings for awards ceremonies like the Baftas remains to be seen (last year's film awards attracted an average of 2.5 million viewers on BBC One, down on 2020's 3 million). Millichip hopes they will.
"That's what [the changes] are designed to do…but we are looking at it in its entirety, as are the BBC. We know everyone will look at the overnight ratings. But it's really about total reach – and the reach is going to be millions and millions of people." She says Bafta will have a big social campaign, spanning Instagram through to YouTube, which will include lots of original content from the Awards. "It's about the whole thing for us," says Millichip.
Millichip picks out other key elements of this year's ceremony. There is a special tribute to the late Queen Elizabeth which will be led by Helen Mirren. The Queen, she says, had a "close relationship with Bafta for years" and notably donated the royalties from Richard Cawston's 1969 documentary on the family to the Society of Film and Television Arts, a forerunner of Bafta. The donation helped to the fund the organisation's move to its current headquarters at 195 Piccadilly in London. In a return to tradition, the Prince and Princess of Wales will also attend for the first time in two years.
Millichip also notes Sandy Powell will become the first costume designer to be awarded a Bafta Fellowship this year. "It's important for all craft areas that this recognition is happening."
An open field
Surveying the awards themselves, Millichip says there is a "pretty open field this year," and cites the "breadth of narrative" of the top nominated films and points to a "great deal of diversity across the board."
Edward Berger's All Quiet On The Western Front might lead the nominations with a whopping 14 nods, but Millichip points out that there's now a greater range of films being nominated for Baftas. This year, 217 films were submitted for consideration; 45 of those received nominations. "That's a healthy trend," she says, arguing there is greater diversity in terms of genre and narrative style this year.
She says 40% of the performance nominations are for talent from ethnic minority backgrounds. It's a clear improvement since 2020, when every one of the 18 actors nominated was white – sparking an overhaul of Bafta voting procedures. "The principle of those changes was to ensure that more voting members watched more films. Now we can guarantee that every film has a minimum number of views and considerations…and guess what, when you ensure that more films are viewed and considered, you get a lot more variety in the long lists."
That said, systemic issues surrounding the industry's lack of diversity still show up in Bafta's nominations. Gina Prince-Bythewood is the only woman with a nomination in the best director category, despite Bafta having put forward a longlist to voters with an even number of men and women. Millichip says it is an area that Bafta "continues to monitor," and notes 12 women directors are nominated across all Bafta categories, such as outstanding British film debut, docs and animation.
Looking to the future
Millichip says there are other areas where Bafta would like to work with the industry to improve representation, such as the sound and cinematography categories. "Mandy Walker is nominated for Elvis and she is only the second woman cinematographer to be nominated."
Another important focus is ensuring there is a balance between commercial and independent films in the nominations. "We want to stay relevant and representative both for the industry and the viewing public," she says. Is that because there is a sense of disconnect between film awards, like Bafta and the Oscars, and what the public want to see? Millichip counters the Baftas are not just about recognising great talent, but saying to the public, 'Look at all these films – get your eyeballs in front of them because the cultural diversity is amazing.' She notes commerical films and box office hits such as Elvis, Top Gun: Maverick and Avatar are also represented.
Reflecting on her four months in her new role after 25 years working in television, Millichip says "once you get into Bafta, you realise how multifaceted it is and that a relatively small team do an awful lot." While its awards are well known publicly, its charitable work is less so. "Our mission is to level the playing field in the screen arts and games," says Millichip, citing Bafta's mentoring schemes, scholarships, bursaries and acceleration programmes such as Bafta Breakthrough and its new band of membership, Bafta Connect, which invites younger and new creatives into the organisation.
Then, says Millichip, there is Bafta's editorial programme with screenings and Q&As. It's also a hospitality business, a membership organisation, and has its own technology arm that runs awards screener service, Bafta View. "And we're trying to save the planet through Albert," she says of its sustainability initiative.
Asked if running Bafta is different to how she envisaged it might be when she applied, Millichip says that the recruitment process prepared her for what was in store. "It was quite a long and formal recruitment process, as it should be. I did a lot of research, a couple of interviews, and had to write various papers. So, by the time I got the call and was appointed, I felt like I had got under the skin of Bafta a bit."
But, she says she was impressed when she met the Bafta team for the first time. "I've been getting to know the events team much more in the last few weeks running up to the awards. My goodness, they are good. The rigour and the process – there is so much to think about. I'm just in awe of them to be honest."