Competition for this year's Bafta for outstanding British film is as fierce as ever, with admired hits and prestige titles battling breakthrough arthouse titles.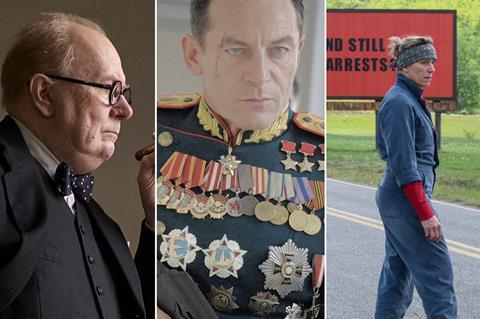 Bafta's outstanding British film (OBF) category has always been an unruly beast, a David-and-Goliath contest that pits large studio films qualifying as British against much smaller local gems.
Scroll down for Screen's predictions
Voters cheerfully admit to a battle between heart and head, and there has long been a perception that voters lean towards films they believe stand less of a chance in the best film category. The King's Speech pulled off wins in both categories in 2011, but was the last film to do so. None of the OBF winners of the past five years — I, Daniel Blake, Brooklyn, The Theory Of Everything, Gravity and Skyfall - have also won best film, despite all being nominated.
Awards are never particularly logical: Slumdog Millionaire won best film but not best British film in 2009 — that honour went to Man On Wire, with the winner chosen by a jury.
"There are some films we all know will not hunt in the main race but we all know in the back of our minds are appropriate candidates for outstanding British film," says awards consultant Liz Miller of Premier, who is also a voting Bafta member.
No Dunkirk
One Goliath surprisingly not in the running for outstanding British film in 2018 is Christopher Nolan's Dunkirk, distributed by Warner Bros. Although eligible for consideration as a British film by Bafta's own criteria (see below), the filmmakers themselves have chosen not to enter the film in the category, deciding instead to concentrate on best film.
"It didn't feel appropriate, somehow, to be in two categories," Dunkirk producer Emma Thomas tells Screen International. "It's particularly and singularly a British story, there's no question of that. But the thing that has been really gratifying to us is how much of a universal appeal the film has had."
With two much smaller films than Dunkirk in contention, Altitude Film Distribution is taking the opposite approach and is striving for recognition in all categories. "We're not aiming small," says the company's head of distribution Hamish Moseley, of Altitude's ambitions for William Oldroyd's Lady Macbeth and Peter Mackie Burns' Daphne. "While we would love to win best British feature, we're pushing for the main categories; we want to go for best feature, certainly for Lady Macbeth. We feel the film is distinctive and brilliant enough to be in the mix alongside everything else."
The strategy, says Moseley, is to highlight just how distinctive are these independent British films.
Dunkirk's opt-out only intensifies this year's competition, with voters able to select from an exceptionally strong field of homegrown commercial and critical hits. Box-office successes Paddington 2, T2 Trainspotting and The Death Of Stalin have all also been very well reviewed. Then there is a gaggle of smaller arthouse titles led by, but not limited to, God's Own Country, I Am Not A Witch and Lady Macbeth (which recently shared the main prizes at the 2017 British Independent Film Awards) plus The Party and The Levelling. They have dazzled the international festival circuit and are generally beloved by critics.
The third group in the running comprises the prestige pieces. Martin McDonagh's Venice premiere Three Billboards Outside Ebbing, Missouri is picking up plenty of awards heat, with six Golden Globe nominations; Judi Dench's SAG nomination for Victoria & Abdul puts Stephen Frears' period charmer slap-bang in the fray, with plenty to appeal to Bafta's patriotic older voters; and Gary Oldman's transformative performance as Winston Churchill is doing exactly the same for Joe Wright's Darkest Hour.
And then there are the Christmas baubles. The holiday season is the time most voters are going to watch the many screeners and links they have been sent by distributors. And as Miller puts it: "People aren't going to watch 'bleak' with their gran at Christmas. But you can bet your bottom dollar they're going to watch Murder On The Orient Express."
The jury's in
Such vagaries of human behaviour are why Bafta reintroduced a jury to the OBF category in 2013 for the 2014 awards. In the first round of voting, an opt-in chapter of Bafta members will vote for the top 15 films with the top three being automatically nominated. A jury of around 14 non-conflicted members, led by the chair of Bafta's film committee, presently Marc Samuelson, goes on to select the final three films from the remaining 12 titles. The whole chapter then votes for the winner.
"Any full member with film voting rights can opt in to the chapter," explains Jim Bradshaw, Bafta's head of film. "The number of members voting in the Film Awards is capped at 6,500. A small number of these are from the games sector, the rest work in film and/or TV."
Since the introduction of this system, speculation has always been rife regarding which nominated titles were the choice of the voting chapter and which were added by the jury — the assumption being that the latter has leaned towards the more arthouse selections. Since I, Daniel Blake won the category last year, it is assumed that Bafta voters nominated it, and probably also fellow nominees Fantastic Beasts And Where To Find Them and Denial. The other three nominees, and the presumed choices of the jury, were arthouse titles American Honey, Under The Shadow and Notes On Blindness.
(There is a separate jury for the award for outstanding debut by a British writer, director or producer, which is chaired by Tanya Seghatchian on a four- year-term basis. Nominees are chosen and a winner voted for by the confidential jury. The members of both juries are revealed after voting has closed.)
Going online
Bafta's strict campaigning rules mean distributors focus on ensuring voters have every possible chance to see their films, either in theatres (often accompanied by filmmaker, cast and crew Q&As), or via an online screening link or on a screener DVD. For some distributors, the best — and only — option is creating an online streaming link for all voters.
"We have sent every Bafta voter an iTunes link to [Hope Dickson Leach's The Levelling]," says Peccadillo Pictures' managing director Tom Abell. "Our budget varies from film to film and it doesn't stretch to [further advertising] this year. I find it very difficult to reach Bafta members for anything outside the bigger titles.
"A [few] years ago we did a Bafta campaign for [Andrew Haigh's] Weekend, which had huge critical acclaim and had a much larger awareness than The Levelling has. We spent quite a lot of money on that and it didn't even get a nomination. But The Levelling is more accessible. It's such a unique film and, for us as a company, it has taken a huge amount of work to make it succeed."
Miller highlights the problem of online links. "Instead of watching on a small computer at home, you're much more likely to pop a DVD in," she suggests. "I have tried to watch things on a link that buffered for half an hour and then stalled. You want to do it right but you're frustrated in that."
It costs around $20,000 (£15,000) to manufacture and mail out a screener of one film to all voting members. Clare Binns, deputy managing director of Picturehouse Cinemas, who is pushing Francis Lee's God's Own Country and Sally Potter's The Party in all categories, is factoring in the shelf appeal of a well-packaged and-designed screener. "We've done a very nice double pack for God's Own Country and The Party, with the screeners and some material about the film," she explains. "It gives you a chance that people will be happy to have that in their house and to be able to read a bit about the films. It just feels more substantial. We've gone for it. It's classy."
Binns will not reveal the cost other than it is "a lot more than a basic screener". "It is a big expense but I think it's important," she explains. "You just have to bite the bullet. Bafta is hugely important for us. If we have success, then it's success for the filmmakers, for the film. But it's also success for the British film industry in that it highlights great British talent out there and that is only going to help us buy films, make films, support the talent that we have, and have an alternative to the Hollywood machine."
Eligibility criteria for Outstanding British Film
The film must have significant creative involvement from individuals who are British (UK passport holders or permanently resident in the UK for at least 10 years). Final decisions on eligibility rest with Bafta's film committee. As with all the feature categories, the entered films must have screened in at least 10 cinemas for seven days as of February 16, 2018.
Outstanding British Film: The Contenders
Favourites
Darkest Hour (Universal)
The Death Of Stalin (eOne)
Murder On The Orient Express (20th Century Fox)
Paddington 2 (Studiocanal)
Three Billboards Outside Ebbing, Missouri (20th Century Fox)
Victoria & Abdul (Universal)
Hot jury options
God's Own Country (Picturehouse Entertainment)
I Am Not A Witch (Curzon Artificial Eye)
Lady Macbeth (Altitude Film Distribution)
In with a chance
Baby Driver (Sony Pictures)
Dark River (Arrow Films)
Film Stars Don't Die In Liverpool (Lionsgate)
Final Portrait (Vertigo Films)
Goodbye Christopher Robin (20th Century Fox)
Journey's End (Lionsgate)
Journeyman (Studiocanal)
My Cousin Rachel (20th Century Fox)
The Party (Picturehouse Entertainment)
T2 Trainspotting (Sony Pictures)
Don't count out
Breathe (STX International)
The Levelling (Peccadillo Pictures)
The Mercy (Studiocanal)
Their Finest (Lionsgate)
Viceroy's House (Pathé)
Voting schedule for all Bafta categories
December 15 – Round one opened
January 2 – Round one closes
January 9 – Nominations announced and round two opens
February 14 – Round two closes