Ahead of Beta Cinema's launch of Corvidae at next week's Cannes Marche du Film, the sales/finance company has released this exclusive video containing first-look scenes and an interview with writer/director Joe Marcantonio, and actors Jack Lowden (who also produces), Tamara Lawrance and Fiona Shaw.
The team discusses the inspirations behind the film and its unique characters, as well as talking about the process of shooting Corvidae at a beautiful but dilapidated manor house in Ireland.
A psychological thriller layered with suspense as well as drama, Corvidae follows mentally fragile mother-to-be Charlotte (played by Tamara Lawrance) as she is taken in by her recently deceased boyfriend's mother Margaret (Fiona Shaw) and her stepson Thomas (Jack Lowden), who seem increasingly obsessed with her every move.
Plagued by mysterious hallucinations, Charlotte's suspicions grow about Margaret and Thomas' intentions for her unborn child. "She starts to suspect that maybe they have more sinister motives," says Marcantonio, who wanted to build suspense in his debut feature but without resorting to clichéd jumps and scares. "Like Hitchcock said, suspense is what the audience finds more captivating."
The London-based director, who also co-wrote the script with Jason McColgan and who previously worked on commercials, branded videos and shorts including the award-winning Red Light starring Jessie Buckley, cites influences on his work including Hitchcock's Marnie and Notorious, Park Chan-wook's Stoker, Bong Joon-ho's Memories Of Murder and Brian De Palma's Blow Out. "I love films that don't just conform to one genre," he notes.
With Corvidae, Marcantonio was keen to explore themes of gaslighting, parenthood, isolation, "the juxtaposition of old versus new", and trust – the fact that "you can never really know anyone else, I find that fascinating".
As for the title, it refers to a family of crows or related birds, as well as sinister bird imagery that is a harbinger of mystery and death.
Finding the right cast
It was these intriguing themes as well as the director's strong vision that drew in Jack Lowden, who stars as the mysterious Thomas. "The script was cool and interesting and different. I love the weirdness of the relationships and this bizarre triangle that you don't get to see often," says the rising UK actor, who also felt inspired by the lookbook that Marcantonio sent him with the script.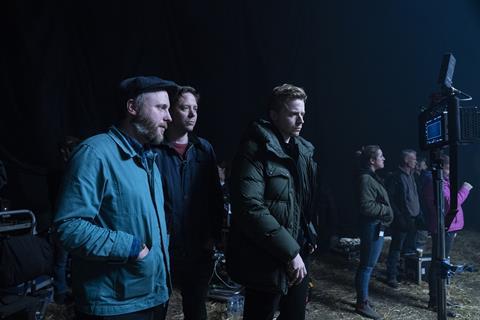 Lowden, a 2014 Screen International Star of Tomorrow, was so enthusiastic about the project that he came on board as a producer with Dominic Norris through their new Scotland-based production banner Reiver Pictures. "Joe has a passion and knowledge of films beyond any director I've met before," says Norris, "and with that cine-literacy comes a quiet confidence in his vision and ability to tell stories."
John Keville and Morgan Bushe of Fastnet Films serve as executive producers alongside Norman Merry and Peter Hampden of Lip Sync Productions, Phil Hunt and Compton Ross of Head Gear Films, Serotonin Films and Gareth Wiley.
Marcantonio was thrilled that Lowden wanted to take on the role as well as produce, describing him as "a true collaborator" on the project. As for Lowden, he had been looking for an opportunity to move into producing and Corvidae became the ideal project because it afforded him the chance to work alongside a director "who has such a huge knowledge of film".
With his performance, Lowden was keen to dig deep into Thomas' obsession with his stepmother Margaret and the family manor. As well, having just shot BBC One drama The Long Song with Tamara Lawrance, he recommended the young actress to the production for Corvidae's demanding role of Charlotte.
"Tamara's not afraid to play a character that you don't have to be in love with all the time," says Lowden. "That makes her performance so incredibly moving."
Lawrance – who like Lowden is a Screen International Star of Tomorrow, from 2018 – says she was "drawn to the enigma of everything in this story. It starts with Charlotte's optimism with Ben (her boyfriend), and then suddenly, she's stuck in this house for nine months with these strangers. I love dramas that are intimate just between a few people."
Cast in the role of Margaret, acclaimed UK actress Fiona Shaw, currently much in demand thanks to Killing Eve, thought her character had many layers she could work with. "There's a whole world of despair going on just underneath," she says.
Setting up house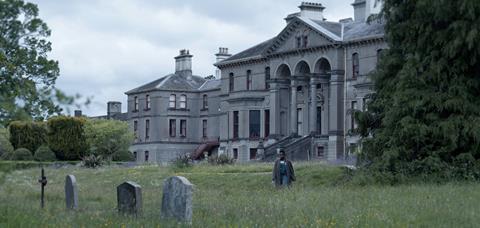 While the story is set in Scotland, Corvidae's producers decided to shoot in Ireland and set out to find the perfect location for the frayed-around-the-edges manor house. They found their ideal location in Stradbally Hall, in Stradbally, County Laois. "This house was perfect because it had parts that were both beautiful and dilapidated," says Marcantonio.
Some of its existing decor proved fortuitously useful, from the paint colours on the walls to peeling wallpaper, creepy old paintings and even taxidermy animals they found in the house (which had been written in the script before they found the location).
Marcantonio, who also has a cinematography background from his commercials work, was specific in envisioning the visual style of the film. The film's cinematographer Carlos Catalan shot on spherical lenses, going handheld for any scenes outside of the house and using anamorphic lenses on tripods or a dolly inside the house. "At all times we determined the camera angle based on what Charlotte was feeling," Marcantonio adds. "Is she nervous? Is she excited? We use the camera as a great way to illustrate what is going on in her head."
His ambition for Corvidae is that it entertains audiences as well as leaving them with much to discuss. "I hope the audience feels challenged in a way that they find something interesting to talk about."
Beta Cinema will host the invitation-only market premiere of Corvidae during the virtual Cannes Marche (June 22-26); UTA handles North American rights.
Article by Wendy Mitchell

Beta Cinema, a subsidiary of Jan Mojto's European media group Beta Film, is a world sales and co-financing company for quality feature films that combine great stories, commercial viability and artistic integrity.