Cannes habitué talks about his career at Qumra masterclass in Doha.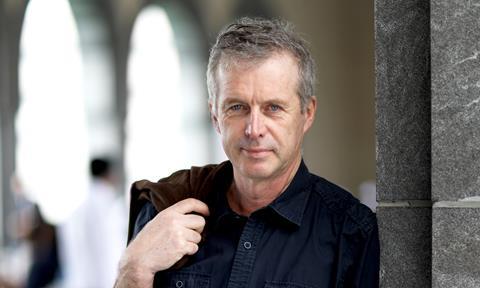 "Film school? It's good for learning the technical side but I'm not sure it's much use for becoming a director," two-time Cannes Grand Jury Prize winner Bruno Dumont told aspiring film-makers at the Doha Film Institute's talent development event Qumra this week.
One of five top cinema figures delivering masterclasses at the event, Dumont flew into Qatar fresh from completing post-production on his upcoming musical film Jeannette about the early life of Joan of Arc.
The film is tipped to premiere in Cannes, where Dumont previously won the Grand Jury Prize for L'Humanité and Flanders in 1999 and 2006.
Like much of his filmography, Jeannette was shot against the backdrop of his native Nord Pas de Calais region in northern France and features non-professional actors, cast out of the local population.
Dumont explained at his Qumra masterclass that these trademark leitmotifs of his work grew out of his being rejected by France's top film school, the Institut des haute études cinématographiques (IDHEC), now La Fémis, in the 1980s.
In the face of this rejection and the opposition of his parents to his film-making ambitions, Dumont opted instead to read philosophy and initially went into teaching.
This detour into philosophy had a "profound impact' on the films he ended up making.
"I'm not really a cinephile. It's philosophy, rather than cinema, and the questions surrounding philosophy - touching on the mystic, on religion - which pushed me to make films. It became an extraordinary tool allowing me to look beyond the visible to explore something that reason can't."
"When youngsters tell me they want to go to film school to become a director, I say: 'Film school? It's good for learning the technical side but I'm not sure it's much use for becoming a director…. Concentrate on developing your spirit'. Beyond knowing where to place the camera, you've got to have something to say."
"Even my recent comic works came out of a philosophical reflection, rather than a desire to make people laugh, and questions I ask myself about human nature," he continued referring to his 2016 Cannes d'Or contender Slack Bay and cult TV series Li'l Quinquin.
Shooting tractors
While contemporaries such as Laurent Cantet and Arnaud Desplechin were studying at IDHEC in the 1980s, Dumont gained experience instead on the production of industrial films, capturing a tractor factory or the workings of a food processing plant.
"I started out making the coffee and quickly moved on to writing the scripts. I would visit the factories and talk to people on the shop floor. From there, I moved on to directing and also learned how to edit," explained Dumont.
"Now, I realise I was lucky to shoot this machinery, which was of no interest to me whatsoever, because it taught me how to capture something properly using a cinematic language… it was my apprenticeship."
Working with non-professionals
It was during this period that Dumont also started working with non-professional actors, after attempts to work with real actors left him feeling ill at ease, or dissatisfied with the result.
"One day, I thought, why don't I just use a worker rather than an actor. He was intimidated by the camera but he had presence and looked 'the part' better than any actor. And while the arrogance of some of the actors had left me feeling ill at ease, I found the atmosphere on set was better with non-professionals."
This use of non-professionals is now inscribed in Dumont's process of building a character on the big screen, although he has worked with professionals for more complex roles, casting Juliette Binoche, for example, in his 2013 film Camille Claudel 1915.
He recalled how his decision to cast David Douche in the principal role of Freddy in his award-winning debut feature The Life Of Jesus initially met with opposition from the producers, who were already worried by his plan to shoot with non-professionals.
"They felt he would be unmanageable," he explained.
Their fears were not unfounded. Douche would frequently arrive late on the set, if at all, and only agreed to do the film for the money, but for Dumont he was the right person for the role.
"The choice of actor is one of the most important things for me… When I write a character, it's a sketch. I don't think you can completely build a character in the script. When I start casting, I'm looking for someone who corresponds approximately to my sketch, not an exact fit," explained Dumont.
"For Freddy, I was looking for a young guy, who was a bit of a thug. David had this way of being hard and tender at the same time that I felt would bring something to the character," he continued.
"The problem with using a professional actor is that they would have attempted to play what they thought I wanted, an abstraction of my sketch and I want flesh… I'm not making documentaries, but it is the jests and ways of being of the people I choose which end up completing the role."
Reluctant traveller
Speaking to Screen after the masterclass, Dumont revealed the DFI's artistic advisor Elia Suleiman had had to twist his arm to get him to attend Qumra.
"I don't really like to travel - it tears me apart," laughed Dumont. "But I'm glad I came. It's opened my eyes to a society I never imagined existed. I've been impressed by the dignity and grace of the people I see in the streets and the grandeur of the Arab world, which is not something we hear much about back home."
"I went into the desert this morning and walking in the sand I was overawed by the immensity and power of the place and the connection the Bedouins I saw had with their environment.
Li'l Quinquin
Back in France, Dumont is now gearing up for the shoot of the second season of his hybrid spoof police procedural TV series Li'l Quinquin, entitled Coincoin And The Extra-humans.
He confirmed that key cast members of the original series Alane Delhaye, Lucy Caron, Bernard Pruvost and Philippe Jore would be returning in roles of the Li'l Quinquin, his childhood sweetheart Eve, the bumbling police detective Commandant Van der Weyden and his side-kick Lieutenant Carpentier.
"I'm shooting in two months," said Dumont. "I've spoken to all of them and they've all agreed to take part. The boy and girl playing Li'l Quinquin and Eve are in their late teens so we'll be following the lead characters at a different stage in their lives."