As Busan International Film Festival founder Kim Dong-ho prepares to leave his post, he talks to Jean Noh about the event's recent challenges, and his hopes for its future.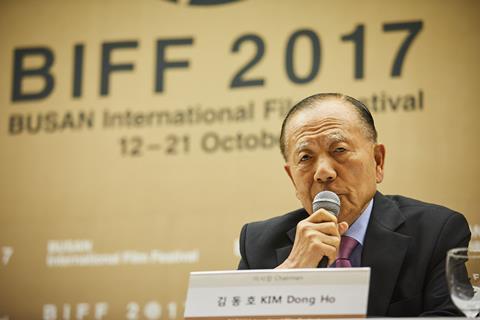 Busan International Film Festival (BIFF) founder Kim Dong-ho is to leave the fest at the end of this year's event after less than two years as its first nongovernmental organising committee chairman. Prior to this, he was honorary festival director for five years following his 15 years as festival director.
"When I started my post, you could say the film festival had had its stability shaken to a certain degree for almost three years beginning with the incident over The Truth Shall Not Sink With Sewol," Kim says, in a frank interview with Screen. "That shaken stability still hasn't been settled."
When Kim was appointed to his latest role on May 26, 2016, the conflict between the government and the festival was at an impasse and BIFF was facing a boycott by the nine bodies that make up the Korean Film Groups' Emergency Committee for Defending BIFF's Independence.
"For two months, I went about [getting the board member votes for] changing the festival's articles of association, and so got half the groups to rescind their boycott and we were able to hold the film festival," he says.
"When I was running around in July and August and we were unable to invite films because of the uncertainty, the nine groups' heads promised they would rescind the boycott if I got the regulations changed. But later, four groups said that [former festival director Lee Yong-kwan's] honour had to be restored, otherwise 'no'."
Seeking consensus
With the respective groups' individual members voting for a different result than expected, one option put forth was to cancel the festival that year, in order to put pressure on the government. Kim, festival director Kang Soo-youn and fest organisers including the late Kim Ji-seok vociferously objected to it.
"If a film festival skips even one year, it will disappear," explains Kim. "The competition is intense. Look at Deauville Asian Film Festival, Abu Dhabi. Even if a festival like Berlin were unable to hold one edition, which masters would then prepare their films to premiere there? If they were unable to open once, their competitors would strike into the vacuum. If BIFF missed an edition, it would just disappear.
"The festival's regulations were changed to guarantee autonomy and independence and BIFF opened when it would otherwise almost have been impossible to open," continues Kim. "So I think my primary mission as chairman was accomplished. In the midst of this, internally the employees said they couldn't communicate with director Kang and suddenly made a public statement asking for her to step down."
This statement, made on August 7 this year, demands Busan mayor Suh Byung-soo's public apology, Lee's reinstatement and appeals to the film industry for support, and does not make explicit mention of Kang's stepping down. Its criticism of her "rupture of communications internally and externally" seems, however, to have been taken as a demand for her resignation.
"As chairman responsible for the whole film festival, I felt this was the right time to step down. [Kang] and I decided we would do our best for the two months left, and as chiefs, we will have fulfilled our moral responsibility," he says of their joint departure.
After more than two decades of involvement with BIFF, Kim remains proud of the festival's contribution to the local industry.
"On the artistic side, after 1998, Korean films spread out tremendously into the world," he says. "For example, in its 50 years up until 1997, Cannes only ever showed a total of four Korean films. But from 1997, Cannes programmers started attending Busan and in 1998 alone, they showed three Korean features and one short. On the industry side, after Friend in 2001, Korean films started getting around 50% market share when before it was around 25%, and have been able to maintain that.
"The film festival has grown for 22 years and has its own staying power, so it won't fall into chaos or be shaken just because the two of us are leaving," Kim says of his optimism about the festival's future. "The programmers now are all capable people and are forming networks of their own."