To adapt a story of teenage first love in 'Call Me By Your Name', the producers turned to a filmmaking veteran. James Ivory tells Screen about his decade-long journey with the acclaimed Italy-set romance.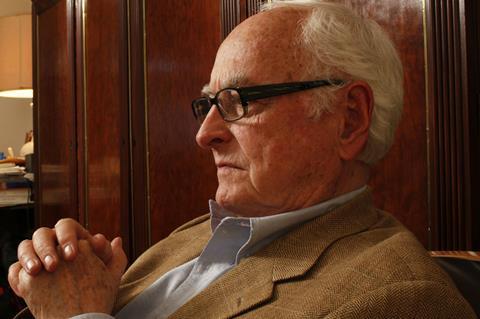 "I would like to know, and I'm thinking about it a lot, what is it about this film that so attracts people?" asks James Ivory of Call Me By Your Name. He adapted the screenplay from André Aciman's novel of passionate first love between a 17-year-old boy and an older American student who comes to live in his family's Italian holiday home.
"And people of all ages and sexual orientation," he continues. "It's not just a film for gay men. It's very much a film that appeals to women and young girls and older couples. What is its power? It has some of the qualities of A Room With A View also, in that it's a story of young lovers in a very beautiful place in midsummer. This, I think, appeals deeply to many people. Almost everyone has a version — at least, I hope most people do — of this happening in their lives. It's a kind of universal theme."
Gilded roll-call
Ivory's name will forever be associated with producer Ismail Merchant and writer Ruth Prawer Jhabvala as the directing component of the celebrated Merchant Ivory label. As a director, he has been Oscar-nominated three times — for A Room With A View in 1987, Howards End in 1993 and The Remains Of The Day in 1994. Call Me By Your Name is the first time Ivory has earned an Oscar nomination as a screenwriter, and the first time he has written a screenplay he did not also go on to direct. (With Jhabvala, Ivory co-wrote Merchant Ivory Productions' early Indian films including Shakespeare-Wallah and The Guru, and on his own he adapted EM Forster's Maurice and contemporary novels A Soldier's Daughter Never Cries and The Divorce for the screen.)
He very nearly directed Call Me By Your Name. Ivory had been attached to the project for more than a decade. His neighbours in New York, US producers Peter Spears and Howard Rosenman, optioned the film rights to the novel and asked Ivory to executive produce. "I said I would," Ivory explains. "I've done that for other films. I liked the project and the story, particularly that it takes place in Italy, which is a country I love."
When the producers attached Luca Guadagnino as director, Ivory says Guadagnino asked him to co-direct. "I had never done that before, in fact the Directors Guild [of America] doesn't even allow it, but I nevertheless said, 'Sure, let's do it,'" Ivory recounts. "But I wanted my own screenplay. I wanted to write my own version of it.
"I liked the family relationship very much," he says of the source material. "I liked the set-up of the father, the mother, the son and various servants. I didn't feel I could go with the story in the novel [which revisits the characters of Elio and Oliver 15 and then 20 years later]. I felt that when Oliver has to go back to New York City, that was the end of the story. I thought it should end at the height of their exuberant feeling for each other."
Producer credit
Ivory wrote for six months at his home in upstate New York, and made several trips to Italy to meet Guadagnino, who was finishing his film A Bigger Splash.
But when Call Me By Your Name's financiers baulked at the idea of co-directors, he sold the screenplay to the production firm, Guadagnino's Frenesy Film Company, while retaining a producer credit. Ivory and Guadagnino talked casting and locations, eventually moving the setting from the Liguria of the novel ("too touristy", said Guadagnino) to Lombardy, near where the director lives. Timothée Chalamet was already cast as Elio but actors to play Oliver and the father proved harder to find, with the roles eventually going to Armie Hammer and Michael Stuhlbarg respectively.
Ivory says Guadagnino has not spoken to him about his plan for a series of follow-up films that might pick up the story less than 10 years on, enabling him to cast the same actors.
Is he interested in revisiting those characters? "I'd have to think about that a bit," Ivory says, thoughtfully. For now, he seems happy to simply enjoy the reaction to Call Me By Your Name.
Is he surprised by the success of the film? "I am always surprised by a success of a film," he hoots. "I always imagine that every film is going to end badly. When a film is successful, I'm truly amazed. That goes back to films like Howards End, A Room With A View and The Remains Of The Day. I never in a million years expected those to be big successes and when they were I could hardly believe it. It's the same now."