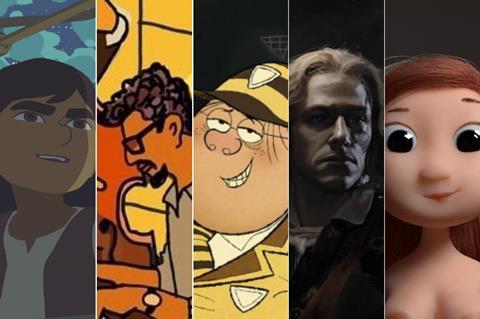 Screen has been on the ground at animation pitching event Cartoon Movie in Bordeaux this week, hearing about 66 feature film projects at various stages of concept, development and production.
Here are five which generated particular buzz among attendees:
Calamity, a Childhood of Martha Jane Cannary (Fr-Den)
With Cartoon Movie tracking the attendance of its delegates to each pitch, the most popular – by a decent 10% margin – was this France-Denmark co-production with 316 audience members from the 800 people at the event. The second feature from French director Rémi Chayé, it follows a young girl in the US in 1863, who must take care of her family and drive their wagon West when her father gets injured. It is one of several projects produced in the Nouvelle-Aquitaine region of France which is also home to the Cartoon Movie event. Henri Magalon and Claire La Combe produce for France's Maybe Movies, alongside Claus Toksvig Kjaer for Denmark's Noerlum Studios; Indie Sales provides worldwide sales representation. The film is in post-production, with a sneak preview screening in Bordeaux.
They Shot The Piano Player (Sp-UK)
Fernando Trueba and Javier Mariscal's 2D/3D-rendered family drama was one of the headline projects in the lineup announcement earlier this year. It confirmed its popularity, with a busy auditorium turning up to hear Spanish animation stalwart Trueba present a teaser on the film, which is in development. Jeff Goldblum is attached to provide the voice of a New York music journalist who goes on a quest to uncover the truth behind the tragic disappearance of young Brazilian piano virtuoso Tenorio Jr, and finds the origin of Latino musical movement Bossa Nova in the 1960s and 70s. Trueba won the foreign-language Oscar in 1994 for animated title Belle Epoque; he, Mariscal and Tono Errando scored a worldwide hit with 2010 Telluride and Toronto title Chico & Rita, which was nominated for the animated feature Oscar. UK based Film Constellation boarded the project to finance in November 2019. Its CEO Fabien Westerhoff is an executive producer, alongside Nano Arrieta of Fernando Trueba Producciones Cinematográficas, with co-producer Cristina Huete.
Molesworth (UK-Lux)
2D computer and hand-drawn hybrid Molesworth is a strong example of ongoing UK-European animation collaboration. Produced by Camilla Deakin and Ruth Fielding's Lupus Films in the UK with Stephan Roelants co-producing for Luxembourg's Melusine Productions, the film received Creative Europe MEDIA programme funding which was put towards the teaser it presented in Bordeaux. Matt Lucas (Bridesmaids, TV's Little Britain and Come Fly With Me) joined the project in February to voice the titular character, a young boy at St Custard's School for boys in the 1950s who attempts to stop a plan to harm the school's star football player. Successful German animator Uli Meyer (animation credits including Who Framed Roger Rabbit?, Space Jam, Sherlock Gnomes) directs and co-produces for his UK company Uli Meyer Studios, with the film based on the popular series of boarding school books written by Geoffrey Willans and illustrated by Ronald Searle, published in the 1950s.
A Winter's Journey (Pol-Fr-Ger)
From Mac Guff, the animators of Despicable Me, and BreakThru, the painters of 2018 Oscar-nominated Loving Vincent, this drama is a hybrid of multiple production forms: computer animation (both 2D and 3D), drawing, painting, live-action and rotoscoping. It stars French actor and model Gaspard Ulliel (Sibyl) and John Malkovich in the early 19th-century story of a poet who journeys across a freezing landscape and reflects upon his past and his love, Therese. Called Schubert's Winterreise in Germany, it is an adaptation of the 1828 song cycle Winterreise by Austrian composer Franz Schubert, with that music featuring in the film. Alex Helfrecht is the writer and director, with Jörg Tittel producing for UK-based Oiffy, and co-producers BreakThru Films from Poland, France's Cité Films and Germany's Pandora Film. The film is starting production this summer and aiming for a 2022 release, with mk2 handling sales.
#nofilter (Den)
Word quickly spread around Cartoon Movie's Palais des Congrès venue of a project described as 'the Nordic Sex Education'. 3D computer animation #nofilter was one of few titles to announce a big deal during the event, with Denmark-based LevelK making it its first title as a financier, as well as boarding world sales. The film centres on an eccentric 60-year-old teacher who offers an alternative sex education to a class of ninth-graders. Tor Lubich Fruergaard and Michael Hegner direct, with Irene Sparre producing through her Sparre Production banner. It is in development.
Cartoon Movie 2020 winners
Fleak, a Finland-Poland-France co-production, won the Eurimages co-production development award, with €20,000 cash prize. It is about a paralysed 12-year-old boy who is roused from his loneliness by the appearance of a furry creature who takes him on a fantasy adventure. It was chosen from nine nominated titles, with the jury praising "the fresh and new approach dealing with a sensitive and touching topic that can make a difference." Finland's Anima Vitae leads production, with co-producers Animoon from Poland and Godo Films from France.
The event also awards three Cartoon Tributes, recognising the work of European animation professionals. Zabou Breitman and Éléa Gobbé-Mévellec won director of the year for French title The Swallows Of Kabul, which premiered in Un Certain Regard at Cannes 2019. Producer of the year also went to France, with Marc du Pontavice's Xilam Animation and Auvergne-Rhône-Alpes Cinéma sharing the award for Oscar-nominated I Lost My Body, directed by Jérémy Clapin. Belgium's Lumière received distributor of the year.