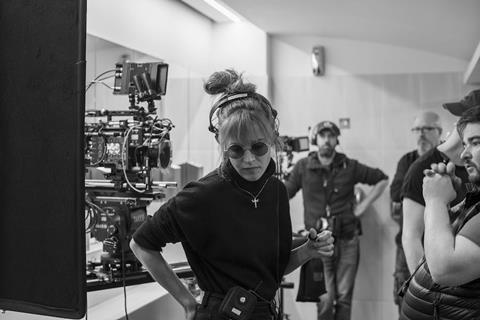 France-born, London-based artist and filmmaker Charlotte Colbert makes her feature debut with She Will, which will have its world premiere in Locarno on August 5.
The story – written by Colbert with Kitty Percy – follows aging actress Veronica (Alice Krige) who undergoes a double mastectomy and goes on a healing retreat in rural Scotland with her young nurse played by Kota Eberhardt. While there she confronts past traumas and also encounters mysterious forces. The cast also features Malcolm McDowell and Rupert Everett.
Jessica Malik of Popcorn Group produces alongside Scotland-based Bob Last. New York-based veteran Ed Pressman is one of the executive producers.
As an artist, Colbert has worked across installations, photography, moving image work, ceramics, sculpture and more. Her work has been shown at Somerset House, V&A Museum of Childhood, Saatchi Gallery, Art Basel and more. She has also worked as a screenwriter.
Rocket Science handles world sales on She Will, which will soon confirm further festivals after Locarno. The film was co-produced by Popcorn Group, Edward R. Pressman Films, Rocket Science, Selkie Productions, Intermission Film and Filmgate Films; Screen Scotland offered support to the production.
What was the first spark that led to She Will?
The process was interesting. Within my practice as an artist, I've really been interested in the history of persecuted women, wounds to the body and psychological DNA that we carry within us. I met writer Kitty Percy and she had this amazing draft that we worked on together, so we brought different elements to it. We were both connected to nature, and drawn to this idea of mud as a sort of fossilized idea of the accumulation of lives within matter.
Why was Scotland the right setting for this story?
Kitty and I both were very attracted to Scotland. We shot in various parts of it, but one area where we shot is very close to where the last woman to be persecuted for witchcraft was born. In this history and in the landscapes, there is this depth of spirits, which is peculiar. It felt like a dialogue with the natural world.
We found some really incredible locations, we shot in Edinburgh and Glasgow and up north by Aviemore. Scotland has this magic light, and amazing scale and space and skies.
The Scottish weather is insane, it's very erratic so tricky for continuity. But one great thing about Scotland is that night shoots can start super early, like 4pm, that was very helpful for us. Some days it was minus 10 and I had to direct wearing a snowsuit, a very muddy snowsuit!
You could have explored some of these themes of past trauma or our relationship to nature in a very straightforward documentary or drama, so why was it more interesting to you as a filmmaker to look at these ideas within a thriller?
Working in genre allows you to explore quite complex and deep questions in an entertaining, accessible way. Horror filmmaking has such a strong artistic and aesthetic past. It allows for people to take more risks in terms of aesthetic boldness. And also, in terms of an experience, the experience of trauma is an experience of horror. It felt truthful to the story itself and the themes that are explored.
The film's themes include a MeToo-era reckoning with a past trauma; how did think about approaching it?
MeToo is such a huge and important and complex issue; obviously this film would never try resolve all those issues because they're so beyond just one film.
I wanted to show the idea that some ideas we have of linear time don't really exist and the experience of the past can be experienced in the present. That shock, that fear is now. This woman of a certain age has carried that always with her and there was something moving about her older self being able to carry her younger self in that final confrontation.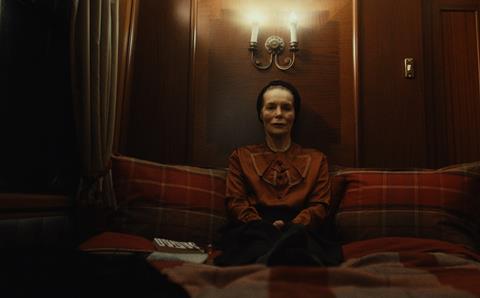 Did you do research with women who were grappling with past trauma, or also with women who had recovered from a double mastectomy?
Yes, we met with a lot of people. In my art practice, I have also done portrayals of women who have been through this scarification process. One curator I know had undergone a double mastectomy and she was troubled by the fact that there was never any representation in terms of aesthetic. I wanted to explore normalisation of the wounds of the body and the wounds that one carries within one's body. With scars, you could have pride in survival and this symbol of overcoming something.
And Alice (Krige, lead actress) is incredibly diligent in terms of her own research. She spent a lot of time with a friend of hers who had a similar experience and has a sense of defiance. There is a strength she brings to the character, and I think she discovered more of that through those conversations with her friend. In our story, the character's notion of mortality is a trigger for revisiting parts of her life and finding some strength to confront it, to overcome it.
How did you cast Kota and Alice?
Kota is very, very strong and also sort of mystical and very aware of this magical realm. There were quite a few themes that she was so related to and wanted to explore.
Alice is also a wandering soul, and a questioner of things. And the working relationship between the two of them was very special, it developed like a sort of mother-daughter bond.
Both were so committed but they have completely different approaches – Kota is very much in the feeling and intuition of the moment, and Alice is very analytical and cerebral. That worked so well with both of their characters within the film.
As a visual artist, you wanted to be very specific with the visual language of the film. Why was Jamie Ramsay the right DoP?
I wanted the visuals to become a bit about what you cant' see as well, so they have some mystery. I met so many cinematographers, then with Jamie I saw this eerie, underwater scene he did for Moffie. When we met, it wasn't just about his aesthetic sensibilities but also it was important he was sensitive to the material and the cast because a lot of the themes were quite delicate.
How did you want Clint Mansell's music to complement what you were doing visually?
Clint was our dream person but we thought he wouldn't have time to work with us. We sent him the rough cut and he watched it five times that day and then we talked for hours the next day. One thing we tried to do was to bring in an additional layer of the narrative within the music by bringing in vocals. The singular voice of one person's story meeting the multiple voices of the past in a sort of collective unconscious.
It's great to see the veteran Ed Pressman, whose many credits include Wall Street and American Psycho, amongst your executive producers.
It's so cool that after all the films he's made and success that he's had, he's still taking risks. He's a hugely energetic person. He's constantly pushing boundaries and expanding.
What's next for you in the film world or art world?
We're plotting some projects. Keep your fingers and toes crossed.