Without Chinese audiences, films like Transformers 5 and Pirates 5 may not have recouped their costs.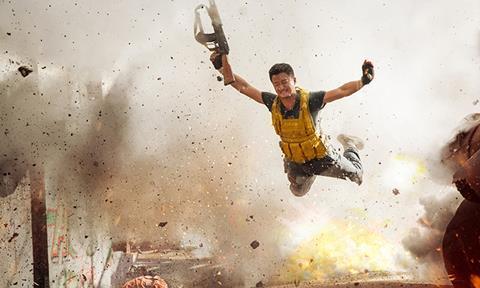 Now it's official that Wolf Warriors 2 has become the biggest film ever in China within a record-breaking 12 days, it should provide some cheer to the Chinese film market which has been weighed down by last year's abrupt box office slowdown.
Directed by and starring martial arts expert Wu Jing, the action-packed nationalistic film centres on a Chinese special forces soldier who saves the lives of Chinese citizens from Western mercenaries in war-torn Africa.
Local netizens have compared Wu's role to an action hero commonly seen in Hollywood films, but probably the first such anti-West local hero in a local film of this size. Also co-starring are Celina Jade and Frank Grillo.
Wolf Warriors 2 opened with a big bang, posting a massive $142m opening weekend. Its momentum continued to flare with over $29m (RMB200m) daily for 12 consecutive days.
With over $500m (RMB3.43bn) after 12 days, it has successfully edged out Stephen Chow's fantasy comedy The Mermaid, which had been holding the No 1 spot since 2016 Chinese New Year. Its admissions have since reached an unprecedented 100 million.
Market dip
Last year, the Chinese box office plateaued with an increase of only 3.7% after years of breakneck growth. The market then deteriorated further in the first quarter of 2017, recording negative growth of 1.7%, or 6.5% without the online ticketing fees.
China's overall box office totalled $3.94bn (RMB27.2bn)* from 239 titles by the mid-year mark, up by 9.6% over the same six-month period last year, or 3% excluding the online fees.
But none of the Chinese films in the second quarter could match the success of Chinese New Year titles Kung Fu Yoga ($254.06m), starring Jackie Chan, and Journey To The West: The Demons Strike Back ($240.14m), directed by Tsui Hark and produced by Stephen Chow.
Shock Wave, starring Andy Lau, and Alec Su's The Devotion Of Suspect X were the strongest performers in the second quarter, but still trailed far behind the Chinese New Year releases, each grossing around $58m.
More importantly, local films lost a big chunk of market share in the first six months of 2017, accounting for 39% of total box office, compared to 47% in the first half of the previous year. Meanwhile foreign imports took a 61% share in the first half of this year, compared to 53% in the first half of 2016.
The mega-success of Wolf Warriors 2 has come at exactly the right time as it reduces pressure on the Chinese authorities to restrict the market potential of foreign releases in order to keep the market share of local films at more than 50% at the end of the year.
This year's unofficial summer blackout period – when local films are protected by keeping Hollywood releases out of the market – will only end with the release of Cars 3, Baby Driver and Valerian And The City Of A Thousand Planets on August 25, almost two months after the last Hollywood opening, Despicable Me 3, on July 5.
Looking at the first six months of 2017, Hollywood domination was obvious with six of the top 10 films all sequels of historically well-performing franchises. The Fate Of The Furious easily outraced all to become the top earner with a staggering $390.72m, as well as becoming the highest-grossing Hollywood film ever in China.
Mutual dependency
While it appears that China is counting on Hollywood to drive its box office growth, the relationship is mutually dependent, as China has emerged as a key, if not the most important, market for Hollywood.
All six Hollywood titles in the top 10 debuted bigger and subsequently collected more box-office revenue in China than in North America, making China their biggest market worldwide. Furious 8 raked in $167m more in China; and it was at least $100m more for Transformers 5, xXx: The Return Of Xander Cage and Resident Evil: The Final Chapter.
"Wolf Warriors 2 has given a boost to the Chinese movie market that has been an essential part of the success of many of the Hollywood blockbusters. Without China, films like Transformers 5, Pirates 5 and many others would have a tough time recouping their production and marketing costs," says Paul Dergarabedian, senior media analyst at ComScore.
Given its vast size with over 45,000 screens, the Chinese market is no doubt a pot of gold, but its multi-faceted restrictions continue to be a source of discontent for Hollywood studios.
Negotiations are currently on-going between the US trade representative and Chinese authorities to expand the current annual import quota of 34 revenue-sharing titles. The US studios are also hoping to increase their share of revenue on China releases from the current 2
5%; and to be given more notice on the release dates of their films, which would enable them to start marketing campaigns much earlier.
The US studios are also concerned about transparency in box-office reporting and have hired an accounting firm to audit ticket sales of select releases. Chinese authorities agreed to the audit as part of a raft of market access concessions negotiated by the Motion Picture Association of America (MPAA) two years ago. China is itself attempting to crack down on box-office fraud through the new Film Industry Promotion Law, which came into effect in March.
Franchise fatigue
Hopes are also high that the non revenue-sharing quota will also be expanded, which would enable more US indies, European and other foreign-language films to be distributed in China. Some local distribution and exhibition executives are saying that the market is ready for greater diversity.
"The industry generally believes that the Hollywood blockbusters that need to get into this market are already in," says one distribution executive who asked not to be named. "The Chinese audiences are no longer so excited about Hollywood sequels, especially the superhero titles."
It's certainly true that none of the superhero comic adaptations made it into the top ten in the first half of 2017. Franchise fatigue is also emerging: Transformers: The Last Knight failed to break new records for the series, trailing $60m behind its predecessor Transformers: Age Of Extinction, released in 2014.
But it will take several months before import quota negotiations are finalised. In the meantime, it remains to be seen whether the resurgence of local titles can be sustained throughout the second half of 2017.
The upcoming National Day and Mid-Autumn Festival holidays, which take place at the same time this year (October 1-8), will be a crucial period for locally-produced releases. Chinese blockbusters scheduled for this time frame include Da Peng's City Of Rock, Feng Xiaogang's Fang Hua, Wong Jing's The Golden Monk, The Liquidator, starring Deng Chao and Ethan Ruan, and Sky Hunter, starring Fan Bingbing.
China Top 10 (January – July 2017)
The Fate Of The Furious - $390.72m
Kung Fu Yoga - $254.06m
Journey To The West: The Demons Strike Back - $240.14m
Transformers: The Last Knight - $224.02m
Dangal - $187.92m
Wolf Warriors 2 - $183.91m**
Pirates Of The Caribbean: Dead Men Tell No Tales - $170.72m
Kong: Skull Island - $168.12m
xXx: Return Of Xander Cage - $163.48m
Resident Evil: The Final Chapter - $161.16m
*all box office based on current exchange rate
** still on release after July 31