Director Claude Barras tells Geoffrey Macnab why he could not have made his stop-motion animation My Life As A Courgette in any other format.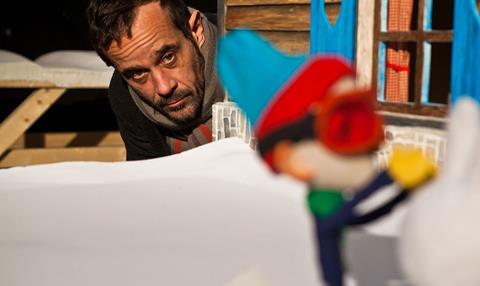 "I started work on this film 10 years ago," Swiss director Claude Barras says of the very lengthy route to screen of My Life As A Courgette. The film-maker acknowledges it is "pretty unusual" for a stop-motion animated feature to be chosen as a foreign-language Oscar (the film has also been submitted for the best animated feature Oscar) candidate but adds "the journey this film has been on never ceases to amaze me".
After presenting Courgette at Directors' Fortnight in Cannes, Barras has accompanied it to Annecy, San Sebastian, Melbourne and Warsaw. He is especially delighted with the ZFF for Kids audience award the film received at Zurich, awarded by 40 children.
The film's main character is nine-year-old Icare, nicknamed 'Courgette' by his mother. When she dies he moves to an orphanage where, at first, he is bullied. He is also consumed by guilt, believing he is in some way responsible for his mother's death. Barras was originally encouraged by Cedric Louis, his collaborator on many of his short films, to read Gilles Paris' novel Autobiographie d'une Courgette. Five years ago, the project - which he had then been working on sporadically - moved closer to production when he teamed up with Rita Productions, which presented it at Cartoon Forum pitching and co-production event.
Development went smoothly with just one hitch: the script. Try as they might, the director and his collaborators could not quite get it right. It was at this point that Pauline Gygax, Barras's producer at Rita Productions, introduced him to writer-director Céline Sciamma at a screening of Sciamma's 2011 feature Tomboy; Sciamma subsequently came on board as writer.
"I knew she was right for the film and indeed that turned out to be the case, because a few months later we had a script that everyone believed in," Barras recalls. "We were then able to finance the film and start production."
Authentic voice
In tackling the script, Barras and Sciamma worked from old adaptations and the original novel. "Céline has a real gift for speaking about childhood and adolescence, coming-of-age stories," the director says. "This is something you can see in all her films."
Sciamma may be best known for live-action rites-of-passage dramas such as Tomboy and Girlhood, but she saw nothing incongruous in working on an animated feature. She sees clear overlaps between Tomboy, about a 10-year-old child struggling with gender issues, and the world of My Life As A Courgette.
"They [the producers] were looking for something different, something they liked in Tomboy, which was light-hearted yet dealt with strong subjects around identity and a melancholy childhood," she says. It helped too that Sciamma was a passionate fan of animation; she cites the films of Studio Ghibli as an inspiration and is also an admirer of Pixar. Barras, meanwhile, cites everyone from Tim Burton to Francois Truffaut, Ken Loach to the Dardenne brothers.
Despite the successful script, development and financing took a further two years and building the sets and puppets another 12 months.
"The shoot lasted just under a year," says Barras of the exhaustive process. "We had 10 animators working and each was able to shoot at a rate of about three seconds each day, giving us about two minutes of film per week. Finally, almost a year was needed for post-production, taking us up to the premiere at Directors' Fortnight in Cannes." There were some moments he describes as "hairy" along the way but, in the end, the film turned out exactly as he had hoped.
One aspect of My Life As A Courgette that has struck audiences is its emotional honesty. In pursuit of this, Barras went to extreme lengths to make sure the characters' voices were exactly right. "We decided to choose non-professional child actors who were as close to the characters as possible in terms of their energy and nature," the director recalls. "We cast 200 children and, initially, kept 20. Then we divided them into groups with the children interacting and eventually selected seven, the seven characters in the film." To record the dialogue, the film-makers put the children in situations as they were described in the screenplay, rather like they were making a live-action film. Some 30 hours of footage was shot this way, and a voice montage used to finalise the shooting script.
Barras comes from the world of illustration, and most of his shorts have been made in stop-motion. From the outset, he felt this was the best style to tackle My Life As A Courgette.
"I didn't choose to shoot this story in stop-motion, I chose the story for its stop-motion qualities," the director states, describing the technique as being "at the crossroads between live action and traditional animation". CGI, he adds, is "great" in its own way but "totally different".
The film has always been treated with a respect not always accorded to animated features. Critics did not just describe it as a "good animated film" but as a "good film… full stop". It was feted in Cannes and is now a serious awards contender.
Barras is keen to start work on a new project but finds himself waylaid by the awards season. He has been on the road for months, accompanying My Life As A Courgette to its various festival screenings. In October, he went to the US for the first time to help with the awards campaign (US distribution is being handled by GKids).
"Do not betray the characters," novelist Paris told Barras when the director acquired rights to the book. Beyond that, the author had no objections about how the film was made. What is apparent, now that the film has been released in some territories and seen widely on the festival circuit, is just how warmly the finished product has been received by children. As Sciamma notes: "Adults and kids see the same film, which I think is pretty rare".