Cynthia Erivo was delivering her Tony award-winning best actress turn in the Broadway transfer of The Color Purple in 2016 when she was first approached to play American abolitionist Harriet Tubman in Harriet.
Born into slavery, Tubman escaped in 1849 and became a 'conductor' — someone who helped others escape from their shackles. She served as an armed scout and spy for the Union Army in the American Civil War, and later in life became part of the fight for women's suffrage.
Producers Daniela Taplin Lundberg (founder of Stay Gold Pictures whose credits include The Kids Are All Right) and Debra Martin Chase (Sparkle) saw The Color Purple musical, which originated in 2013 with Erivo in the lead role at London's Menier Chocolate Factory theatre. "I didn't know they were coming," recalls the actress. "I got a call afterwards. I met with Debra and she said there is a script I might be right for, and it's to play Harriet Tubman. I fell out of my seat."
Branching out
The London-born actress had yet to make her breakthrough movie turns, playing a downtrodden singer in Drew Goddard's neo-noir thriller Bad Times At The El Royale and as a babysitter turned getaway driver in Steve McQueen's Widows, both in 2018. "I was very entrenched with being on stage in a musical — that was big enough at that moment."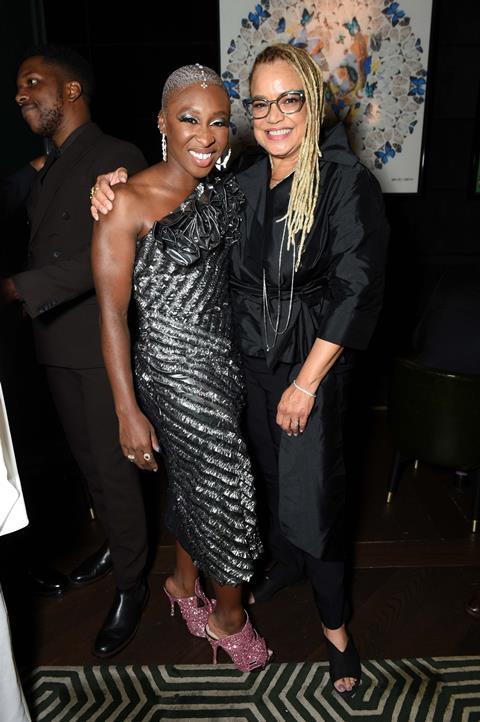 Erivo was told about the various attempts to bring the Tubman story to screen. At one time, her Widows co-star Viola Davis had been cast to take on the role for HBO. With that production long since shelved, Erivo was offered the eponymous character in this Focus Features-distributed production.
"They saw everything they needed for the role out on display with The Color Purple," says the 32-year-old, who was one of the recipients of the 2017 Grammy award for best musical theatre album. The ensemble also picked up a Daytime Emmy for best musical performance in a daytime programme for a performance on NBC's Today show.
It did not take long for Erivo to see the hurdles Harriet faced. At the time, TV director Seith Mann (Elementary, Homeland) was slated to direct. "I stuck with them and helped with it," Erivo recalls. "I read and I wanted to make sure the story allowed for people to see Harriet not just as a super­hero but as a woman and a human. I wanted to make sure that was the story being told. The rewrites didn't feel quite right. I think maybe it needed a woman's touch."
That missing element was provided by Eve's Bayou writer/director Kasi Lemmons. "Kasi was just magical," says Erivo. "She had just under a year to reshape everything. I think that year we were constantly talking. She had a picture of me next to her computer, so she had me in her mind while she was writing. I thought, 'This is such a cool thing.'"
It was only when Lemmons was announced as the film's director that the backlash against the casting of Erivo started. The complaints were that Erivo is a British actress playing an American icon. A similar charge had been made by Samuel L Jackson against Londoner Daniel Kaluuya starring in Get Out. Kaluuya replied with an Oscar nomination. When the story came out, Erivo admits: "I was hurt because I wasn't aware that the type of black I am wasn't OK. I wanted to make people understand that it was OK to give me the bene­fit of the doubt, so I could do my job."
Erivo took to her Instagram account to put forward her view about playing Tubman. She wrote: "I guess there is a bigger conversation to be had about heritage and experience, also about who Harriet really was."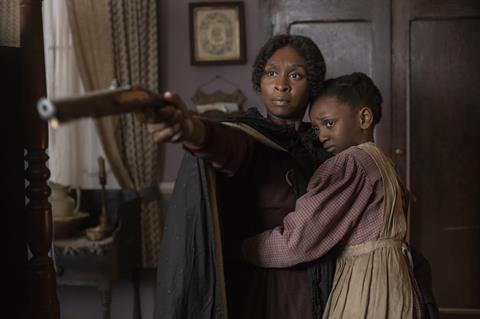 Facing the critics
Some people also complained Erivo was not a direct descendant of slavery. This viewpoint ignores an actor's ability to act suitably, and the history of slavery in Britain. "You can only explain so much," she says. "There is a lot of learning to be done and history to be explained, on both sides, but it's hard to do that on social media. I know in Britain that [slavery] has happened, and we don't discuss that much."
After all the trials and tribulations to get the story to the screen, the start of production was a special occasion for the team: "The first moment that we shot, Kasi and I spent a good minute in a hug. It felt like we were ready to do it."
Tubman may only have been a petite five-feet tall, but she was famously strong, and Erivo was fully prepared for the physical aspects of the shoot. "I have done marathons," says the fitness fanatic. "We were shooting at 4am, so the call time would be 3am. I got myself a steady bike, and I was jump-rope training in the apartment before they came to pick me up. I would wear a corset on days I wasn't doing anything and also I went horse riding."
The dedication has paid off, and Erivo has a chance to join that very exclusive EGOT club of Emmy, Grammy, Oscar and Tony award-winners.