Darkest Hour depicts Winston Churchill in the crucial weeks that defined him as a wartime leader. Jeremy Kay talks to writer-producer Anthony McCarten and Working Title's Eric Fellner about taking on a historical legend.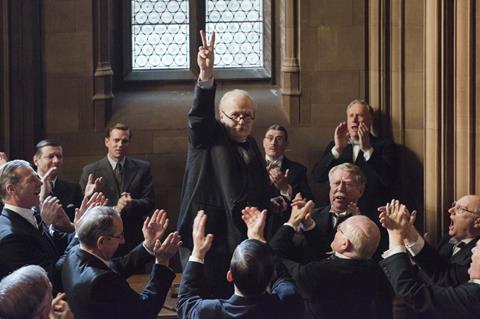 Darkest Hour writer-producer Anthony McCarten was understandably intimidated when he set out to tackle Winston Churchill, Britain's great wartime leader. "He was a bit of a wordsmith, old Winston," the New Zealand-born filmmaker says with a smile, ensconced in a Los Angeles hotel suite one November morning. "So putting words in his mouth, putting funny lines in his mouth, putting aphorisms in his mouth is pretty daunting. So I shelved it for a bit. I'm not sure I had the creative confidence."
The germ of the idea came to him 10 years ago and he wrote it several years later, at the behest of a friend, after completing The Theory Of Everything, the story of physicist Stephen Hawking that earned him two Oscar nods as writer and one of the producers. "I wanted to do a portrait in leadership and a study in the power of the word," he says. "Time would tell if I could enlist anyone else to be interested in the movie, but times change and the question of what are the qualities we should demand in our leaders is really prescient, but I didn't predict it."
Three years ago, encouraged by what he describes as a happy experience on The Theory Of Everything, McCarten took his idea to Working Title's Eric Fellner, with whom he had produced the Hawking biopic. The veteran UK producer wasted little time optioning Darkest Hour and signed on to produce with Working Title co-head Tim Bevan, alongside McCarten's producing partner Lisa Bruce and Gary Oldman's longtime manager Douglas Urbanski.
McCarten's portrait of Churchill hooked everybody who read it, not just for the prime minister's stirring oratory that convinced British politicians to shun appeasement and fight Adolf Hitler until the bitter end. The story cast the leader in a new light.
"There were so many layers that have never been explored," says McCarten. "Certainly in the depictions [of Churchill] he is this curmudgeon who walks around in a fog of cigar smoke and drinking scotch and soda; a man born in a bad mood. And that's only a fraction of who this guy really is, based on what I was able to discover. His sense of humour and wit have never been portrayed in a big way. [Nor have] his romanticism and how tender he was with his wife — a life-long love affair."
The writer-producer was fascinated to learn of another side to his subject, brought to life with vim and vigour by Oscar frontrunner Gary Oldman, who has earned Golden Globe and SAG nods and is already one of the favourites with critics groups. This was not, McCarten discovered, the "stubborn, pugnacious warrior, armed only with a battle cry". This was a man consumed by doubt, on whose judgment rested the fate of Britain and the Second World War.
"To see that vacillation in him was a revelation to me and proof he was a more interesting and, I would say, a greater person than I thought he was," he says. "The key to leadership in my book is someone who can change positions. Dogmatic people with closed minds get the world in all kinds of trouble."
As Ben Mendelsohn, who plays King George VI, puts it: "There's no sense of inevitability to this, it's in play, and I like that. There's a sense of 'aliveness' to this and that's Anthony's script, and certainly Gary's performance."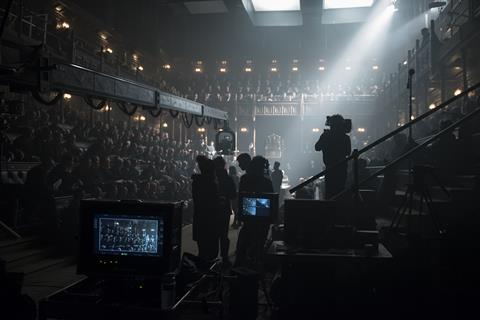 Fellner felt compelled to tell the story. "It's getting harder and harder to grab audiences' attention," says the Working Title co-chairman. "So if you're going to do something about a real-life character you want to try to tell a story that is really dynamic, that maybe people don't know, and as a movie is completely different to a biopic. This qualified on all of those levels for me."
Working Title developed the project with McCarten and in 2016 Fellner took it to Focus Features, with whom the company has enjoyed a longstanding first-look deal. Talks were ongoing with favoured talent, and director Joe Wright fully committed early in the year after the production secured Oldman, whom Fellner says was the first and only actor they went out to for the lead role.
Darkest Hour shot on location around the UK over November and December 2016 and January 2017. "There were a lot of empty country estates and grand houses that are rather sadly empty and extraordinarily opulent places," McCarten says. "With a bit of set dressing they doubled for all kinds of places, like Buckingham Palace and so forth."
The production used the Grade I listed Wentworth Woodhouse near Rotherham in South Yorkshire to double as the London royal palace and earned the rare distinction of shooting outside the official prime ministerial residence in central London. "We had relationships with some of the staff at Number 10 [Downing Street] who enabled it to happen and we were given quite strict conditions under which we could operate," Fellner says. "We could only have a certain amount of crew, a certain amount of time, set decoration, and we could only work in certain areas, but Joe made all of that work.
"We've seen the door of Number 10 many times in movies, but it's never been the real one," Fellner continues. "And the idea that Gary as Winston was walking through the exact doorway that Winston himself walked through some 75 years earlier was quite exciting. It was quite a special moment."
Seat of power
The Houses of Parliament posed a challenge. The production shot in St Stephen's Hall — becoming only the second to do so after Pathé's Suffragette — but was unable to film within the confines of the hallowed House of Commons, where Churchill and his fellow politicians would debate.
"We tried to get the real [House of Commons] and got close, but there's an ancient law that says an unelected butt is not allowed to sit on the upholstery," McCarten notes. "It's very much about the connection between butt and upholstery." The House's interior was replicated at Warner Bros Studios Leavesden. Wright blasted 'Hey Jude' by the Beatles onto the set before Oldman delivered the climactic, rousing speech to fight on, and there wasn't a dry eye in the House. McCarten calls it "the single most thrilling day in my creative life", adding: "There were hardened members of the crew — gaffers who've seen it all — wiping away the tears. They were ready to fight."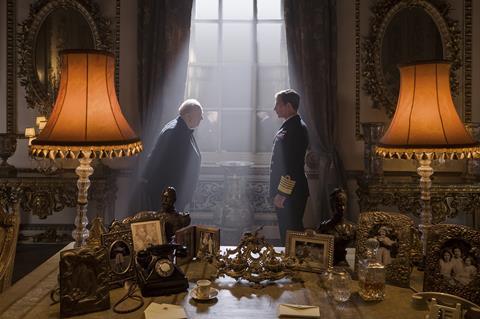 Darkest Hour takes the story of the Second World War up to the point of the Dunkirk evacuation, but does not go there. McCarten ditched a scene from an earlier draft as the producers contemplated another feature that was shooting around the same time.
"Films inevitably are a conversation with other films," he says. "You're not producing your film in a vacuum and we knew that Chris Nolan had vastly more money to create that and to focus entirely on the Dunkirk evacuation. It seemed like it was a hiding to nothing to try to do that scene with a fraction of a fraction of what he had. In the end, it wasn't really necessary."
As Fellner puts it: "The only concern was that we might cross over in terms of telling the same story. But ours isn't a Dunkirk film and theirs wasn't a political thriller, so it turned out that they complement each other. Christopher Nolan's film is sensational but it is a completely different story." Darkest Hour began a successful platform release through Focus Features in the US in late November, and begins international rollout through Universal in the UK and other markets in January.
One momentous scene McCarten did keep shows Churchill on the London Underground, canvassing public opinion while he wrestles to decide which course to take for the country. The writer-producer says it has come up in every post-screening Q&A since Darkest Hour premiered at Telluride.
"There are critics of the scene who see the hand of the author here," he says. "The instinct is to say, 'Well, that can't have happened.' The fact is we have an incomplete record of [Churchill's] actions that day, so it's quite possible he did something characteristic. So what would be characteristic of Winston? He was known to regularly go off-grid. So you can start to surmise that perhaps he did something unusual in that missing beat.
"I needed to show and dramatise the fact that the opinion of the public — especially the working class — proved decisive in his decision to fight on. They conducted polls and the working class wanted to fight. So he tapped into that… Did it happen? We don't know that it didn't happen. Cinematic truth is different from literal fact."