The filmmaking team behind Fences talk to Elbert Wyche about the challenges of taking a Tony-winning play from stage to screen - with the entire Broadway cast.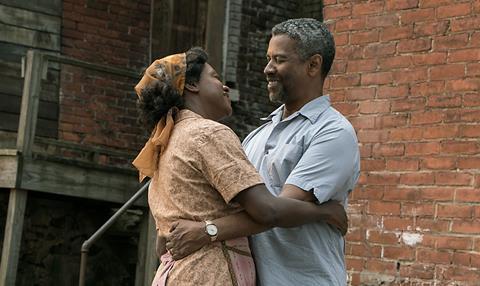 Seven years ago, heavyweight producer Scott Rudin brought to Denzel Washington the late playwright August Wilson's screenplay adaptation of his play Fences. Rudin asked Washington if he had any interest in acting in, or directing the film.
After reading the screenplay, Washington called Rudin and told the producer he would prefer to stage the Pulitzer Prize-winning play. The result was the 2010 Broadway revival of Fences starring Washington and Viola Davis, which landed Tony awards for both actors, as well as a further prize for best revival of a play.
A couple of years later on the Boston set of The Equalizer in 2013, Washington mentioned to his longtime collaborator and producer Todd Black that he might be ready to direct a film version of Fences. Even then, it was only a mention and Washington did not commit to the project.
Two years later, on the set of The Magnificent Seven, Washington told Black he was finally ready to direct Fences and asked if he would produce. It was an easy decision for Black, who brought Washington his two previous directing jobs, 2002's Antwone Fisher and 2007's The Great Debaters.
"I told him I absolutely wanted to do it," recalls Black. "It was a fantastic play that I loved and we'd done everything together [to this point]. I told him I'd love to.
"I've been doing this for almost 30 years and you rarely get [offered] Pulitzer prize-winning material to do as a film," Black continues.
"Oftentimes it's a book or it's a play, so you jump at it as a producer when you have to do something so rich in its history and it has been so acknowledged around the world. You dream about getting to do high-end quality material with amazing characters, amazing dialogue and an amazing story. The story is as applicable today as it was in 1957, when it takes place."
Shortly after filming ended on The Magnificent Seven, Black had a conversation with Rudin, which resulted in the producers partnering on the feature.
Wilson, who died in 2005, had written the screenplay in the 1980s with some moderate development going into the 1990s. The film rights were owned by Paramount Pictures, which picked them up in 1987 as a potential starring vehicle for Eddie Murphy who later dropped out.
Fences follows the life of Troy Maxson, a sanitation worker in Pittsburgh, Pennsylvania who is struggling with the disappointments of his past and dissatisfaction with his present, while raising his adolescent son with his wife Rose.
"Scott really believed in me and said, 'You're the guy to do it.' I was thinking about it, but it's a lot to put on my plate," Washington says of the project, which is the third time he has starred in and directed a feature.
He admits to plenty of hesitation but ultimately realised he was the right person for the job.
"I had the luxury of 114 performances [on stage], I knew the material inside and out. And we knew, and I knew, the success we had with these actors and with the material the way we did it."
Washington was intent on recreating the magic of the play.
The entire cast of the 2010 Broadway revival reprised their roles with the exception of new additions Jovan Adepo as Cory and Saniyya Sidney as Raynell replacing their predecessors, who had grown too old for the roles.
"The [cast] were so excited to come back together again," says Black.
"I'll never forget the first day in Pittsburgh at the production office when we did the read-through. It was the first time that everybody had seen each other in six years. When we finally sat down at the table and got to read the screenplay, it was so fantastic to watch them fall right back into getting to know these characters."
One of the major goals and biggest challenges in adapting Fences was to replicate the integrity and spirit of the play on a film set.
"Scott and Denzel and I really worked on closely trying to keep the lyrical rhythm while we were making it work as a visual feature," says Black. "That was a real challenge."
Washington adds: "[August Wilson] wrote a masterpiece and he structured it brilliantly and I wanted to work with that and respect that. At the same time, we can't do all of the scenes in the backyard like we did in the play."
Wilson's screenplay stood the test of time - Washington estimates he added just 50 words to the script. The only other work was shuffling a small number of scenes to match locations not shown in the stage play.
The term 'open up' is often used when adapting material for the big screen. It essentially means being able to introduce to a film elements that could not be shown on stage. Washington is not particularly fond of the phrase.
"What does that mean, open it up? Just for the sake of doing that?" he wonders.
"For us, it was just about being honest about where else a scene could take place and not just saying, 'We need to open this up, therefore…'"
Through the lens
Along with Washington, Danish cinematographer Charlotte Bruus Christensen was integral in bringing the film to life.
Christensen had just finished The Girl On The Train when she took the call about Fences.
"It was supposed to be just a go-and-meet but it became like a full hour, very intense meeting," says Christensen.
"As I remember it, [Washington] went through the entire screenplay, acting out some of the scenes. I thought this was a movie he felt very attached to and that he was very passionate about. I went away feeling very excited and passionate about it as well."
From their first meeting, Christensen and Washington agreed the movie would be shot on 35mm film. "I felt the texture of film and the colours and all those elements that it brings was staying true to the period," says Christensen. "There is a gift in shooting 35mm film."
Washington and Christensen took a minimalist approach to the look of the picture. They wanted to ensure every camera move had a reason, and the performances of the actors motivated camera placement and blocking decisions.
These choices, however, were made increasingly difficult by the all-practical locations. The film was shot entirely on location in Pittsburgh in a small house not well-suited to shooting a feature film.
"Working in this tiny little house with anamorphic lenses and on film means you have a little bit less light," says Christensen.
"We had no place to light from because there was another house next door. We had to light from inside the house. In the end it really gave a lot of atmosphere to the piece, so it was all worth it."
Christensen came up with a method to support the performances. "I worked very much in camera height," she reveals.
"When we have our main character Troy on screen, he's like a television, he's entertaining everybody. He's walking up and down in the backyard and he's talking about life and death. For scenes like this where he was kind of bigger than life, we used low-angle shots to make him grand and big. At other times, when he was alone in the backyard and he wasn't so big anymore we'd go on high angles. Changing the height of the camera became a language. I remember Denzel saying, 'Why do you want to go so low? Why do you want to shoot up my nose?'"
In his quest for authenticity, Washington shot in sequence.
"I wanted that feeling," he says simply. "I wanted to be able to be out in the backyard, come through the back of the house and go all the way to the front without jumping around stages or doing a piece of it at the location and then going back. I didn't want to be shooting the first part in May and the second half of it in July. That wouldn't be fair to the actors. I wanted to give us the best chance to succeed.
"It made it more difficult for Charlotte. Not difficult," he laughs, "an opportunity. What an opportunity for creativity!"
In-depth preparation ensured the cast made a smooth transition from stage to screen. Washington held two weeks of rehearsals using techniques he picked up early in his acting career.
"I've worked with a lot of great directors. Sidney Lumet was one of them. When we did Power in the 1980s, he would stand his screenplay up like a play and we'd literally get off book. I stole [that] from him. We rented out a big gymnasium in a church and we taped out the entire set of the house, upstairs and downstairs. And we worked on it like a play. Part of it is we had to catch Jovan Adepo and little Saniyya Sidney up with the rest of us who had done the play. [Rehearsals] were really about remembering and making sure we were starting at the beginning and not where we left off."
Class acts
Washington's directing style is to let actors act.
"Hire the best actors and you don't have to do too much, hopefully. Because the five of us - Russell Hornsby, Viola Davis, Stephen Henderson, Mykelti Williamson and myself - had done the play and had a great run at it, I knew how good they were in it. It was just a matter of turning it into a film. The performances are the same. I told them, 'Don't change anything. Don't worry about being too big or too small or anything like that. I'll tell you if that's the case, but just feel free.' I know as an actor I always want to feel free to take chances. Free to fail if need be, so I encourage that."
Washington and Black use the word "passion" to sum up what they believe is the driving force behind the success of Fences. Washington remembers a conversation he had with an executive at Paramount. "[The executive] said, 'I make a lot of movies, but I don't get to work on many films anymore.'"
Fences was made for just over $20m and was co-financed by Paramount, former WME partner/ agent Charles King's new content company Macro and Canada's Bron Studios.
Paramount Pictures is handling worldwide distribution of the film, which opened on limited release in Los Angeles and New York on December 16, going wide in the US on December 25.
"It's great literature. August Wilson wrote a great play," smiles Washington.
"This kind of material doesn't come across my desk that often. When it does and you have somebody like [Paramount chairman and CEO] Brad Grey and Paramount who are willing to take a chance, then people get excited about that."