Will Poulter delivers his most transformative performance to date as a brutal, racist police officer in Kathryn Bigelow's Detroit. Jeremy Kay talks to the UK actor about the toll of the role.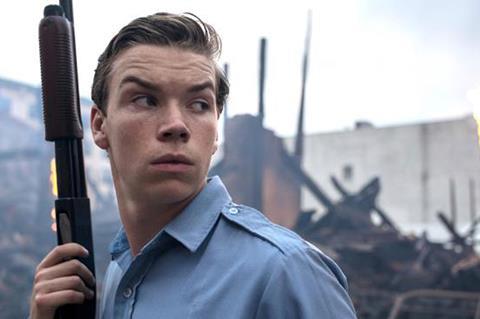 Rising UK star Will Poulter burns up the screen as a racist American police officer in Detroit and admits the performance left its mark on him. When Kathryn Bigelow would wrap production for the day, or more accurately, night — most of the 2016 shoot took place after dark to depict nocturnal episodes from the 1967 race riot — Poulter would stagger away with one clear thought clattering around inside his head.
"[Bigelow] was so conscious of people's well-being and psychological health," the Londoner, 24, says of the Oscar-winning director when Screen International meets him one November morning in a Los Angeles hotel. "But you leave at the end of the day completely hating yourself."
Self-loathing did not afflict everyone on Annapurna Pictures' Detroit. It plagued Poulter in particular because of the character he was portraying: a bigot called Krauss, who orchestrates a shocking interrogation of young African-Americans at the notorious Algiers Motel that turns deadly.
While Krauss is a composite of several law enforcement officers from the time, the events depicted inside the motel, which is no longer standing, are true. Over the course of one night in July 1967, the summer when civil unrest tore across the US, police in the 12th Street area of Detroit responded to a report of sniper fire coming from the motel.
In fact the building was a sanctuary from the unrest outside. There was a party and somebody had fired a blank. A riot task force entered the building and when they left hours later, three black teenagers lay dead and a number of other civilians were left battered and humiliated. No officer was ever convicted in connection with the incident.
It took about a month to shoot the sequence at a house in Boston, where most of the production took place to benefit from state incentives. "It was intense for everybody," Poulter says of the scenes in which his character and other officers line up suspects and interrogate them. "Just the nature of the material lends itself to a very tense atmosphere on set."
The cast would hang out when Bigelow called time, enjoying a drink or going to a movie. But the following day Poulter would be back in uniform, scowling and prowling about the motel as he and his men set about terrifying the young partygoers.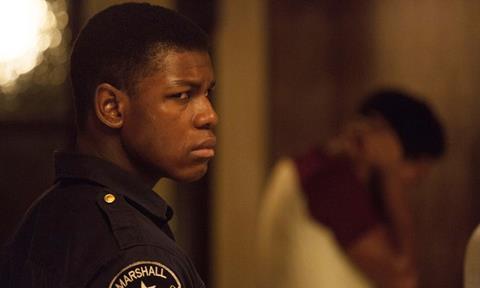 Poulter is softly spoken, articulate and in person a far cry from the on-screen rascal of his earlier work. He says the Detroit shoot has been one of the most gratifying of a relatively short career that bubbled into life when he caught the eye in 2007 adventure story Son Of Rambow. He spent the next few years balancing the demands of school with acting: studying for GCSEs while shooting The Chronicles Of Narnia: The Voyage Of The Dawn Treader in Australia, and doing his A-levels on UK crime drama Wild Bill. "It wasn't until I went away and did We're The Millers and The Maze Runner that I felt like, 'OK, this could be a career for me,'" he says.
In 2014 Poulter won the Bafta rising star award and was part of a Vanity Fair emerging talent showcase, before roughing it with Leonardo DiCaprio and Tom Hardy in The Revenant. The film was a turning point. "It developed my appetite and my ambition," he says.
Next he will appear alongside Domhnall Gleeson and Charlotte Rampling in Lenny Abrahamson's horror The Little Stranger, due out in August 2018, yet no work has quite stirred his soul like Detroit. "It has definitely improved my awareness and developed my empathy around the subject of social justice and understanding my own white privilege… It's been life-enhancing for that reason."
Social conscience
Poulter was first alerted to Detroit several years ago when it was touted as 'Untitled Kathryn Bigelow Project'. "Just that alone excited me," he says. "With the amount of natural and social disasters that are continually happening, you feel inadequate and helpless as a creative, especially when there aren't a lot of projects that do more than just offer people an escape.
"There will always be room for escape and that's one of the great things cinema offers. But to have the opportunity to be part of a Kathryn Bigelow project, I knew there would be an opportunity to inform and a chance to be part of something that had the potential to effect social change."
There was a three-month audition process in which time he says he lived the part, "softly prepping it", so that when he got the role he was ready to start work. He spoke to the Boston chief of police, and an older officer who had been on duty during the Boston riots in 1968 was able to give insights into police tactics of the time.
"Planting weapons on individuals in order to criminalise them was a huge thing," Poulter says. "Having an extra knife on you allowed you to get out of situations where you have potentially committed murder, and that knife helps shift the blame off you and fortify this story that you were in fear of your life and forced to defend yourself. The terrifying thing is, it is still happening today. You see cases where innocent people of colour are killed and often they're unarmed, and a police office will place a taser next to them to criminalise them."
Poulter also spoke to Julie Hysell, one of the young white women brutalised by police officers on the night when Aubrey Pollard, Fred Temple and Carl Cooper died. Hysell was on set for much of the time. "The bravery she exercised by being on that set, sitting behind the monitors and watching the recreation of these events, was staggering," he says.
Hysell's recollections moulded the character of Krauss. Poulter wanted his performance to "expose the racist individual and hold them up as an example of what we can't afford to have, much less in positions of power in our law enforcement communities".
Poulter is not so naive as to believe Detroit will eradicate racism, but has been encouraged by the baby steps: a report that the Detroit chief of police is considering making the film required viewing for recruits; news that it has helped move forward a bill to end racial profiling.
Working with fellow Brit and Star Wars stalwart John Boyega, who plays a security guard in Detroit, was a thrill. The two had never collaborated and Poulter appreciated every moment. "It was great to spar with him," he says. "Our characters butt heads without truly getting into a fight with one another and that was interesting. It's a great observational performance."