UK actor Dev Patel fought hard for his place in Lion, keen to show he was more than "the chirpy guy from Marigold Hotel". Now he has been nominated for an Oscar.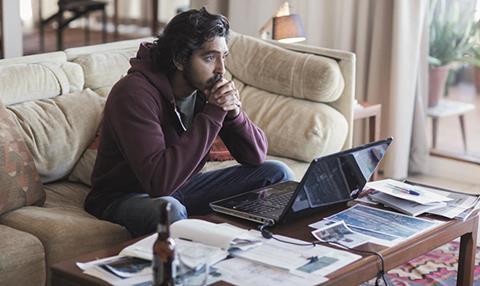 Dev Patel did not have the luxury of shooting in sequence for Lion, Garth Davis's depiction of the true story of an Indian boy who is separated from his family and adopted by an Australian couple.
Instead, Patel was thrown straight into the film's hugely emotional final scene: his character, Saroo Brierley, reunites with his birth mother in rural India for the first time in more than two decades, after finding her with the help of Google Earth.
"It was really hard, because that last scene is the most difficult," Patel admits. "I hadn't been able to build that history yet."
Yet Brierley was a character he had been preparing to play for more than a year. Patel had been obsessed with the story before there was even a screenplay for Lion.
"I'd read an article about Saroo's memoir, and when I heard whispers of them turning it into a film, I called my team and said, 'I'd love to be a part of this.' They set up a meeting to see Garth and Luke [Davies, the screenwriter] when they were in LA."
"But I was way too premature. They had a big whiteboard with Post-it notes," instead of a script at that point. Patel's passion for the project was evident, and when Davis and Davies had a script ready, they sent it Patel's way. He cried the first time he read it.
Yet Patel admits Davis had some initial doubts the young actor could bring Brierley to life.
"He thought of me as that kind of chirpy guy from Marigold Hotel," Patel recalls.
"I wanted to show him I was more than that, I was a serious actor. I wanted to go deep with this journey. We went through every scene in the script.
"For him it was important to see if I could fully submit myself. This film puts you in some exposing places," Patel adds.
From Slumdog to surfer
Patel, now 26, grew up in Rayners Lane in northwest London, with parents of Gujarati descent. He started acting in TV's Skins when he was a teenager.
His big break came when he was 17, cast as the charming Jamal in Danny Boyle's Oscar-winning Slumdog Millionaire.
Later roles included the more comedic Sonny in The Best Exotic Marigold Hotel movies and a brilliant young mathematician in The Man Who Knew Infinity.
Patel's performance in Lion, for which he has received Oscar and Bafta nominations for best supporting actor, has audiences and the industry looking at him in a whole new light.
The role sees him with a beefier athletic physicality and a more mature demeanour - not to mention a note-perfect Australian accent.
He worked with dialect coach Jenny Kent on Skype to practise the accent every day for eight months before the shoot. The muscles necessary for surfing enthusiast Brierley came from hitting the gym.
Patel met the real Brierley when the production shot in Hobart on the Australian island of Tasmania, where his adoptive family still lives.
"When I met him, I felt like I'd already known him," Patel says.
"I spent almost a year of my life to walk in his shoes. Apart from all that, I'd been on these trains in India, I'd been to the orphanages [where young Saroo lived]. It was a nice, pregnant conversation."
Patel did not want to do too much preparation with Brierley, lest his performance slip into imitation.
"We never wanted to try to mimic Saroo, that wouldn't have felt as honest and heartfelt," he explains. "We wanted to capture the essence of his struggle, his resilience. The script was so beautifully composed."
The actor enjoyed the experience of shooting both in India and, for the first time in his career, in Australia.
"The two countries are such big characters in this movie," says Patel, who was wowed by the Tasmanian landscapes. "The vistas were stunning."
The people, not just the places, were also crucial to his experience on Lion, a See-Saw Films production released in the US by The Weinstein Company and the UK by Entertainment Film Distributors. That started with a special bond with Davis.
"Garth is so special because he really gives a piece of his soul to his actors," Patel reveals. "With a lot of directors you feel like you're being observed, judged and told what to do. Other directors are in the trenches with you, they'll tell you about emotions and their own history, and he's that kind of director."