Key industry figures at Screen International and Broadcast's Diversify event called for speedier change. By Andreas Wiseman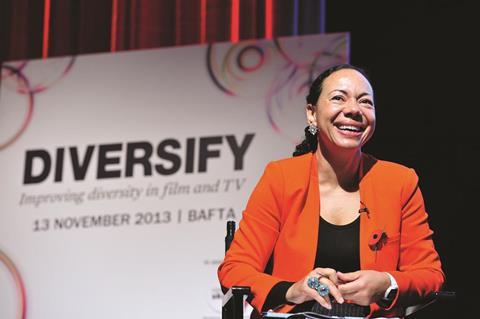 Quotas, access and on-screen portrayal were among the hotly debated topics at Diversify, Screen International and Broadcast's November 13 conference in London that brought together key stakeholders to talk about improving diversity in the UK's film and TV industries.
Baroness Oona King, Channel 4's diversity executive and the event's chair, called on the industry to adhere to three action points: "Accountability, access and affordability."
One way to make producers accountable, she said, would be to make them honour the Creative Diversity Network's (CDN) diversity pledge. "We should say, 'If you're not meeting the set goals, we'll withhold the last 5% of your production payment,' and you can be sure they would change. But we have to resource the CDN properly to do that."
King called for allocation of financial resources and more joined-up thinking between all industry members. "If you're not going to attach resource then things aren't going to change fast enough," she said.
Indeed, race, class, sex, sexuality, disability, geography and age all still have a disproportionate bearing on influence and employment in film and TV, both in front of and behind the camera.
Screen and Broadcast were inspired to organise the conference after Creative Skillset's eighth Employment Census was published this summer and revealed, among other deficits, a troubling decline in the number of people from ethnic minority backgrounds working in the creative industries.
The people in power
Pat Younge, chief creative officer, BBC, recognised that in today's TV industry, the buck often stopped with commissioners. "We need to address commissioning within the BBC, Channel 4 and ITV. There are a lot of black executives at a level beneath me who cannot see a way through," he said.
To speed up change, Younge suggested the industry "organise a clear set of demands of what it wants to happen". He added that the BBC does have targets but confessed "we miss them".
Kate O'Connor, executive director and deputy CEO of Creative Skillset, called for more clarity on who is leading the diversity agenda: "We need to be clear about who is accountable for this agenda. Who is responsible for making that change happen? We are one of those organisations."
Sara Hanson, head of corporate responsibility at ITV, added: "We need to do a collective audit of what diversity schemes are out there and measure the impact and success of these schemes."
However, former executive at the Royal Television Society and British Screen Advisory Council Simon Albury lamented the impermanence of the CDN's leadership, which changes chair every two years. "There is no permanent organisation devoted to driving diversity," Albury said. "I'd like to suggest that the broadcasters and film industry finance such an organisation to kick this thing along."
BECTU diversity officer Janice Turner also expressed frustration over the slow pace of change: "We are still waiting for the BFI to reveal whether it will carry out diversity monitoring," she said.
The quota question
The topic of quotas was a volatile talking point, resulting in mixed views from experts. Former BBC and Livity executive Derren Lawford called for an adjustment to recruitment policies to reflect quotas: "If you make it performance related, so that senior executives don't get their bonus if they don't recruit X amount of people from minorities, people might perform better in that area."
Writer-actor-director Kwame Kwei-Armah noted that several careers in the theatre world would not have been launched without intervention from UK arts agencies to promote diversity.
And BFI Film Fund director Ben Roberts was on the same track, saying that in the future the BFI might introduce diversity obligations for producers who receive Lottery funding. "We can do more," he said.
"We should be placing more obligations on producers for a diverse workforce, because we can do that."
He suggested that the BFI would start with a "baseline audit" of the production workforce then take that data into roundtable discussions about the most high-impact routes to success.
But writer-director Amma Asante, whose credits include Belle and A Way Of Life, urged caution: "I'm nervous about quotas. I've heard too many times even today, 'Oh she's there because she's black or she's a woman.' It's not the reality I'm worried about, it's the perception." Jason Bradbury of LGBT-focused distribution outfit Peccadillo Pictures was also sceptical, saying, "It's a dangerous route to go down."
Points of entry
The lack of access and affordability remain key stumbling blocks in the roadmap towards greater inclusivity.
O'Connor said: "We can't expect people to get degrees. We have to have more apprentices, we have to pay our interns, and when people get a job, we need to invest in them."
Historian and broadcaster Bettany Hughes disclosed how she battled "extraordinary prejudice" when she first tried to enter the TV industry and still believes there has to be "radical revolution" for women to achieve equality.
Syeda Irtizaali, commissioning editor of entertainment at Channel 4, said that despite gains, comedy and entertainment was also an area in which women can be left frustrated due to "an inequality of attitude".
Justin Edgar of production outfit 104 Films, which specialises in working with disabled talent and crews, said that the industry remains a closed shop for many people with disabilities. "Physical access remains the biggest problem. Access to film sets, access to edit suites, for example. We've spoken to the BFI about having a trainee from a diverse background on every film set. People are still afraid to have disabled people on film sets."
However, despite homogeneity and monoculturalism being the status quo, Citizen Khan creator Adil Ray sounded a positive note, encouraging students not to be put off by the diversity 'problem'. "Refuse to look at it as an obstacle, it's a challenge," he said, adding that for him, helping younger people now that he is in a position of power is more important than formal networks and quotas.
"When you get to a position that I am in, you have a level of responsibility not to represent but to open doors," he said, adding that on Citizen Khan he ensured some relative unknowns were cast.