Drones are increasingly being used by film-makers to achieve shots that would have previously been impossible.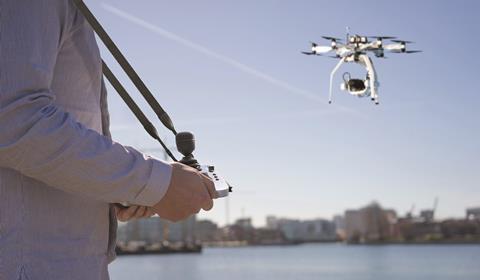 For a scene in Spectre, director Sam Mendes chose to fly the camera from Trafalgar Square over the UK government's Foreign Office to reveal M (Ralph Fiennes) racing up the fire escape of a neighbouring building.
The shot required the co-operation of several branches of the UK government, Film London, the Metropolitan Police, City of London officials and the Civil Aviation Authority, because it was filmed at night and in the congested central London area.
"It could not have been achieved by any other means than a drone," says Jeremy Braben, aerial cinematographer and founder of Helicopter Film Services, who shot the sequence. "The camera was required to fly above the rooftops, too low for a helicopter to operate safely."
The use of drones, less militaristically identified as unmanned aerial vehicles (UAVs), is growing as film-makers realise their creative and economic benefits. The Expendables 3, Transformers: Age Of Extinction, The Wolf Of Wall Street, Into The Woods and Avengers: Age Of Ultron feature drone sequences. Crowd-funded Ecuadorian feature Final Minute is even being touted as the first film shot entirely with the technology.
"Drones bridge the gap between a crane arm and helicopter," says Kevin De La Noy, executive producer of Now You See Me 2. "They are nowhere near as obtrusive in terms of sound, performance or downdraft as other technology. They can operate inside big buildings and you don't need to plan moves that avoid filming camera tracks or cranes."
Director Jon M Chu used the platform to carry a C-camera (alongside main A and B-roll units) for 20 scenes of the caper sequel, on location in Macao, in a tunnel mocked up as a metro station and inside London's Excel Centre.
"Drones are ideal for high and wide shots but less suitable for close-ups," says De La Noy. "A Technocrane will give you 50 feet of movement at its longest extension, but a drone is an enormous virtual crane providing 200 feet in any direction."
Whereas a production might use dollies, jibs, Russian Arms, helicopters or full-size aircraft for aerial work, "with drones you can combine all those into one continuous take", says Braben.
While UAV filming has been legal in the UK for a decade, in the US the Federal Aviation Authority (FAA) only relaxed its ban in September 2014. The MPAA had argued that productions were being forced to relocate to places with less restrictive laws such as Canada.
"Studios wouldn't touch drones before because of legal and insurance action," says Tony Carmean, CMO and co-founder of Aerial Mob, one of six suppliers sanctioned by the FAA since 2014 for commercial filming. "There's been a major increase in demand since the FAA approval."
The main reason is that drones are perceived as a tool to achieve production values that were beyond many budgets. "UAVs are cheaper to hire than other specialist equipment," says Carmean. "We can set up in 20 minutes whereas with helicopters there's a lot more co-ordination needed."
Costs range from as little as $3,000 per day, including crew, insurance and permits, to $15,000-$16,000 per day, often depending on camera systems and lenses used. While cheap and lightweight GoPro cameras are the staple of UAV filming, rigs able to fly the heavier payloads of digital cine gear such as Red or ARRI Alexa cameras plus professional anamorphic lenses are preferred for feature production.
Safety remains a prime concern and the industry is heavily regulated. Flying over people is outlawed in most parts of the world, which tends to rule out drone use for crowd coverage, although special exemptions can be granted.
Nor are drones a replacement for helicopters. In fact, most UAV cinematography is conducted at altitudes of 100 feet or lower. "A helicopter can't fly through a doorway in a building but UAVs can't go up to 1,000 feet legally, or fly in high wind, at high speed or over long distances," says Braben.
While some UAVs can be operated solo, most require a pilot and an operator controlling the pan and tilt of the camera mechanism. The relationship between the pilot/aerial DP and the cinematographer in designing moves is akin to that of the key grip on terra firma.
"You need tight synchronicity between a camera and drone operator," says De La Noy. "You are buying into a team."