With attendance up 17% in three years, the festival is putting audiences at the heart of its strategy.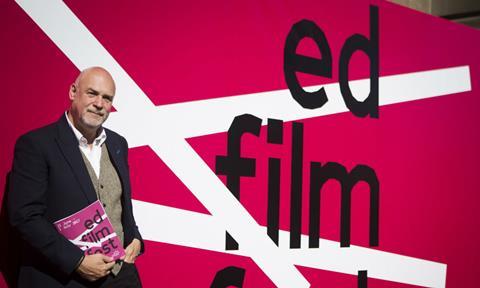 In his third year as artistic director of Edinburgh International Film Festival (EIFF), Mark Adams has selected a pair of buzzy UK titles to bookend its 70th anniversary edition. Francis Lee's impressively told, Yorkshire farm-set gay love story God's Own Country — which won Sundance's World Cinema Dramatic Competition directing award in January before picking up a couple of smaller prizes in Berlin — will kick off proceedings on June 21, while England Is Mine, Mark Gill's portrait of the early life of Manchester-born musician Morrissey, will draw the event to a close on July 2.
In between, 151 features from 46 countries, including 17 world premieres, 12 international premieres and 69 UK premieres, will be showcased. While it has about the same number of films as last year's edition, the 2017 line-up is shorter on new titles but heavier on retrospectives.
"The retrospective sections are much more joined-up," says Adams. "There's an overarching theme running through the different sections, in terms of exploring identity and where we are with Brexit and the future, as well as celebrating Scottish talents through time." Dubbed 'The Future Is History', the retrospective programme will include a selection of titles from George Harrison's HandMade Films, including an anniversary screening of Withnail & I attended by Richard E Grant.
Elsewhere, the Best of British strand will feature Bryn Higgins' Access All Areas, Glen Kirby's The Pugilist, Romans starring Orlando Bloom, and Danny Huston's The Last Photograph. Scottish filmmaking talent to feature includes Peter Mackie Burns with his first feature Daphne, while actress Kyra Sedgwick will unveil her directorial debut Story Of A Girl and take part in an on-stage conversation with husband Kevin Bacon, who stars in the film.
Fresh from Cannes, where it was in the eye of the Netflix storm, Bong Joon Ho's Okja, starring EIFF honorary patron Tilda Swinton, will lead the international line-up, which also includes Russian sci-fi Attraction, Sami Blood, Tom Of Finland, Insyriated, Nepalese drama White Sun and Icelandic thriller The Oath. The country of focus is Poland and will feature the late Andrzej Wajda's final film, Afterimage.
Adams admits there is never any thought about resting on laurels, let along finding time to do so. "You can't ever sit back; the landscape is changing constantly and you have to be talking to sales agents and distributors all the time," he says. "But people love the festival internationally because they love coming to Edinburgh. That's always worked in our favour, and we're very good at being welcoming and inclusive."
Programming challenge
While the 2008 move from August to June gave more breathing room between EIFF and the BFI London Film Festival, coming so soon after Cannes and prior to the awards season launchpads of Venice and Toronto does present programming challenges, especially as it requires films to have a UK premiere status. "It's why I'm always loath to try and have a specific vision, because you have to look at what's happening out there and make what you do fit to the themes, whether it be styles of cinema or nationalities or directors coming through," he says. "It changes all the time."
Early summer festival activities in the UK have also ramped up with Sheffield Doc/Fest and Sundance London, which moved last year from April to early June. Adams admits he would have loved to programme some of the titles that Sundance London has screened this year and last, "but equally we have a lot of very good films from Sundance because it suits them better to go with our festival."
The festival's longstanding relationship with Disney/Pixar continues this year with the UK premiere of Cars 3, which opens in the UK on July 14, following its EIFF showing. This year's edition also features more sidebar standalone events, including a jazz concert and script readings as well as a new venue, the Vue Omni, further afield from the festival's hub around Edinburgh Filmhouse. "We're trying to expand the footprint," says Adams. "You want to try to find the audiences and find new ways to interest people."
Last year, EIFF held its first works-in-progress section, showcasing seven UK projects to sales agents, financiers and festivals. Adams has upped the number of works in progress to 10 this year, and added a $3,200 (£2,500) prize for the most promising filmmaker. The 2017 work-in-progress projects include Leon Chambers' coming-of-age comedy Above The Clouds, Grant McPhee's Scottish folk-horror Far From The Apple Tree and Alexandra Boyd's ghost story Widow's Walk. "We want to be part of a film's life," says Adams.
Last year, Hunt For The Wilderpeople, released in the UK by Vertigo Releasing, received a boost prior to its UK release by winning the festival's audience award, while Suntan, which last year took EIFF's international feature film prize, was picked up for the UK by Eureka and enjoyed further sales and festival slots off the back of that, according to its makers. "You don't just want a film to do well at your festival," says Adams. "You want to help a film to go on."
Event screenings are popular with the EIFF crowd; a showing of Steven Spielberg's Raiders Of The Lost Ark, accompanied by John Williams' iconic score performed live by the Royal Scottish National Orchestra, sold out in less than a day. The festival will also hold an 80th anniversary screening of Atmosphere/The Edge Of The World, Michael Powell's first major feature, in Edinburgh University's FloWave Ocean Energy Research Facility wave tank, which will mimic the cinematic seascapes being depicted on screen.
With 2016 attendance 8% up on 2015 and 17% up on 2013, it is all part of Adams' mission to create a buzzier atmosphere around EIFF among the industry and public — "a sense of 'festival-ness'," he says. "A lot of it was about trying to engage people early, adding in things that were exciting and fun, and trying to transmit that message much more." For industry and public alike, a practical benefit this year will be the redesigned EIFF website, a brighter, more user-friendly improvement on what existed before. "It is much more user-friendly," says Adams. "In the previous version, it was very difficult even to buy tickets."
The Wright call
To celebrate the impending arrival of Edgar Wright's Baby Driver (which won't play the festival despite a June 28 release date, since Sony is staging the UK premiere the same night as Edinburgh's opening), EIFF will host separate screening-plus-party events for a trio of Wright's films: Scott Pilgrim Vs The World on June 15 at the Venue @ Potterow; Shaun Of The Dead on June 22 at The Biscuit Factory and Hot Fuzz on June 29 at the Church Hill Theatre. Giveaways at the events include zombie packs, police helmets and a chance to hear "the latest slam poetry". Adams is hopeful Wright will be able to attend at least one of the screenings.
Industry attraction
EIFF's Industry Programme, held over nine days (June 22-30), will be led by the Screen Summit on June 21, held in association with the BFI and focusing this year on the potential ramifications of Brexit for UK film as well as recent key developments in Scotland's screen sector. Distribution Rewired returns for a third year, where pre-selected projects can discuss alternative models with distribution professionals, while the four-day EIFF Talent Lab will feature executives from Curzon, Lionsgate, Altitude, Bankside, BBC Films and Casarotto Ramsay in a series of workshops and mentoring sessions with 30 young filmmakers. As for the all-important networking opportunities, Edinburgh Filmhouse acts as the social hub of the festival, where drinking and eating can carry on late into the night with industry delegates (who numbered 600 last year), filmmakers, actors, jury members, press and public all in attendance. EIFF's legendary ceilidh dance on June 24 is also an opportunity to watch industry colleagues pulling off their finest Celtic line-dancing moves.