As the 2021 European Film Market (EFM) kicks off, Screen highlights the buzz titles ready to entice international buyers.
Germany
Germany's Beta Cinema is launching sales on two Berlinale Competition titles: Maria Schrader's I'm Your Man, which stars Dan Stevens as a humanoid designed as the perfect partner to scientist Alma (Maren Eggert); and Daniel Brühl's directorial debut Next Door in which the actor also stars as a German movie star whose perfect life is turned upside down after he encounters a fellow Berliner in a bar. Beta is also pre-selling Catalan comedy-drama The Odd-Job Men from director Neus Ballus, about a week in the lives of a group of Barcelona plumbers.
The Match Factory is handling three titles in official selection: Christian Schwochow's Berlin-set drama Je Suis Karl (a Berlinale Special); Anne Zohra Berrached's Panorama title Copilot; and, fresh from Sundance, Dash Shaw's animated drama Cryptozoo.
Global Screen is pre-selling historical drama The Wannssee Conference, about the notorious 1942 meeting during which the Nazis drew up plans for the Final Solution. Directed by Matti Geschonneck, the Constantin/ZDF co-production will be delivered later this year. The company also has a first market screening of Yoav and Doron Paz's thriller Plan A starring August Diehl, Sylvia Hoeks and Michael Aloni, based on the true story of Jewish Holocaust survivors who planned to poison the water system in Germany.
Films Boutique has boarded international sales on Mr Bachmann And His Class. Maria Speth's Berlin Competition title explores the close bond between a school teacher and his students.
M-Appeal has international rights to Panorama title Celts from Milica Tomovic. The film is a humorous and nostalgic drama set in Serbia in the early 1990s. It is also selling Ryusuke Hamaguchi's Competition title Wheel Of Fortune And Fantasy
Austrian documentary specialist Autlook is pre-selling feature documentary Dean Martin: King Of Cool, and will hold first market screenings of Writing With Fire, about a group of Dalit 'untouchable' women in India's Uttar Pradesh who set up an independent news agency.
Arri Media International has Bloodsuckers — A Marxist Vampire Comedy by Julian Radlmaier, which plays the festival's Encounters section. The company will also be showing a teaser of Magdalena Lauritsch's sci-fi survival drama Rubikon and will give a market premiere to Oliver Rihs' Caged Birds, which is set against the backdrop of Swiss state repression in the 1980s.
Berlin-based Pluto Film is launching sales on Stop-Zemlia, Kateryna Gornostai's Ukrainian teenage drama that is playing in Generation 14plus. New projects on its slate include Srdjan Dragojevic's Serbian dark comedy Heavens Above and German marital drama The Great Freedom from Wendla Nölle.
Picture Tree International will show scenes from Sönke Wortmann's drama Contra, in which a professor is in danger of being thrown out of his university after insulting a female law student. The company also has Barbara Kronenberg's Berlinale Generation entry Mission Ulja Funk.
Cologne's Media Luna starts sales on Mexican revenge thriller Ricochet, about a father seeking revenge on his son's murderer.
Italy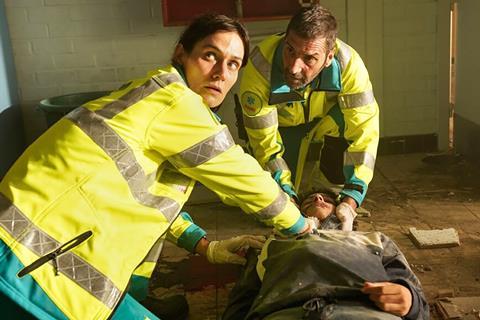 True Colours comes to EFM with two new Italian titles. Stefano Lodovichi's thriller The Guest Room, starring Edoardo Pesce (Dogman) and Guido Caprino (Medici), centres on a strange guest arriving at a motel just as its manager is attempting to take his own life. Christmas family comedy When Mom Is Away… With The Family is Alessandro Genovesi's sequel to 2019's When Mom Is Away, again starring Fabio De Luigi and Valentina Lodovini.
Rome-based Intramovies will kickstart sales on the coming-of-age drama Brother's Keeper, which tells the story of two Kurdish pupils helping each other during a difficult time. The film will play in Panorama and is directed by Ferit Karahan (The Fall From Heaven).
Presented in the work-in-progress section of last year's San Sebastian, Joan Gomez Endara's debut feature The Red Tree is now completed and being sold by The Open Reel. The film follows the journey of an unlikely trio as they learn the meaning of home and family.
Rai Com enters EFM with an Italian animated feature on its slate, The Walking Liberty, which is produced by Mad Entertainment and directed by Alessandro Rak, the pairing behind Venice 2017 Horizons selection Cinderella The Cat. The Rai Com slate also includes Alessandro Grande's debut feature Regina, which tells the story of a girl, with dreams of becoming a singer, and her father, who have to deal with an accidental death. Bianca Film (Mektoub, My Love) produced.
Minerva's genre-led slate is headlined by Alessandro Tonda's debut The Shift, a thriller set in an ambulance in Brussels during a terrorist attack. The company is also selling Federico Alotto's Italian action thriller Code: Karim, which features Euforia's Valentina Cervi.
Vincenzo Mosca's TVCO slate includes Danish director Jonas Kaerup Hjort's debut feature The Penultimate, winner of the Screen International buyer's choice award at last year's MIA Market in Rome. The film is a Kafkaesque drama focusing on a humble water inspector trapped in a nightmarish building.
Coccinelle is bringing Iranian LGBTQ drama At The End Of Evin to the market. Co-directed by Mehdi and Mohammad Torab-Beigi, it follows a girl about to undergo gender reassignment surgery who discovers the reason someone is funding her operation.
Nordics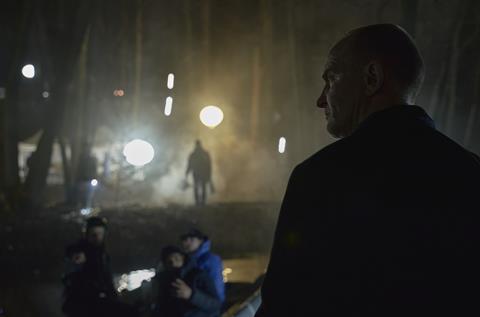 Denmark-based TrustNordisk has Yngvild Sve Flikke's inventive pregnancy comedy drama Ninjababy selected for Generation 14plus (followed by SXSW). Thriller Speak No Evil by Christian Tafdrup stirred attention at Goteborg's Work In Progress and TrustNordisk will include two scenes from the film, currently in post, in its promo reel. The company also has first market screenings for Martin Zandvliet's thriller The Marco Effect, the new film in the rebooted Department Q series, starring Ulrich Thomsen and Zaki Youssef.
Also new on the TrustNordisk slate is forthcoming Danish animated feature Little Allan — The Human Antenna. This is the second feature from Amalie Naesby Fick, following 2017's The Incredible Story Of The Giant Pear, which was co-directed with Philip Einstein Lipski and Joergen Lerdam and selected for Berlin 2018's Generation Kplus section. Fick is also known for her drama series Sex, which was selected for Berlinale Series last year. The producers on Little Allan are Trine Heidegaard and Thomas Heinesen.
REinvent is launching sales on Henrik Martin Dahlsbakken's Norwegian horror Possession, produced by SF Studios and set amid a mining community in 1918. Other hot titles on the REinvent slate include Charlotte Sieling's big-budget period drama Margrete — Queen Of The North starring Trine Dyrholm; Erik Poppe's The Emigrants, about a Swedish family who emigrate to the US in the 1850s; and Bille August's The Pact, about a young author's complicated relationship with Danish author Karen Blixen. All three will be teased in REinvent's promo reel. Its family title Nelly Rapp has also been selected for Generation Kplus. On the TV side, REinvent has Swedish crime drama Snow Angels selected for Berlinale Series and can show buyers the first episode of Norwegian thriller Catch & Release.
LevelK will host the first market screenings of its Lyme disease documentary The Red Ring over the first two days of EFM. Danish title Checkered Ninja 2, the sequel to the hit family animation, is now in post for delivery later this year. The company is also selling Blerta Basholli's Kosovo-set drama Hive, which won several awards at Sundance.
Finland's The Yellow Affair has boarded world sales for Jennifer Sheridan's Rose — A Love Story, a UK horror that premiered at the 2020 BFI London Film Festival. Matt Stokoe and Sophie Rundle star as a couple living in the woods who must confront a life-altering illness that manifests itself in a violent way. The company also has a market premiere for Mika Kaurismaki's Gracious Night, which shot in Helsinki during lockdown and premiered at Tallinn Black Nights, and will soon have footage to show from New Zealand-set drama Punchfeaturing Tim Roth.
Sweden's Eyewell has added Apartment 407 to its slate, inspired by a true sex-trafficking story that involved Swedish singer/actress Frida Farrell. The company is also selling Latvian Oscar submission Blizzard Of Souls and Estonian romantic drama Where The Heart Is.
Rest of the world
Russia's Planeta Inform is beginning sales on Evgeniy Puzyrevsky's social-media horror title The Ex, about the consequences that unfold years after a teenager puts a photo of his girlfriend online.
Mirsand has war movie V2. Escape From Hell and screenlife thriller — stories told from the perspective of computer screens — Blue Whale, both from prolific director Timur Bekmambetov. The latter is available as a feature and a TV series.
Russian animation specialist Wizart is selling The Warrior Princess, directed by Alexey Zamyslov, an animated feature with an underlying message of female empowerment.
All Media is presenting psycho­logical thriller Fib The Truth, about a couple whose weekend alone is interrupted by the unexpected arrival of the woman's ex-boyfriend. The company is also screening Renata Litvinova's feature The North Wind, which recently played at Rotterdam.
Central Partnership is unveiling epic drama The World Champion, based on the titanic, true-life struggle on the chess board during the late 1970s between Soviet-backed champion Anatoly Karpov and his competitor, dissident Viktor Korchnoi. Directed by Alexey Sidorov (T-34), the film has a high-profile cast led by Konstantin Khabensky, Vladimir Vdovichenkov and rising star Ivan Yankovsky.
Poland's New Europe Film Sales has a diverse slate for EFM. Titles include Alvaro Gago's Spanish drama Matria, which is in the Berlinale co-production market, and Finnish drama Any Day Now from Hamy Ramezan, about an Iranian teenager and his family fighting for asylum in Finland. The company is also continuing sales on The Peasants, the latest hand-painted animation feature from Dorota Kobiela (Loving Vincent), which should be ready for delivery by 2022.
Vienna and Cannes-based Fizz-e-Motion and Warsaw-based Sono­vision are working together on Polish distribution and international sales. They have several titles in the market, among them Tuukka Temonen's One Half Of Me, about a horse-loving bar owner and mother of two who fights to ride again after an accident leaves her paralysed. The company is also selling LGBTQ horror pic Playdurizm, directed by Gem Deger.
NFI World Sales, the seller representing National Film Institute Hungary, will launch Post Mortem at EFM. Peter Bergendy's chiller is set in a haunted country village during the Spanish flu epidemic after the First World War.
Alongside family animations including The Nutcracker And The Magic Feast, Budapest-based Luminescence has its $8m war drama Infiltration, produced by Sergey Selyanov and directed by Aleksey Chadov. Shot in English, Russian and Arabic, it is an epic tale of brotherhood, sacrifice and battle.
Belgian outfit Best Friends Forever is unveiling its Tel Aviv-set youth drama All Eyes Off Me, which is screening in Panorama. Also in the sidebar is Ayten Amin's Souad, an Egyptian drama about teenage sisters in a conservative family living on the Nile Delta. It was a Cannes 2020 label selection but makes its market debut in EFM.
Netherlands-based Dutch Features Global Entertainment will have Finland-Netherlands-Norway family film Sihja, The Rebel Fairy by Marja Pyykko, which will premiere at Malmo's BUFF International Film Festival later in March.
Incredible Film is holding first screenings for its children's movie Family Fox On Expedition, directed by Bob Wilbers, and From Gerri With Love, a pandemic-inspired comedy about a chemistry teacher whose online lessons go viral thanks to his erratic dress sense.
Nelleke Driessen's Nine Film has market screenings of Kaweh Modiri's Mitra, which premiered at Rotterdam in January, and Becoming Mona from Lubbe Bakker and Niels van Koevorde.
Fortissimo Films gives a market premiere to Sexual Drive, a Japanese feature about sex, aphrodisiac foods and secret desires.