Screen highlights the buzz titles ready to entice international buyers at the 2023 European Film Market (EFM).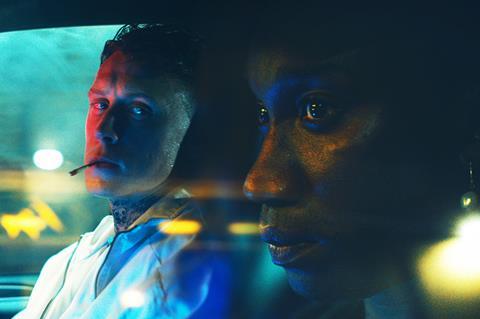 Altitude Film Sales is launching Hell Of A Summer, directed by Stranger Things actor Finn Wolfhard and Billy Bryk. The pair will star in the horror comedy alongside The White Lotus's Fred Hechinger; Hechinger also produces alongside Jason Bateman, Michael Costigan and Jay Van Hoy. 30West has fully financed. Also on Altitude's slate is Speedway, a true-crime documentary/drama hybrid from first-time directors Luke Rynderman and Adam Kamien about a notorious unsolved murder case from 1970s Indiana.
Anton is leading with Femme, a revenge thriller from Sam H Freeman and Ng Choon Ping starring George MacKay and Nathan Stewart-Jarrett that is part of the Panorama line-up. A drag queen has the chance to get their own back after a homophobic attack. Anton is also showing a promo for Mahalia Belo's dystopian drama The End We Start From, which stars Jodie Comer as a new mother trying to return home as environmental disaster hits London.
Bankside Films is leading with horror film The Moogai, a debut from Aboriginal Australian filmmaker Jon Bell and produced by buzzy Australian outfit Causeway Films. A young Aboriginal couple brings home their second baby, with sinister consequences. Bankside is also continuing sales on Justin Anderson's directorial debut Swimming Home, a dark comedy starring Ariane Labed, Christopher Abbott and Mackenzie Davis.
Black Bear International is launching sales on Longlegs, written and directed by Osgood Perkins, in which an FBI agent tracks an elusive serial killer; Nicolas Cage and Maika Monroe star. UTA Independent Film Group and CAA Media Finance co-represent North American rights.
Cornerstone Films is introducing Polly Steele's Ireland-set romance Four Letters Of Love, starring Pierce Brosnan and Helena Bonham Carter, and Moss & Freud, in which Ellie Bamber plays model Kate Moss opposite Derek Jacobi as Lucian Freud. The film is a dramatised account of Moss's portrait sitting for the seminal artist, with UK-New Zealand filmmaker James Lucas directing.
Dogwoof is bringing Sundance premiere Nam June Paik: Moon Is The Oldest TV to the market. Amanda Kim's documentary is a portrait of pioneering Korea-born, US-based video artist Nam June Paik, produced through JBS Arts and Curatorial.
Film Constellation is charging ahead with Coup!, a drama set on a seaside estate during the 1918 Spanish Flu pandemic in which a rebellious servant spearheads an uprising against his wealthy employer. Austin Stark and Joseph Schuman direct, while the cast includes Peter Sarsgaard and Billy Magnussen. Film Constellation will be showing a sales promo of animation They Shot The Piano Player, featuring the voice of Jeff Goldblum and directed by Fernando Trueba and Javier Mariscal. It is a celebratory origin story of the world-renowned Latino musical movement Bossa Nova.
Embankment Films comes to town with An Ideal Wife, directed by Good Luck To You, Leo Grande filmmaker Sophie Hyde and starring Emilia Clarke as Irish author Constance Lloyd, who was married to Oscar Wilde. The company also continues sales on Joika, a New Zealand-Poland co-production about US ballerina Joy Womack, who is also choreographing the film's dance scenes. James Napier Robertson directs, with Talia Ryder and Diane Kruger leading the cast.
HanWay Films is launching sales on gothic horror Virtue, directed by Joanna Coates. In 1350 England, a heroic knight and his son return from war to find their homeland ravaged by plague and social unrest. Nikolaj Coster-Waldau and Romola Garai are set to star, with Coster-Waldau producing alongside Alex Cook, Steve Bakken and Joe Derrick.
Independent Entertainment has international sales on Film4 and BFI-backed Layla. UK-Iraqi filmmaker Amrou Al-Kadhi's debut feature is a queer romance that focuses on the life of a struggling British-Palestinian drag performer. The cast boasts rising stars Bilal Hasna and Louis Greatorex alongside queer icons such as popstar Self Esteem and RuPaul's Drag Race UK contestant Baby. WME Independent is handling North America.
Metro International is hoping survival thriller Swimming Hole will make a splash. With one week left of high school, a teenage couple heads off for an idyllic weekend that turns into a nightmare. Ryan Spindell directs.
Mister Smith Entertainment is introducing buyers to Los Angeles-set crime thriller The Smack from director David M Rosenthal. Casey Affleck, Alan Arkin and Kathy Bates lead the story of a con artist and a hustler who attempt their biggest scam.
Protagonist Pictures is launching sales on Josh Ruben's comedy horror Green Bank, which unfolds in a US town where wifi, mobile-phone services and all other radio transmissions are forbidden. Tatiana Maslany and Jasmin Savoy Brown star; CAA Media Finance and UTA Independent Film Group are co-repping North America. Also being introduced at EFM is horror It Lives Inside, which is based on director Bishal Dutta's own experiences of moving to the US from India in his youth. It is produced by Neon and Get Out and BlacKkKlansman outfit QC Entertainment. Megan Suri leads the cast.
Rocket Science is introducing Girl From The North Country to buyers, the next title from The Banshees Of Inisherin producers Graham Broadbent and Pete Czernin of Blueprint Pictures; Olivia Colman and Woody Harrelson headline the Conor McPherson-directed feature. It is adapted from McPherson's play, which was inspired by the songs of Bob Dylan and is set in a 1934 Minnesota guest house. CAA Media Finance reps US rights.
Film Republic continues sales on Egle Vertelyte's romantic drama Tasty, about two friends who take part in a TV cooking competition. It is produced by Viktorija Cook of Lithuania's Inscript.
SC Films International is hoping buyers will warm to action thriller On Fire, following a family dealing with the devastation of a California wildfire. Nick Lyon and Peter Facinelli direct, with Facinelli also co-producing and starring in the title.
Signature Entertainment has Keir O'Donnell's Marmalade, a Bonnie and Clyde-style romantic thriller centred on a bank-robbing couple on the run. Joe Keery, Camila Morrone and Aldis Hodge star, with Marc Goldberg, Sarah Gabriel, James Harris, Mark Lane and Jason Shapiro producing.
WestEnd Films has sales on Freud's Last Session. Matt Brown directs this drama about the relationship between Sigmund Freud and CS Lewis, with Anthony Hopkins and Matthew Goode in the respective lead roles. The company is also selling Virginia Gilbert's mystery Reawakening, starring Jared Harris, Juliet Stevenson and Erin Doherty in the tale of a couple faced with a dilemma when their long-missing daughter reappears.
101 Films International is leading with Amcomri Productions' Left Behind — Rise Of The Antichrist, a thriller directed by and starring Kevin Sorbo in which a charismatic leader rises to become head of the UN.
AMP hopes to raise buyers' interest with Rebekah McKendry's horror Elevator Game. Social media leads a teenager (Gino Anania) on a desperate search for his missing sister and a ritual game played in elevators.
Blue Finch Films has international sales, excluding North America, on horror The Outwaters, which follows four friends whose camping trip in the Mojave desert takes a sinister turn. Robbie Banfitch writes, directs, produces and stars; Cinedigm has released theatrically in the US.
Brilliant Pictures has Bille August's post-Second World War drama Me, You, starring Tom Hollander and Jeremy Piven. The film is set on the Italian island of Ischia, where a 16-year-old falls in love for the first time across a life-changing summer.
Carnaby International has Poison Arrows, directed and produced by Simon Sprackling. A former darts player convicted of murder leaves prison determined to prove his innocence. Geoff Bell and James Harkness star.
Canoe Film is introducing Latvian director Aigars Grauba's family comedy Accidental Santa. An escaped prisoner in a Santa suit finds his plans thwarted by two children. The cast includes Kaspars Karklins and Janis Vimba.
Devilworks has sci-fi horror Alien Invasion, directed by Marc Carreté and starring Andrea Guasch and Mark Schardan. A young journalist has an extra-terrestrial encounter.
Evolutionary Films is continuing sales on Neil Mackay's thriller Death Hunt, in which a property developer and his mistress are taken hostage in their cottage hideaway. Marlene Malcolm and Omar Tucci star.
GFM Film Sales is launching When The Air Stands Still, a sci-fi thriller starring Scott Adkins and directed by Tom Paton. A man fights to survive a post-apocalyptic world where the air is infected with deadly spores. Meanwhile sister company GFM Animation is putting on a first market screening of Enzo d'Alo's Generation KPlus title A Greyhound Of A Girl. The voice cast includes Brendan Gleeson and Sharon Horgan.
Jinga Films has Rustem Abdrashev's war epic The Diamond Sword, which unfolds around rival descendants of Genghis Khan's empire. Kairat Kemalov, Yerkebulan Daiyrov and Doskhan Zholzhaksynov star.
Kaleidoscope has action adventure King Arthur: Dawn Of Pendragon, starring James Cosmo, Ursula Corbero and Enrique Arce, and produced by Spencer Pollard, Sacha Bennett and Trish Rybarczyk.
Moviehouse Entertainment has The Appleton Ladies' Potato Race. Inspired by real events, it follows a woman's return to her small Australian country town, where she endeavours to upset the apple cart. Claire van der Boom leads the cast and Lynn Hegarty directs. Paramount+ will premiere in Australia.
Parkland Pictures is pushing pre-sales on Genuine Fakes, based on the true story of the John Myatt art fraud scandal. Colin Morgan, Celia Imrie, Peter Firth, Tara Fitzgerald and Kevin Eldon star.
Reason8 is bringing Algerian filmmaker Rabah Ameur-Zaïmeche's The Temple Woods Gang to the market, which will have its international premiere in Forum. A retired soldier living in the Temple Woods housing project outside Paris is caught up in a conflict. Philippe Petit, Régis Laroche and Slimane Dazi star. Ameur-Zaïmeche also produces.
Screenbound brings sci-fi comedy The Bystanders to market, about a group of guardian angels, some of whom are more committed to the job than others. Gabriel Foster Prior directs, Emily Wyatt and Frank Harper star.