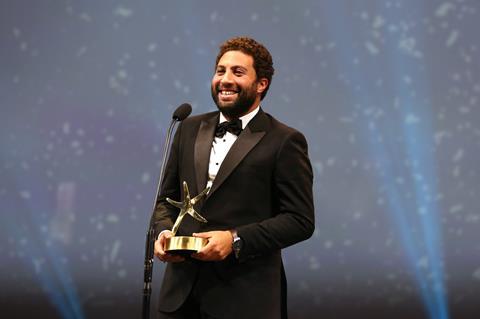 Egyptian director Omar El Zohairy broke onto the international festival scene in July when his debut feature Feathers scooped the top prize at Cannes Critics' Week, where the jury was presided over by Romanian Palme d'Or winner Cristian Mungiu, and also won the Fipresci prize.
The dark comedy follows a downtrodden housewife whose good-for-nothing, bullying husband is irreversibly turned into a chicken by a magician at a children's birthday party. Faced with financial ruin, she embarks on a tough but liberating journey as she takes on the role of the family breadwinner.
Juliette Lepoutre and Pierre Menahem at France's Still Moving lead produced in co-production with Egypt's Film Clinic and Lagoonie Film Production, the Netherlands' Kepler Film and Heretic in Greece, which also handles international sales.
Since Cannes, El Zohairy has been on a worldwide festival tour with the film, clinching a raft of fresh prizes including best international film at Canada's Calgary International Film Festival, best film in the Roberto Rossellini Awards of China's Pingyao International Film Festival and most recently best Arab narrative film at Egypt's El Gouna Film Festival.
The emerging director has found himself in the eye of an Egyptian media storm over the past week, however, after a group of veteran Egyptian actors walked out of the competition screening of Feathers at El Gouna, complaining it depicted Egypt in a bad light.
The festival and a raft of Egyptian directors came out of in support of El Zohairy and the film, including Mohamed Diab, who was also in competition with Palestine-set drama Amira, and Yousry Nasrallah, with whom the young filmmaker cut his filmmaking teeth as an assistant director.
Screen caught up with El Zohairy in El Gouna.
How do you feel about what has happened during the festival?
I don't want to discuss what happened here. I have nothing to say about it.
Why don't you want to talk about it?
Because it's not related to my film which is pure cinema. It's just a film with a human story, a very deep, painful story with a poetic cinematic language. I told the story of an antihero who is going through a hard time in a very absurd, poetic way, not a realistic way. I'm not trying to make a statement in this film. It's simply the discovery of a character, going inside the soul of a human being. It's important for me to discuss that aspect of the film, that's my work. The other interpretations are not mine.
What I want to do in cinema is to discover the lives of the characters. I don't want to make films for a certain period. Making a film about people means the film will not expire. It will live forever because emotions cannot be a trend. Emotions are emotions, feelings are feelings. Humour is something that is timeless. Look at the way we still enjoy and appreciate the films of Buster Keaton and Charlie Chaplin. I consider this film as a comedy, a new type of comedy.
What was the inspiration for the central, female character?
The story grew out of a very personal incident, but I like to keep a distance between what I experience in my personal life and what is in my films. I took this experience and made it into a different story, with this distance I can go into it in more depth.
Can you say what this personal incident was?
I had a very personal story with my father. He passed away because of bad news. He was a genius guy, but he was too into himself. He didn't express himself. His being passive in his life, meant we lost a lot of moments together. I suffered a lot from that. I had a lot of doubts about myself. I didn't want to be like my father.
How did you transpose this experience into Feathers?
It builds on my experience with my graduation short [The Aftermath Of The Inauguration Of The Public Toilet At Kilometer 375]. It's a dark comedy that came together in a very intuitive way and then went to Cannes.
I wanted to do another dark comedy and was subconsciously turning ideas over in my mind. One day, while I was at the airport, I came up with the idea of a woman whose husband turns into a chicken. It reminded me of Kafka's Metamorphosis. I started to develop the story taking into account my experiences with my father and started to build this anti-hero character. The sort of person who is always overlooked and never gets noticed in real life.
Even if the film is character-based, it still seems to present a certain image of Egypt and the fate of its lower classes.
No, not really, the way I see it is that we're the citizens of the world. We're facing the same issues across humanity. My father died in the US. He was an immigrant there, living under difficult conditions and full of doubts until he suddenly passed away. The film is about the essence of humanity. It's very clear that the place in the film is not a real place. There are no labels in the film. The characters don't have names. It's not Egypt. It's a nowhere place that I created.
You cast non-professional actors for the film. Are they from similar backgrounds to the characters in the film?
No, not really, my choice of actors was based mainly on my first impression of them and from the look in their eyes and whether I could imagine them in the situation in the film and how they would react.
Have you started thinking about your second feature yet?
It's going to be a comedy with musical elements about two old guys who want to be singers but have no real aptitude for it. I don't want to say too much more about it as I'm still figuring it out.
Egyptian director Mohamed Diab, who voiced his support for you, also faced a local backlash with his debut film Clash. He moved to LA, where he and his wife and creative partner Sarah Goher clinched a deal to shoot the Marvel series Moon Knight. Would you ever consider such a move?
I love cinema and like to go outside my comfort zone but it's important for me to keep my identity as a filmmaker. I don't want to go to a place like Hollywood and make B-movies. What is interesting to me is to make films that I'm convinced that I have to make as a filmmaker. I look to what Lanthimos did when he left Greece to shoot The Lobster or The Killing Of An Ancient Deer. I love what he did in Greece but when he branched out he stayed true to himself and brought others into his world.