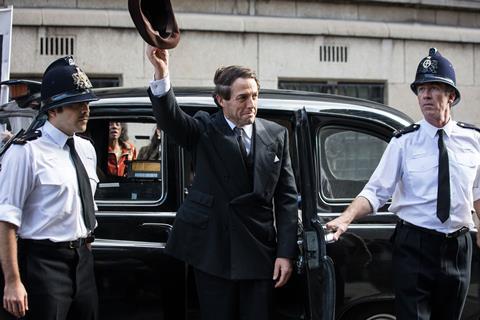 UK actor Hugh Grant returned to television screens for the first time in over 20 years for A Very English Scandal, the dramatic re-telling of the true story of the first British politician to stand trial for conspiracy and incitement to murder in 1979.
The role has garnered Grant a host of high-profile plaudits, including Golden Globe and BAFTA nominations and now a Primetime Emmy nomination for outstanding lead actor in a limited series or movie.
In the three-part drama produced by Blueprint Television for BBC One in the UK and Amazon Prime Video in the US, Grant stars as disgraced MP Jeremy Thorpe, who in 1979 was tried but acquitted of conspiring to murder his ex-lover Norman Scott, played by Ben Whishaw (also nominated for in the Emmy's supporting actor category.)
"I've played real historical figures before but they've been so in the past that or obscure there's been no film on them," Grant explains of the research he undertook. "It is quite a novel experience to be preparing a role and there he is at the click of a mouse."
Grant — who, for many, remains the quintessential bumbling English charmer of myriad romantic comedies (Four Weddings and A Funeral, Bridget Jones's Diary, Love Actually et al) — says he relished the chance to play an all together darker, manipulative and more Machiavellian charmer.
Written by Russell T. Davies (who has also received an Emmy nomination), A Very English Scandal is directed by Stephen Frears, with whom Grant had recently made Florence Foster Jenkins with Meryl Streep. However his first reaction on being offered the part was that he was too old. Thorpe is in his 30s at the start of the story; Grant is 56. But he overcame his tendency to "always try and find a way not to do something", with the help of Frears who told him everyone looked old in 1970s Britain in their suits, ties and hats.
"You look for where the character's centre of energy is and to me, for him, it was his voice," Grant says. "[Thorpe] was extremely proud and vain about being a marvellous orator and public speaker."
A self-confessed snob when it comes to the small screen versus cinema, Grant took the role after a dinner with Frears.
"I was about to do some other job. He said 'oh don't do that, I think I've got something for you, I'll send it to you.' And he sent me these scripts."
Grant is not accustomed to being sent scripts in the plural. "I thought television? I don't think I do television because I'm old fashioned like that and then I read them [the scripts]. They were completely brilliant."
"I am not sure [Frears] has ever really admitted it, but I think he's drawn to the more unusual manifestations of humanity, that border on the freak show," Grant says. "My experience of life is people are capable of both good and bad and it's great fun when you get to play them."
Despite Grant's inexperience with small screen projects, he says making television with Frears wasn't very different from making films. "Maybe you move a bit faster [on TV], six pages a day instead of three. I quite like that because there's an awful lot of sitting around on a film set."
The project shot on location in England and Wales; a street in Bridgend stood in for Dublin, while a bank of green leather seats in a shed in Wales stood in for the parliamentary debating chamber. Grant loves filming in the UK and enjoys "the strange provincia lhotel we all stay in and the locals who become extras."
Always in a permanent state of irritation on any film set because he is "so tragically nervous still, even at the age of 58," Grant confesses to being a repressed prima donna. "Every day scares the shit out of me and that puts you on edge. The slightest thing. If my breakfast doesn't arrive on time in my trailer I am furious. I have to pretend I am still a decent human being but inwardly I am Cher, I'm screaming. I try not to do it aloud."
Grant says he usually has one outward tantrum per film "blaming an inanimate object" for the fact he's forgotten his lines. "'Fucking cables, how am I supposed to act when I've got cables all around my feet' and in fact there is nothing wrong with the cables," he smiles.
Grotesque appeal
The actor believes the appeal to audiences ofA Very British Scandal may in part be down to the elements of the grotesque in the story, the way in which the outwardly charming Thorpe plots the murder of his lover. "It is almost like the end of the pier freak show thing," he suggests.
He also has another theory. "If you look at a lot of the series and films which are successful these days, they're often set in a pre-smart phone era. Even a pre-internet era when I personally think life might have been more interesting and one we kind of hanker after it now."
After all, Grant chuckles, "you could be more secret, more evil, more clandestine, get up to more mischief, be more interesting, less homogenised."