Rising Canadian outfit Black Fawn Films discuss their Fantasia world premiere Bed Of The Dead and challenges and opportunities in the genre space today.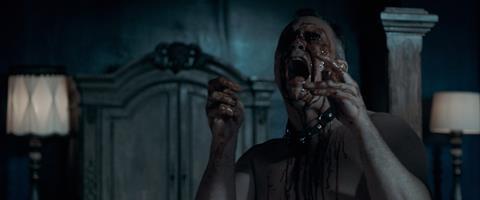 Black Fawn Films have become a regular fixture on the genre festival circuit in recent years, following their eight-picture deal with Breakthrough Entertainment which officially started with John Anslie's The Sublet, followed by last year's squelchy body horror Bite.
The Canadian company recently premiered the next film in the deal, Bed Of The Dead, at Montreal's Fantasia International Film Festival, and it has another world premiere at London's upcoming FrightFest in the shape of Cody Calahan's Let Her Out.
Directed by Black Fawn's Jeff Maher, Bed Of The Dead is best described as Seven meets A Nightmare On Elm Street.
Despite their Breakthrough deal, the company needed to remain resourceful during production on the film, which is centred on two couples who find themselves trapped on an ancient bed.
"On every film we sit down and come up with a load of ideas but those discussions also include quite a bit of 'Nope, nope…'," explains Black Fawn co-owner and producer Chad Archibald.
"We know some of the stuff we've been able to pull off, and we know what's suffered a little bit because of us trying to be too ambitious."
Economy and agility is key with some films only benefitting from two weeks of pre-production.
"Usually, when I make my lighting list, it starts off huge and keeps getting cut back until there are four lights," recalls Bed Of The Dead writer-director Maher, who shot Let Her Out.
"On every movie I make, I ask for the big thing. I'm worried that if I ask for four lights, I'll get a flashlight."
Shifting genre scene
Producer Chris Giroux describes David Robert Mitchell's It Follows as a "game changer" in the indie genre production scene: "When it came out, it changed things: fewer monsters, more really thought-provoking concepts, which I think Cody has achieved with Let Her Out."
Archibald adds: "It [It Follows] was inspiring as it showed that a good idea is a good one, regardless of your budget. The indie genre really leads from the front in terms of originality because you don't have the budget to say, 'We're going to blow up New York in this scene'."
And yet, while having a production deal helps, the success of films like It Follows, The Babadook and Green Room has also required Black Fawn to adapt the type of projects they pitch to Breakthrough.
"We haven't come up with eight ideas. We'll come up with 20, read through them, throw them out and start again," notes Calahan. "I think we're hard enough on each other to make sure the ideas are unique."
Giroux continues: "The fact is they're committed to these eight films, but they'll never greenlight something that they don't think is going to be a great film with a good concept."
Netflix impact
Another factor in the fast-changing production landscape is the emergence of Netflix and other online platforms which "are becoming like studios", in Archibald's words.
"We struggle with that internally, and try to push our films to be the best they can be because we know there's so much competition out there," expands Giroux. "I've watched the distribution market change so rapidly over the past few years, and now Netflix has changed the game."
While the big platforms have increased competition and provide alternative routes to audiences for genre filmmakers, the noise around Netflix and Amazon can also mask difficulties in the landscape.
"[Canadian cable channel] Super Channel is having a lot of trouble right now, and they've purchased almost all of our films," he says.
"There are major distribution companies in Canada that have gone out of business or closed down recently that were massive parts of our structure. But as one of those closes, another one starts, so you've just got to keep working with it."
However, Black Fawn has recently been given a boost through a five film home entertainment distribution deal with Canadian outfit United Front Entertainment, founded by former Anchor Bay executives Rob Herholz and Susan Curran. Those five films are Antisocial 2, Bite, Bed Of The Dead, The Sublet and Let Her Out.
"It's great being involved in a company we know so well because we can talk to distributors about release strategies," enthuses Archibald. "A lot of the time, when we sell a film it just disappears and then all of a sudden the DVD comes out."