Filmart 2014 is expected to draw record numbers of attendees. Jean Noh looks at the special allure of Hong Kong as a market that works across borders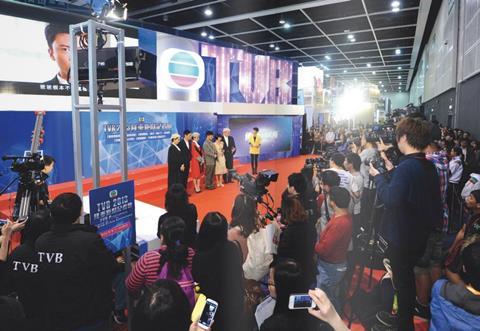 With China's box office continuing to grow - last year it increased by 27% to reach $3.6bn - Hong Kong Filmart is strengthening its position as a gateway to the mainland. Producers and investors looking for a piece of the mainland China box office can get around the annual film import quota with Chinese-language co-productions that have received authorities' official stamp of approval. Examples include hit films such as China-Korea co-production A Wedding Invitation and Hong Kong-China co-productions The Silent War, Chinese Zodiac and Painted Skin: The Resurrection.
"Filmart is always the gateway to China, we have reinforced Hong Kong's role as an East meets West co-production centre and a perfect platform to explore the possibility of collaboration across borders for industry players from around the world," says Raymond Yip, assistant executive director of Hong Kong Trade Development Council (HKTDC), organiser of Filmart.
As part of the 10th Entertainment Expo, the Filmart organiser this year expects to host a record number of "around 760 exhibitors from some 30 countries and regions" and, by the time the four-day event is over, more than 6,500 visitors from around the world.
Filmart takes place March 24-27 at the Hong Kong Convention and Exhibition Centre (HKCEC).
Exhibitors cross borders
Aiming for increased UK-China collaboration, the British Film Institute-backed Film Export UK has made Filmart one of three destinations - the others being Berlin and Toronto - where it chooses to boost its brand.
Other exhibitors this year include UniFrance, Independent Film & Television Alliance of America, Korean Film Council (KOFIC) and Japan External Trade Organisation (JETRO), with first-time exhibitors coming from Brunei and Malta and new pavilions from Russia and the Chinese provinces of Shandong, Sichuan and Guangdong. The market will also have returning pavilions from Canada, Germany, India, Indonesia, Italy, Malaysia, Singapore, the Philippines and Taiwan.
Filmart sees itself as a bridge between Berlin's European Film Market
(EFM) in February and Cannes' Marché du Film in May, but sellers also consider it to be a good place to meet with buyers who might skip one or other of the European markets.
"For Odin's Eye, it remains the Asian market to attend although it is being challenged by Beijing and Busan. We primarily use it as a bridging market and meet with the buyers we may have missed in Berlin or that do not travel to Cannes," says Michael Favelle, CEO of Australia-based Odin's Eye.
"The last two years have seen a lot more American and European sales companies attending since the China market became more of a priority."
Filmart also provides a home-ground advantage with added launch power for local sellers.
Media Asia Distribution's general manager, head of sales and international co-productions Fred Tsui explains: "Filmart is a very important opportunity to launch new films to our clients, as we have the stars and directors right here. It's also a unique market where our clients can actually meet our supporting staff in person, and that certainly helps our post-sales operations. Filmart is also perfect for local PR. We can host drinks or dinners for our loyal clients and film festival programmers."
He adds: "Not every regional buyer attends Berlin, but they all come to Filmart. So deals are normally signed for these territories during the market. As for European or American buyers, I probably have already met them in Berlin, so Filmart is mainly an additional opportunity for follow-up on sales or negotiations started in Berlin. We would also use this market to prep our clients for what to expect in Cannes, where the actual sales will take place."
Filmart this year will welcome buyers from territories including Canada, China, India, Japan, Korea and Taiwan. Organisers also expect visitors from emerging markets such as Cambodia, Indonesia, Malaysia, South Africa, Thailand and Vietnam.
Keizo Kabata, COO at the prolific Japanese buyer Twin, says his company will be at Filmart looking for mainstream commercial Asian films from China, Hong Kong and Korea.
"We are distributing many Asian films these days, and Filmart is a useful market to meet and catch up with Asian licensors/producers. Filmart and Cannes are the markets to fill [our] slate for Q4 2014 and the first half of the year 2015," he says.
Discussion points
Looking to the trend of cross-media development, HKTDC at Filmart is organising conferences including Multiplying Your Revenue: The Power of Online Media; The Next Generation Film Industry in Asia: Challenges and Opportunities; TV International Forum: New Era of Asian Reality Shows; and Digital Entertainment Summit: What's New & What's Next.
The 12th Hong Kong - Asia Film Financing Forum (HAF) will run March 24-26 alongside the market at HKCEC. The project market this year made 29 selections including four in the HAF/Fox Chinese Film Development Award category to meet film financiers, producers, distributors and buyers.
Projects this year include cinematographer-director Jason Kwan's Hong Kong film A Nail Clipper Romance, produced by acclaimed director Pang Ho Cheung, and, unusually, two projects from Cannes award-winning Filipino director Brillante Mendoza - his first documentary/drama Gay Messiah and what would be his first period feature, The Embroiderer.
Award-winning Filipino director Jun Robles Lana returns to HAF with Our Father, the last of his small-town Philippines trilogy. Taiwanese director Lin Yu-Hsien - of the hit Jump! Ashin - will present love story Follow You, and Afghan director Fazila Amiri will present documentary Hip Hop Kabul. Singaporean TV and film director Ong Meng will present fantasy film Sisters Snake in the HAF/Fox award category.
HAF is this year also launching the Fushan Documentary Award to support and promote the development of feature-length documentaries. The winner will receive $13,000 (hk$100,000) and will be offered a development contract with Chinese film production and investment company Fushan Features.