As France celebrates 120 years of cinema, its film industry is facing economic pressures and a production downturn. But entrepreneurial producers are already finding solutions.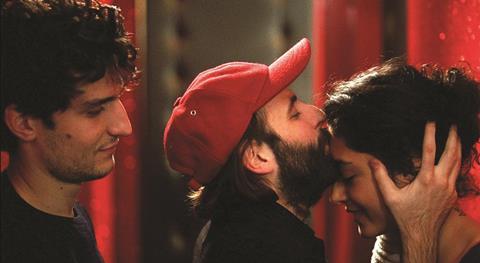 Some 120 years ago, Auguste and Louis Lumiere made cinema history when they filmed workers leaving their photographic equipment factory in Lyons.
The footage - consisting of grainy images of women in long skirts, a man on a bicycle, and a horse and carriage passing through the factory gate - is considered to be the first ever motion picture, although in truth other works predate it.
A short time later, in December 1895, a series of public screenings in Le Salon Indien du Grand Café in Paris, organised by the Lumieres, marked the birth of one of the most cinephile nations on the planet.
Today, the country that pioneered cinema is home to one of the most important film industries in the world. A quarter of the Cannes titles premiering in this year's Official Selection, Directors' Fortnight, Critics' Week and ACID hail from France.
Gritty social dramas such as Dheepan by Cannes habitué Jacques Audiard and Standing Tall by second-time feature director Emmanuelle Bercot will play alongside Valérie Donzelli's costume drama Marguerite And Julien and the low-budget existentialist sci-fi tale Cosmodrama by Philippe Fernandez.
With some 250 features produced a year, France covers all the bases. But while the strong selection suggests France's film industry is in rude health, recent production figures and anecdotal accounts paint a different picture.
An annual study by the country's National Cinema Centre (CNC), released in January, showed that investment in French film production plummeted by 20% in 2014 to reach a 13-year low, with the number of features falling to 258, some 12 fewer than in 2013. The numbers are not expected to pick up in 2015.
Loss of appetite
The industry is facing multiple challenges, including one of the most difficult economic periods for France since the Second World War and the rise of digital distribution platforms outside the country, which are putting pressure on its traditional release windows and intertwined funding mechanisms.
Other pressures include the shift from the big screen to smartphones and tablets by younger generations, which is forcing broadcasters to rethink formats, and a new labour agreement for crew, the Convention Collective, which has driven up production costs.
Linked to all of the above, the biggest challenge for producers today is securing the backing of broadcasters and distributors which, alongside the CNC, are traditionally the backbone of film financing in France. Falling investment by pay-TV channel Canal Plus, which under French law is obliged to invest 12.5% of its budget in European film, with the onus on French productions, is particularly affecting the industry.
"The French side? It's hell," says Jean- Baptiste Babin, founding partner of Paris-based film financiers Backup Media Group, which works on French and international productions.
Recent titles include French writer-director Nicolas Saada's India-set Taj Mahal, reconstructing the Mumbai attacks of 2008, as well as international productions Brimstone by Martin Koolhoven, Julio Medem's Ma ma and, before that, Still Alice.
"To present a French project internationally, we've got to show it has attracted investment back home, to give investors confidence, but that's proving difficult," says Babin, noting that Backup has seen an uptick in producers seeking its services.
"There were producers we knew who would always get a distributor and Canal Plus. Today, nobody is taking that for granted. No-one is sure of finding a distributor or a broadcaster."
The CNC figures showed Canal Plus investment in feature films dropped by 15% in 2014 to $151m (€136m). In total, the broadcaster pre-bought 103 European titles, 92 of them French. It was the first time in a decade that Canal Plus had invested in less than 40% of all French film productions, and the second year in a row its investment in European cinema had fallen.
In 2013, it financed 126 films to the tune of $185m (€167m), representing a 14% fall.
Producers also complain Canal Plus and the other broadcasters are increasingly focussed on middle-of-the-road, crowd-pleasing fare, or arthouse films by established auteurs, rather than taking a punt on new directors or riskier titles. Last year, more than 100 French films - mainly in the low-budget $1m-$2m (€1m-€2m) range - were made without a broadcaster, a figure that would have been unimaginable a decade ago.
"There's increasing concentration of investment on commercial films where the outcome is more certain. It's difficult to find investors who are prepared to take a risk," says Charles Gillibert of CG Cinema, producer of Olivier Assayas' Clouds Of Sils Maria as well as the Turkish director Deniz Gamze Erguven's Mustang, which will premiere in Directors' Fortnight.
Crossover with TV
As French producers face up to the new realities of financing and digital distribution, a number of interesting developments are taking place. There is greater crossover between the film and TV worlds - which, unlike the UK, have always remained quite separate - with more and more big-name film directors turning to the small screen.
Bruno Dumont, for example, made the critically acclaimed police thriller Li'l Quinquin mini-series for Franco-German broadcaster Arte last year.
After premiering at a special screening in Directors' Fortnight last year, the complete series was seen by 1.4 million viewers when it aired in September.
Elsewhere, film directors Samuel Benchetrit - whose latest film Asphalte will premiere in a special screening at Cannes - and Florent-Emilio Siri are expected to shoot the upcoming Netflix series Marseille.
A number of companies with roots in cinema have also diversified into TV such as EuropaCorp, with series such as No Limit and Taxi Brooklyn, and Haut et Court, which produced the Emmy-winning international hit The Returned.
"There is a mutation in public taste," says Juliette Prissard-Eltejaye, managing director of France's Independent Producers' Syndicate, which represents 400 producers.
"Younger generations are watching a lot of series - a lot of them are very interesting and not just from the US but also elsewhere. I hear people who talk about The Wire in the same way they would discuss a cinema classic. We must take this on board."
Alternative finance
The other big development is the rise in private finance. "There are more and more funds specialising in cinema, something that has long been common in the UK and the US, but which didn't really exist in France until recently," says Gillibert.
"A number are structured in such a way to help finance minimum guarantees alongside the distributors or the sellers, who want to reduce risk.
"People are also increasingly looking to private individuals and companies for support. I've turned to private financiers a number of times, mixing their investment with more traditional sources of finance. I also work hard to involve one or two distributors in territories where I think the film will have particular resonance early on. I increasingly look to investors and international income."
For Mustang, about four Turkish sisters who rebel against pre-ordained lives in a conservative village, Gillibert lined up a chunk of private finance as a precaution while waiting for answers from the CNC and broadcasters.
"I had private investors who were prepared to come on board," he says. "That allowed me to advance with the project even though, in the end, I got the World Cinema Support, and other sources came through, so I didn't need it."
Christophe Cervoni turned to private funder Cinéfrance for the financing of Philippe Lacheau and Nicolas Benamou's 2014 breakout hit Babysitting, a found-footage comedy about a babysitting gig that takes a chaotic turn.
Launched in 2012, Paris-based Cinéfrance has been involved in roughly 20 productions to date, including Julien Leclercq's upcoming action thriller The Crew, Jalil Lespert's Yves Saint Laurent and Woody Allen's Magic In The Moonlight.
Although Universal Productions International agreed to back Babysitting to the tune of $1.6m (€1.4m), Cervoni still struggled to finance the film because he couldn't get Canal Plus to bite.
"We found ourselves in a paradoxical situation," explains Cervoni, who produces under the Axel Films banner. "We had a big distributor, Universal, which was ready to pre-finance the film for a large sum, but then Canal Plus didn't want to come in and it wasn't the type of film we could sell to the free-to-air channels."
He pulled the rest of the $3.3m (€3m) budget together through a combination of tax incentives, a cash and services production deal with post-production house Film Factory and a $612,000 (€550,000) injection by Cinéfrance, which bridged the gap he needed to complete the film.
"Cinéfrance was the last partner to come on board. There's a need for this sort of innovative fund in France right now," says Cervoni. "That said, you wouldn't necessarily turn to them if you have alternative sources of funding. They drive a hard bargain."
For the Brazil-set Babysitting 2, Cervoni is taking a more traditional route.
Established producers are also becoming more creative in the way they fund their films. Bertrand Faivre, for example, founder of independent UK production company The Bureau, Paris-based Le Bureau and sales arm The Bureau Sales, has become adept at juggling traditional and more innovative sources of finance due to the fact he often makes non-French language fare.
"France's film-financing ecosystem is mainly tied to the French language and, for the past 15 years, I've produced films that are not all in French so I've often had to work outside of the system," says Faivre.
"This has led me to forge links with foreign sales companies outside France, investors, bonds and equity funds, which have a very different approach from the usual funders operating in the French system."
Pulling together
Faivre also makes use of the returns from a growing library of prestigious titles by the likes of Arnaud Desplechin, Xavier Beauvois and André Téchiné to be financially self- sufficient.
For Fabienne Berthaud's upcoming English-language drama Sky, starring Diane Kruger as a woman who sets off alone across California and Nevada after a violent dispute with her husband, Faivre pulled together a patchwork of support.
Partners for Sky included pay-TV operator Orange Cinéma Séries, Haut et Court, Germany's Film und Medien Stiftung NRW fund (through co-producer Pandora Film), German distributor Alamode Film and private equity fund Vamonos Films, which was launched last year by French entrepreneur Grégoire Lassalle, the driving force behind the powerful AlloCiné cinema and TV information website.
Le Bureau also put $612,000 (€550,000) of its own investment into the production and handles foreign sales.
Faivre thinks his way of financing will become more prevalent in France in the future. "Because the French cinema sector is in turmoil, I see increasing numbers of producers opening up to alternative ways of financing French films, which was not the case 10 years ago," he says.
"The French are coming round to the fact that the luxury situation we had is changing. French pay and free TV have a smaller appetite for cinema, which is also under pressure from other formats such as video games and series. We've been through a golden era but, if you think a golden era is forever, you're in trouble."
At a time when the French film industry is celebrating its past, it is also preparing for a very different future.
French films at Cannes
The Anarchists dir. Elie Wajeman
Asphalte dir. Samuel Benchetrit
Cowboys dir. Thomas Bidegain
Dheepan dir. Jacques Audiard
Disorder dir. Alice Winocour
Don't Tell Me The Boy Was Mad dir. Robert Guédiguian
Fatima dir. Philippe Faucon
I Am A Soldier dir. Laurent Lariviere
Ice And The Sky dir. Luc Jacquet
In The Shadow Of Women dir. Philippe Garrel
The Little Prince dir. Mark Osborne
Love dir. Gaspar Noé
Marguerite And Julien dir. Valérie Donzelli
Mon Roi dir. Maïwenn
The Measure Of A Man dir. Stéphane Brizé
My Golden Days dir. Arnaud Desplechin
Standing Tall dir. Emmanuelle Bercot
Two Friends dir. Louis Garrel
Valley Of Love dir. Guillaume Nicloux
Learn By Heart dir. Mathieu Vadepied
The Wakhan Front dir. Clément Cogitore