Uncertainty looms large over China's industry in the wake of a disappointing year at the box office.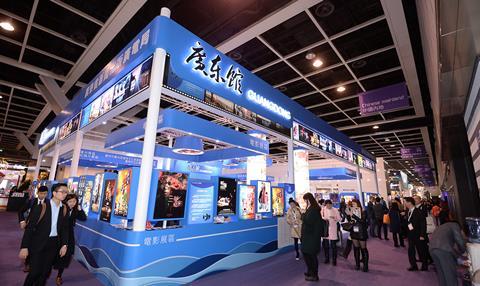 This year's Filmart (March 13-16) is taking place during an uncertain but potentially transformative time in the relationship between the mainland China film market and the rest of the world.
Just last month, the five-year US-China film agreement, which governs issues such as import quotas and the number of Chinese distributors allowed to handle foreign films by themselves, rather than through China Film Group, came up for renegotiation.
With US president Donald Trump's protectionist rhetoric, China market watchers are nervous about the direction these talks will take. This is also a time when China's surging investment into US film companies appears to have hit a few speed bumps, with some recent deals stalling, ostensibly due to the Chinese government's concerns over capital flight.
And as if that wasn't enough to keep Filmart attendees chattering, it's also a time when growth at the Chinese box office has skidded almost to a halt. While box office in January, which included the lucrative Chinese New Year holiday period, was up 25%, it fell 13% in February compared to the same month in 2016. This follows a year in which box office grew by just 3.7% to reach $6.6bn, compared to growth of 48% in 2015.
With these concerns in mind, Filmart organiser, the Hong Kong Trade Development Council (HKTDC), is dedicating the first morning of the market to a discussion of the future direction the China market will take. "Some industry observers say the China market is rectifying several issues from the past — but everyone is asking what will happen next," says HKTDC senior service promotion manager Peggie Liu. "Will the box office start growing again or has it already reached maturity? And will Chinese companies focus on their domestic market or continue to invest overseas?"
What's next?
Speakers at the China seminar — 'What's Next for the Chinese Market' — include JQ Pictures' chairman Qin Hong, Fujian Hengye Pictures president Daniel Chan and filmmaker Stanley Tong, who recently directed Chinese New Year hit Kung Fu Yoga. In addition, Yin Chao, president of online platform Tmeng.cn, will discuss the rising impact of made-for-internet movies and episodic series in mainland China.
US and European sales companies attending this year's Filmart report that the number of Chinese buyers appears to be increasing — both at Filmart and other markets during the year — with companies that initially focused on acquiring for VoD platforms looking to the theatrical market, and vice versa.
But uncertainty over the number of films that can be imported on a flat-fee basis, which has never been officially stated by China, along with other issues, means that theatrical deals continue to be challenging for independent sellers.
"Chinese distributors are noting that, due to the local box office performing below expectations in 2016, more slots became available in the latter half of last year, prompting an increase in acquisitions and the ability to secure a theatrical slot," says Altitude Film Sales senior sales manager Vicki Brown. "But there haven't been many signs to suggest that 2017 will prove easier than other years. Unfortunately the ability to release theatrically is tied to getting a quota slot, as well as passing censorship, and the distributor often has limited control in deciding when the film can be released."
Meanwhile, speaking off the record, Chinese buyers say they're concerned that, as the annual revenue-sharing quota of 34 films is taken up mostly by the US studios, any increase in that quota following the current US-China negotiations may leave less space than ever for independent films.
With theatrical deals remaining difficult, sales companies continue to focus on selling to VoD platforms in China. "Chinese streaming platforms such as iQiyi and Youku are growing at a very fast pace," says Voltage Pictures senior vice-president, international sales, Alexandra Cocean. "They have the resources to go after content they believe in and give it the proper exposure in the market. Having fewer restrictions on genre and quota makes them the perfect medium for releasing high-quality US and European films."
However, Western sellers point out that Filmart is about much more than engaging with the mainland China market. "We're still seeing strong pre-buying initiative from Japan, South Korea, Taiwan and Hong Kong — all these markets remain competitive," says HanWay Films senior sales manager Anna Chettle. "I'm also keeping my eye on Vietnam, which continues to be a tricky market in terms of taste and censorship, but it's somewhere we see opportunity and we're keen to develop our business there."
Film Mode Entertainment president Clay Epstein says he is also tracking Asia's less mature markets as audience preferences evolve. "Territories like Vietnam and Malaysia are active and VoD deals in China have increased. Japan continues to be cautious. I do think audiences in the emerging markets are becoming increasingly sophisticated in their viewing trends."
Outside of China's booming VoD market, Asia has seen a huge rise in the number of pan-regional streaming platforms, including entrants such as iFlix, HOOQ and PCCW's Viu. But sellers say it is still early days in terms of revenue that could replace DVD in many Asian territories. "We always aim for all-rights sales for our first-run titles, so it's not something we're particularly focused on. But it's exciting to see opportunities for our library titles in a medium that is primarily aimed at younger audiences," says HanWay's Chettle.
Filmart's conference series will also explore Asia's burgeoning online market through two panels: 'Is the Internet a Challenge or Opportunity for Show Business?', co-organised with the Hong Kong Televisioners Association, and 'New Opportunities in the Explosive Growth of Online Entertainment' in conjunction with the Hong Kong-Asia Film Financing Forum (HAF) and iQiyi.
Eye on documentaries
This year, Filmart is also introducing a focus on documentaries — a format that has benefited greatly from the rise of digital distribution. A panel entitled 'Opportunity for Documentaries in Asia' features speakers from Korean broadcaster KBS, Japan's NHK and Chinese independent documentary association CNEX, while docs including Ruby Yang's In Search Of Perfect Consonance and Golden Horse winner The Chinese Mayor will receive market screenings.
In addition, the tradeshow floor at the Hong Kong Convention and Exhibition Centre will highlight the 100-plus exhibitors with documentaries on their slates.
Filmart has always worked hard to be a cross-industry event, so it also hosts pavilions dedicated to companies handling TV programming, animation and digital entertainment, along with seminars focusing on these different types of content.
This year's Digital Entertainment Summit features an interview with Genki Kawamura, producer of Japanese anime hit Your Name, and a panel with speakers from leading VFX houses Digital Domain, Korea's Digital Idea (Train To Busan) and China's Illumina Inc (Wolf Totem).
A separate session on animation, with speakers including BaseFX's Chris Bremble and Wink Animation CEO Joe Aguilar, will discuss whether Chinese animated movies are ready to reach the international market. Sino-foreign co-productions will also be under the spotlight at a session featuring speakers such as Globalgate Entertainment chairman William Pfeiffer, Desen International Media president Ann An and CMC Holdings president Clark Xu.
While some of Asia's most pressing questions — China's import quotas and investment appetite and the sustainability of pan-Asian VoD platforms — are not likely to be answered any time soon, Filmart attendees should at least come away from the event armed with a deeper understanding of the region. If they take advantage of the market's many networking and social events, they should also leave with a few more industry relationships and friends.