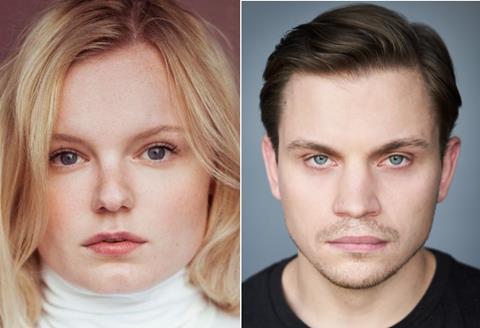 A new wave of acting talent is emerging from the largely untapped Baltic region to meet the insatiable international demand for talent.
The Black Nights Stars showcase is organised by Tallinn Black Nights Film Festival in Estonia and is taking place from November 21-27. Now in its fourth edition, it is attracting the attention of leading casting directors and international filmmakers in what is its first online edition due to the pandemic.
The casting directors taking part include Avy Kaufman (Brokeback Mountain), Joseph Middleton (Twilight: New Moon) and Billy Hopkins (Mudbound).
Former Black Nights Stars talk warmly of how the showcase has boosted their careers.
"I found it hugely helpful in meeting talent agents and casting directors, helping raise my visibility as an actress, as well as spending time with people that can help you better understand the industry and grow by sharing their experience," says German-Romanian actress Maria Dragus, who took part in 2019.
Dragus will next be seen in German drama series Wild Republic about a group of young offenders who escape a rehabilitation program in the Alps and flee into the mountains to form their own community.
Having previously been selected for Shooting Stars at the Berlinale in 2014, Dragus says: "Black Nights Stars was more private, providing access to people in a different way. It's definitely one of the more interesting talent initiatives out there and focuses on a region that has been overlooked by the West."
Estonian actor Pääru Oja was a Black Nights Star in 2018 and is now a major talent in the region having won the leading role in Veiko Õunpuu's The Last Ones, which is Estonia's submission for the best international feature Oscar, and was also recently seen in Antti Jokinen's Camerimage award-winning Helene.
Another local talent spot came with the selection of Estonia's Risto Vaidla, who had a small but pivotal role in Tanel Toom's box office hit Truth And Justice and has extensive on-stage experience, working at the Estonian Theatre for Young Audiences.
"The one-to-one meetings with casting directors and agents was great as well as a presentation about self-taping by Nancy Bishop [former CSA president, whose credits include Borat Subsequent Moviefilm and Mission: Impossible – Ghost Protocol]," Vaidla recalls.
"It directly led to several self-tape auditions, mostly English-language projects. The door is open right now as more productions are interested in shooting in Estonia, with the chance for more actors to be discovered. This was unthinkable even 10 years ago."
Vaidla's participation also led to being taken on by talent agent Robin Hudson of London-based Olivia Bell Management.
Hudson is taking part virtually again this year through one-on-one Zoom sessions. "Black Nights Stars has become such an important talent programme in discovering new European talent," he says. "For the Baltics, it's vital because it is expanding casting directors knowledge of the best upcoming actors in the region."
Hudson believes Black Nights Stars shines a spotlight on the actors at just the right time in their careers. "They are a little more rough in the diamond, having had local success with incredible work but are ready for the next stage," he suggests. "The programme really provides the chance for them to expand their outlook and careers."
There is one piece of advice Hudson says he gives every participant. "Local actors worry about their accent. That's something I want to change in their minds," he explains. "They see it as a flaw but it's a great strength. We're a more multicultural society than ever before and casting reflects that. They should embrace what makes them special."
This year, in addition to six actors from the Baltics, a further two from Russia have been added as part of the festival's Russia In Focus programme.
The eight selected talents are Aaron Hilmer (Germany); Antoni Sałaj (Poland); Hanna Ardéhn (Sweden); Henessi Schmidt (Estonia); Reimo Sagor (Estonia); Simonas Mozüra (Lithuania); Vika Sobol (Russia); and Vladislav Kulygin (Russia).