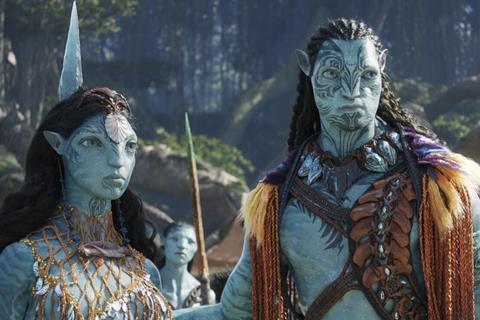 To some within the European film industry, the winter FIFA World Cup, taking place in Qatar from November 21 to December 18, is like a meteor crashing toward them.
Some have revised their winter plans to avoid a collision with the biggest football event on the planet. The International Documentary Festival Amsterdam (IDFA), for example, has shifted its dates because of the World Cup so it takes place from November 9-20, roughly 10 days earlier than normal.
"Indeed, we moved dates because of the World Cup. We are an audience and industry festival. We did a survey among our audience and a significant majority indicated that they would prefer to have IDFA not colliding with the World Cup," says Adriek van Nieuwenhuyzen, head IDFA Industry.
Benelux distributor Just Entertainment has brought forward the release of its new comedy Van As And Sons to avoid group matches involving Belgium. "We have basically been looking at all the play dates of Belgium – when they play and if it is an important game or not," says head of acquisitions Erik Engelen. The film will now release in early December.
There is a good reason for doing so. There is strong evidence that box office receipts can drop off sharply when a country's national team is playing in the finals.
When England's women won the Euro 22 final against Germany on July 31 (a match watched by over 11 million UK viewers), cinema attendance on the day was £3.6m. That is considerably down on the equivalent pre-pandemic day on 2019, when box office was £7.2m.
When England's men lost their Euro final to Italy on July 11, 2021 (a match watched by over 30 million in the UK), cinema box office plummeted to £1.7m, down from £4.4m on the equivalent day in pre-pandemic 2019.
'Minimal concern'
Nonetheless, speak to UK distributors, exhibitors and industry analysts and most express minimal concern about their release plans being disrupted by Harry Kane or Gareth Bale.
"Any cinema-going which is displaced from match days is caught up on other days, and the full range of major titles is released across the other 11 months of the year outside of the tournament period," observes Lucy Jones, executive director UK & Ireland, Italy, Middle East, Africa at Comscore.
The 2018 World Cup quarterfinal between England and Sweden, which took place on a Saturday afternoon, is a good example. The short-term effect on cinemagoing was devastating. "It took out the daytime box office because nobody was taking the kids or going during the day to anything… and then everybody went out celebrating in the evening," Gower Street analyst Robert Mitchell says of one of the lowest-grossing Saturdays in recent UK cinema history. However, the losses that day were soon made up and 2018 was still a very robust year for UK cinema overall.
The UK release schedule during this year's World Cup period is markedly less crowded than it was last November and December, when there was a bottleneck of unreleased new titles because of the pandemic.
Disney juggernauts
The lack of new titles, though, may have less to do with distributors' fear of the football than with steering clear of the two Disney juggernauts: Black Panther: Wakanda Forever is in cinemas on November 11, ten days before the tournament starts, and James Cameron's Avatar: The Way Of Water arrives on December 16, two days before the final.
Sunday ticket sales for Cameron's long-delayed sequel will be softer than if the film had surfaced in a non-World Cup year. According to FIFA, the 2018 final was seen by 1.12 billion viewers worldwide and the 2022 final ought to post similar figures. Nonetheless, the football shouldn't make too much of a dent in Avatar's overall revenues.
Sony is releasing Matilda The Musical on November 25 in the UK, targeting a younger audience, while Universal has its Harvey Weinstein abuse drama She Said and its Christmas action comedy Violent Night. However, very few other big studio movies are currently in the schedule in the World Cup period.
Counter programming
This has opened opportunities for independent and alternative fare. For example, fans of theatre, opera, music and dance will have plenty of "event" cinema to choose from during the World Cup period, including screenings of Matthew Bourne's Nutcracker!, the Mark Gatiss version of A Christmas Carol: A Ghost Story and a live broadcast of The Nutcracker from The Royal Opera House.
Veteran producer Stephen Woolley, who runs Number 9 Films with Elizabeth Karlsen, is confident that World Cup fever won't damage the box office performance of Oliver Hermanus' new feature Living, which Lionsgate are releasing on November 11, a few days before the World Cup begins.
"We are going for a fairly discerning audience, some of whom will of course want to watch some of the football on TV," Woolley observes of the film, which is based on Akira Kurosawa's 1952 classic Ikiru. "[But] a lot of films that are being released for older audiences are as strong at midweek as they are at weekends… really, we are only worried about the England games [in the World Cup]."
It helps, too, that many of the matches in Qatar take place in the daytime – and this should allow punters to enjoy the football and then go on to a movie in the evening. One theory doing the rounds is that there is less outdoor daytime drinking in the winter months and so potential cinemagoers have a better chance of staying sober enough to enjoy a film in the evening, even if Wales and England do win matches.
Whatever the case, it is clear that exhibitors and distributors are ready for what the football might throw at them.
Since the last World Cup, they have dealt with everything from the pandemic (which closed cinemas) to transport strikes, the vagaries of the weather, the pull of other sporting events like Olympics, the looming threat of the streaming giants and the distraction of hit TV shows such as Bake Off and Love Island. The FIFA World Cup is just the latest in a never-ending line of challenges.
"I think all exhibitors are now sufficiently inured to this that they work around these things," says Phil Clapp, chief executive of the UK Cinema Association, striking a sanguine note. "They deal with the hand that they are given."