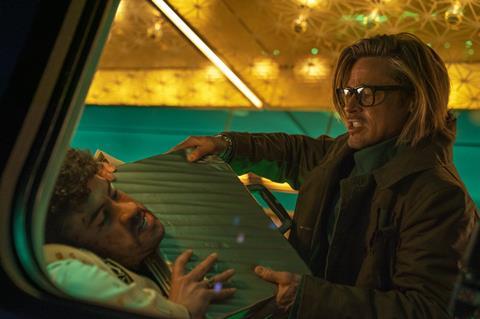 Worldwide box office August 5-7
| Rank | Film (distributor) | 3-day (world) | Cume (world) | 3-day (int'l) | Cume (int'l) | Territories |
| --- | --- | --- | --- | --- | --- | --- |
| 1. | Bullet Train (Sony) | $62.5m | $62.5m | $32.4m | $32.4m | 58 |
| 2. | Moon Man (various) | $59.9m | $296.3m | $59.9m | $296.3m | 1 |
| 3. | Minions: The Rise Of Gru (Universal) | $23m | $757.9m | $15.9m | $423.3m | 81 |
| 4. | DC League Of Super Pets (Warner Bros) | $22.6m | $83.4m | $11.4m | $38.3m | 68 |
| 5. | Warriors Of Future (various) | $20.6m | $29.9m | $20.6m | $29.9m | 2 |
| 6. | Thor Love And Thunder (Disney) | $18.7m | $698.9m | $11.1m | $382.8 | 49 |
| 7. | Top Gun Maverick (Paramount) | $17.3m | $1,352.5m | $10.3m | $690m | 65 |
| 8. | Emergency Declaration (various) | $11.2m | $11.3m | $11.2m | $11.3m | 4 |
| 9. | Hasan Rising Dragon (various) | $10.6m | $28.6m | $10.6m | $28.4m | 3 |
| 10. | Nope (Universal) | $8.5m | $98m | N/A | N/A | 1 |
Credit: Comscore, all figures estimated, click top right to expand
'Bullet Train' tops chart with decent $63m debut
Sony's release of Columbia Pictures' Bullet Train is being billed as the biggest opening for a US studio original-IP film since Tenet, with an estimated global take of $62.5m – $30.1m in North America, and $32.4m for 57 international territories.
The "original-IP" designation ignores the fact that the Brad Pitt starrer is based on Kotaro Isaka's 2010 novel, originally published in Japan as Maria Beetle. However, the success of the film in markets released so far does not depend on audience familiarity with the source material – so essentially Bullet Train becomes an original-IP big-screen proposition.
Sony estimates that the international markets released so far represent 73% of the international footprint.
UK/Ireland leads for international, with a chart-topping estimated five-day $3.5m, ahead of France with $3.1m and Mexico with $3.0m – both likewise with a Wednesday start. Australia launched with $2.2m, and Saudi Arabia with $1.9m.
Key markets still to release are South Korea (August 24), Italy (August 25) and Japan (September 1). Latter territory could play a strong role, although the "west-washing" of key characters – to allow the film's international cast also including Aaron Taylor-Johnson, Brian Tyree Henry, Joey King, Michael Shannon, Sandra Bullock and Benito A Martinez Ocasio aka Bad Bunny – may provoke a mixed response in the Japanese market.
'Minions: The Rise Of Gru' pushes past $750m barrier
UPDATED: With Chinese sci-fi comedy Moon Man in second place in the global box office chart (with $59.9m), Universal's Minions: The Rise Of Gru proved the top family film at the weekend – edging out DC League Of Super-Pets, which slides to fourth.
The Illumination Entertainment animation grossed a confirmed $17m in international markets (down 37%) and $7.1m in North America (down 35%) for a $24.2m global session. Cumulative totals are $424.4m for international, $334.6m in North America, and $759m worldwide.
In cumulative totals, UK/Ireland leads the international pack with $43.9m – ahead of Mexico ($36.9m) and Australia ($28.2m – becoming the biggest film in the Despicable Me Minions franchise in this market). Yet to release is Italy, where the film lands on August 18.
The Rise Of Gru is now 65% of the way to matching the $1.16bn global total achieved by Minions in 2015, and has reached 74% of the $1.03bn tally for 2017's Despicable Me 3.
Also for Universal, Jurassic World Dominion added a confirmed $7.6m worldwide, pushing the total to $960.3m. That puts the film ahead of Doctor Strange In The Multiverse Of Madness ($954.8m) to become the second-biggest hit of 2022, behind only Top Gun: Maverick ($1.35bn). Jurassic World Dominion has benefited from release in China, grossing $157.4m so far. Many major US studio titles have yet to secure a release in China this year.
Next for Universal is Nope, which lands in many key international markets this week. Jordan Peele's film has grossed an estimated $98m in North America in 17 days, and sits in 10th place in the current global box office chart.
'DC League Of Super-Pets' slides in second session
UPDATED: Warner Bros' DC League Of Super-Pets declined 43% in international holdover markets with a confirmed tally of $11.1m for the weekend. The film expanded its footprint, adding four new territories, including Netherlands ($575,000 estimate).
In North America, the drop was a steeper 51% – with a weekend estimate of $11.2m. Global total after two weekends of play is $83.4m.
In cumulative totals, UK/Ireland leads international markets with $7.5m, ahead of Mexico ($4.3m) and France ($3m).
Major markets yet to open are South Korea (August 10), Japan (August 26), Italy (September 1) and Australia (September 15).
Also for Warner Bros, Baz Luhrmann's Elvis broke through the $250m barrier at the weekend, with $251.4m so far. Top two international markets, and way out in front, are the key English-speaking territories of UK/Ireland ($27.6m) and Australia ($20.8m) – the latter of course also being Luhrmann's home country. Next in the league table is France with $7.8m.
Luhrmann's biggest global hit remains The Great Gatsby, with $353.7m. Elvis has already overtaken his Australia ($211.8m) and Moulin Rouge! ($184.9m).
'Top Gun: Maverick' rises up all-time chart
The weekend session saw Paramount's Top Gun: Maverick continues its rise up the all-time global box office chart, adding an estimated $17.3m to reach $1.35bn after 12 weeks of play. The Tom Cruise sequel now nestles in 13th place in this all-time chart, having just overtaken both Black Panther ($1.35bn) and Harry Potter And The Deathly Hallows: Part 2 ($1.34bn).
Maverick will need to add another $50m to catch up with 12th-placed Avengers: Age Of Ultron ($1.40bn) – which would require sustained viewing, and plenty more repeat business, over the next few weeks.
'Thor: Love And Thunder' nudges crosses $700m worldwide
Disney/Marvel's Thor: Love And Thunder became the top-grossing film in the Thor series at the global box office – if China and Russia (where the new film has not been released) are excluded from calculations.
On that basis, advises Disney, Love And Thunder has also passed the totals of 17 Marvel Cinematic Universe titles so far. The film's global tally is $701.8m, comprising $384.6m from international markets and $317.2m from North America.
Including China and Russia, the top Thor film remains 2017's Thor: Ragnarok with $854m.
China's 'Warriors Of Future' lands in global top five
Chinese titles occupy two of the top five places in Comscore's global box office chart. As mentioned above, sci-fi comedy Moon Man is in second place, with $59.9m – and a sturdy $296.3m after two weekends of play. Landing in fifth place is sci-fi action film Warriors Of Future, with $20.6m for the weekend and $29.9m in total.
Ng Yuen Fai's film stars Hong Kong's Louis Koo (who also produces), and tells the story of a meteorite bringing extra-terrestrial life to Earth.
The success of Moon Man and now Warriors Of Future is helping to reduce China's box office deficit when compared with 2021. Four weeks ago, the year to date was running 35.8% behind 2021, according to Artisan Gateway. Now it's 29.6% behind.