With Avengers: Age Of Ultron tearing up the box office and Star Wars: The Force Awakens on its hard drives, ILM London is looming large on the UK VFX scene. Michael Rosser speaks to head Ben Morris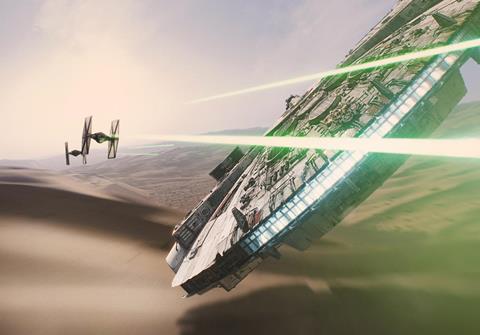 There has been a disturbance in the force. Or London's Soho, to be precise. Forty years after George Lucas set up visual-effects powerhouse Industrial Light & Magic (ILM) in San Francisco to realise his vision for space opera Star Wars, the pioneering company has established a Jurassic-sized footprint in the UK, where it is now handling some of the biggest studio releases of the year.
Oscar-winning visual-effects specialist Ben Morris is heading the London office, which has already completed work on Marvel/Disney's superhero sequel Avengers: Age Of Ultron, is putting the finishing touches to Ant-Man and has around 180 animators, artists and technology experts working on James Bond's upcoming mission Spectre, as well as the big one, Star Wars: The Force Awakens.
"We are a new studio with a 40-year legacy," says UK-born Morris, who joined ILM in October 2013. "It feels like we're a start-up with an incredible group of artists and a lot of backing."
This backing comes from Disney, which acquired ILM and the rights to Star Wars when it purchased LucasFilm in a $4bn deal in 2012. ILM, which remains headquartered in San Francisco and also has outposts in Vancouver and Singapore, was drawn to the UK by the newly enhanced film tax relief scheme introduced by the government in April 2014, offering significant tax breaks for creative firms.
But Morris says the VFX giant had been eyeing the UK for close to a decade. "Our animation director, Michael Eames, had previously worked on Dragonheart for ILM and had been talking to the company about setting up in London for the past several years," he recalls. "With major productions like Harry Potter, The Golden Compass and the Batman films, ILM realised there was a community of artists in the UK that it didn't have access to. A huge number of films started to be made in the UK at studios like Pinewood and Shepperton.
"We are a studio with a 40-year legacy. It feels like we're a start-up with a lot of backing."

Ben Morris, ILM London
ILM hired a small office in Regent Street to start both the recruitment process and pitch meetings to secure business for a new London branch. Last September, it was revealed that Disney had been given around $260m by the UK taxman in return for agreeing to make films in the UK. This included a record $50m tax credit to film Avengers: Age Of Ultron in the territory - the first project worked on by ILM London. "We handled 800 shots for Ultron, including the 'Hulkbuster' sequence," says Morris, referring to a scene many classed as the best in the action sequel - a fistfight between the Incredible Hulk and Iron Man.
Supervised by ILM veteran Ben Snow, the company also worked on shots of villainous character Ultron Prime, much of the opening sequence and most of the film's climax, from the lift-off of an entire eastern European city to the final frenetic battle. It undoubtedly helps business that Marvel and ILM now have the same parent company. "Marvel approached ILM because Ben Snow has a history on the Iron Man films," says Morris. "He really stepped up for ILM."
Of the film's total of 3,000 effects shots, which were handled by around 20 different VFX studios, the 800 shots worked on by ILM London were among the most complex. The highly detailed VFX that went into creating Ultron Prime comprised around 2,000 parts - 600 in the face alone - to convey the vocal performance of James Spader in the computer-generated character. Directed by Joss Whedon, Avengers: Age Of Ultron has taken $1.35bn since its release in April, which already makes it the fifth-highest box-office earner of all time.
The force beckons
With their work on Avengers complete, Morris says ILM London is preparing to start work on another Star Wars feature. He won't reveal whether it is the spin-off project Rogue One, to be directed by Gareth Edwards, or the still-untitled Episode VIII. Whichever it is, it could mean an expansion of the offices.
"I knew [making Star Wars in the UK] was a once-in-a-lifetime opportunity."

Ben Morris, ILM London
"We are in a building that will allow us to expand to 180 people," says Morris of ILM London's impressive HQ, complete with blacked-out windows and a large picture in the lobby of a girl in a Darth Vader helmet levitating a boy in a stormtrooper mask. "We didn't want to go huge straight away, but we are pretty full and are looking to expand beyond this building. London will be growing and taking on film projects of its own."
Until then, it's all systems go on JJ Abrams' The Force Awakens, ahead of a worldwide rollout that begins on December 16. For Morris, the project completes a circle that began when he was a child, using a Super 8 camera, Star Wars figures and a snowy day to recreate scenes from The Empire Strikes Back.
"Star Wars was the reason I got into the industry," says Morris, who came to ILM London after 14 years working at Framestore, where he was VFX supervisor. "It was a difficult decision to leave Framestore, but when this opportunity arose through calls with [producer] Kathleen Kennedy to make Star Wars in the UK, I knew it was a once-in-a-lifetime opportunity."
Morris got his start in the industry after being sponsored through his mechanical engineering degree by Jim Henson's Creature Shop, the once London-based studio with which he first worked on The Muppet Christmas Carol as a model-maker. He retrained in computer graphics in 1997 after witnessing the phenomenal VFX work ILM had produced on Terminator 2: Judgment Day and Jurassic Park: The Lost World. He also worked at Mill Film, on Ridley Scott's Gladiator and Tomb Raider among others, before joining Framestore in 2000.
Now at ILM London, Morris is deep in the world that first got him interested in visual effects, and spent six months on the set at Pinewood Studios and on location in the UK and Abu Dhabi. "Star Wars has been one of the most thrilling experiences I've ever had," enthuses Morris. "There is also a lot of responsibility to get it right."
Research and development
Another side of ILM London is its research and development division, which Morris reveals is working on an intriguing project. "We have an exciting piece of R&D that will allow directors to see digital characters on the monitor as they shoot," he says. "It's called Real-time Digital Acting and will transform an actor covered in reference points into their character for the director to see on the set."
The two-year project is due for completion towards the end of 2016. "VFX has become a film-making tool for everyone," Morris says. "We used to create the things you couldn't create for real, but now we support the make-up and construction departments. The changes we make that you don't see are equally important to the ones that you do."
With ILM London's busy schedule pressing, Morris signs off: "Right, I'd better go make Star Wars."
Design and Effect Hayley Easton Street discusses the increasingly important role of the VFX Art Director. Nikki Baughan reports.
In the ever-changing world of visual effects, one development has been of greater importance than most: the closing of the gap between the pen-and-ink traditions of the art department and technology-led VFX teams.
"I'm there to make sure that the production designer's vision is carried over into visual effects."

Hayley Easton Street, VFX art director
Overseeing that partnership is the responsibility of VFX art directors such as Hayley Easton Street, who has worked on effects-driven blockbusters including Thor: The Dark World, Edge Of Tomorrow and Star Wars: The Force Awakens.
Although she works with cutting-edge technology, the most crucial element of Street's role is facilitating that relationship and ensuring visual cohesion. "Whenever the physical set build ends and digital extension begins, that's my domain," she says. "I'm there to make sure that the production designer's vision is carried over into visual effects.
"Everything I do is laid out in 3D," she continues. "I produce a lot of concept art, which may include the practical sets, and then build a basic 3D model and set up cameras to simulate whatever we're shooting on. We can then determine how much of the set should be practical, how much should be visual effects and where we need to put the green screens. It's all about working out the technicalities of how those visual-effects shots might be executed ahead of time."
Translating those ideas to the VFX teams is the next stage of the process, which can take up to a year depending on the size of the project. "When visual-effects work is done, the production designer is often no longer on the project," she says, "so I do a handover for all the visual-effects elements, from a view out of a window to a fully computer-generated shot.
I will give the VFX team a pack of information so that when they start the visual-effects shots, there's no doubt about what should be included." The sheer number of VFX shots in blockbuster titles such as Wrath Of The Titans, Street's first as a VFX art director, means it is essential to have someone overseeing them from design to completion. "With all of the big films, like Star Wars and [forthcoming JK Rowling adaptation] Fantastic Beasts And Where To Find Them, the most important thing is making sure the pre-vis teams start off on the right foot, because so much work is done at that stage."
While old-fashioned communication remains vital, tech developments have increased proficiency across the board. "When I started, you couldn't do a course to learn visual effects; the only way was to get a job as a runner and work your way up, which I did," she says. "Now, people expect their art department staff to have some sort of 3D or digital drawing skills.
"That shift happened quickly and brings massive benefits," she continues.
"There are still instances where there will just be 2D drawings, but usually we're giving VFX a 3D model, which makes the process so much more efficient. It feels like we're all finally on the same page."