Riding high after its $1bn year in 2015, Imax is planning high-profile moves into original film production, one-off TV specials and virtual reality.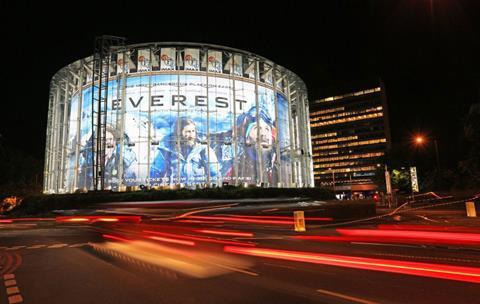 Already operating 1,066 screens in 68 countries, with a further 380 in backlog, Imax's grosses passed $1bn for the first time in 2015, a 31% increase on 2014. The first quarter of 2016 has started even more impressively, with takings of $272m, up 64% on the same period last year, driven by the releases of Deadpool and Captain America: Civil War.
In Europe, Imax saw particular success in northern territories last year. Despite only opening in November, Sweden's first Imax theatre, in Stockholm, was the company's second-best performing site for Star Wars: The Force Awakens, selling 30,000 tickets before doors even opened and ranking behind only London's BFI Imax [pictured top], which continues to be the format's top cinema.
Andrew Cripps, president of international and executive vice president of Imax Corp, has good reason to flag up his optimism about future sites in Scandinavia, highlighting elevated ticket prices, disposable income and frequency of cinema visits.
Other fruitful territories include the UK, Russia, Netherlands, Austria and Denmark. The outlook has been less rosy in southern Europe, but Cripps is confident fortunes there will change: "In the last few months, we've had a number of discussions with partners in that part of the world. The economies have rebounded and cinema-going has turned the corner. People are looking again at investment in the industry."
With China set to become the world's largest cinema market next year, Imax continues to take huge strides in the country. "The growth in that market is just incredible," says Cripps. The company operates 297 sites in the country, with a further 220 in backlog — second only to the US, where the screen count sits at 394 (but with only 29 in backlog). Recently, Legendary Pictures and Universal's Warcraft broke records in China for an Imax release, amassing $8.2m in pre-sales ahead of a $5.3m opening day.
Original content
Aside from playing big US releases in its Chinese cinemas, Imax also works with Asian partners to release local-language product. In 2015, Mojin: The Lost Legend was the 10th highest grossing Imax release globally (see table). "We've got a good track record of selecting the top Chinese films," says Greg Foster, chief executive of the company's film-focused arm, Imax Entertainment. "Chinese distributors passionately want us to be a part of their industry."
In North America, Imax's takings were up 35% in 2015 and the first quarter of 2016 is up 65% year-on-year. While it has been suggested that Imax may have plateaued in the US, CEO Richard Gelfond remains bullish: "The US is resurgent thanks to the amount of blockbusters happening now. Most analysts thought we were close to our potential but I expect to see significant screen growth this year."
Imax's strong global performances have built up significant cash reserves, which the company is now looking to reinvest back into the business through the production of original films. While most details remain under wraps, Foster reveals the first of these projects is slated for release in late 2017, and that the company will aim to produce two Imax original features per year. These would supplement the company's existing roster of studio releases, slotting into gaps in the schedule, rather than competing directly. "We're at the mercy of the films that are being made," says Foster. "Our responsibility is to release 52 weeks of compelling content. There are only 40 weeks where that's an option through the traditional studio route, so we have to come up with our own content."
The original productions will be filmed using Imax cameras, helmed by film-makers who have an Imax affiliation, and released only on Imax screens. Early talks are underway, and Foster reveals they are exploring the possibility of partnering with broadcasters to make one-off, feature-length specials of high-end television series as part of the endeavour, citing the example of Game Of Thrones, though insisting no HBO deal is on the table.
Imax also recently announced it is partnering with Google to develop a cinema-quality virtual-reality (VR) camera, which is expected to be ready in 18 months. "VR is the first new thing that I've felt film-makers and studios really embrace," says Foster, citing support from Michael Bay and Paramount Pictures vice chairman Rob Moore among others. "It has serious traction."
In terms of content, Imax is focused on delivering bespoke theatrical VR experiences. "These will be standalone, five to 10-minute pieces about different worlds, supplements to films," says Foster. "You'll see the first of these in about a year, but there could be something before that."
TOP IMAX RELEASES, 2015
| Title | Worldwide box office | IMAX % of gross |
| --- | --- | --- |
| Star Wars: The Force Awakens | $219.9m | 10.6% |
| Jurassic World | $123.8m | 7.4% |
| Avengers: Age Of Ultron | $92.8m | 6.6% |
| Furious 7 | $88.6m | 5.8% |
| Spectre | $52.6m | 6% |
| Mission: Impossible - Rogue Nation | $45.5m | 6.7% |
| Ant-Man | $31.2m | 6% |
| Terminator Genysis | $30.6m | 6.9% |
| Everest | $30m | 14.8% |
| Mojin: The Lost Legend | $27.8m | 10.7% |