Back in 2014, the Icelandic composer and director Jóhann Jóhannsson excitedly told Screen about the plans for his first feature film, Last And First Men.
The feature, which will finally have its world premiere in Berlinale Special, "straddles the border of fiction and documentary" and Jóhannsson saw the film in three layers: images of abstract stone monuments erected in the communist era in the former Yugoslavian republics; text (narrated by Tilda Swinton) drawn from Olaf Stapledon's eponymous 1930 sci-fi story; and his original music.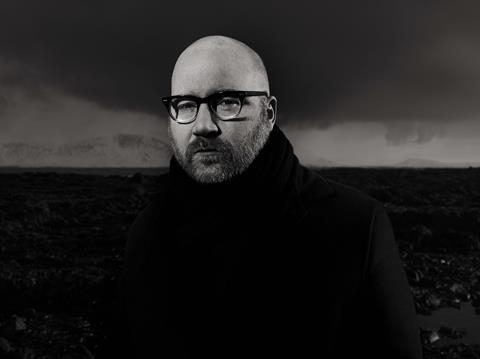 Jóhannsson told Screen six years ago, "These statues are a little bit like they are from another planet dropped into the nature. They kind of have fallen into neglect, as a reminder of a past most people don't care about. Some are covered in graffiti, overgrown by vegetation. They are these beautiful beacons of this old Yugoslav social utopia."
The creative team behind Last And First Men has had to take an unexpected journey to finish the film after Jóhannsson's death, at age 48, at his home in Berlin in February 2018.
Thor Sigurjonsson of Iceland's ZikZak Filmworks first spoke to Jóhannsson about the project in 2012; backers that came on board included Icelandic Film Centre, broadcasters RUV and ARTE, and Deutsche Grammophon, the record label that will release the film's score digitally on February 28 and on CD and vinyl on March 27. Films Boutique is selling the film in Berlin and beyond.
Sigurjonsson wasn't surprised at the themes Jóhannsson wanted to explore in his first feature. "This sits in Jóhann's wheelhouse – when he does music and film, he looks at crumbling society."
The composer and musician was best known for his work on films such The Miners' Hymns, Sicario, Prisoners, Arrival, Mandy and The Theory Of Everything (for which he won a Golden Globe).
Sigurjonsson says that even before Jóhannsson's death, the project's trajectory was atypical. "We didn't know when it would be finished, because his composing career had skyrocketed. I told him, 'This is not something we have to push to finish.' Sometimes the longer you work on things the more relevant to the times they actually become."
Copenhagen-based cinematographer Sturla Brandth Grøvlen, whose credits include Victoria and Rams, met Jóhannsson in 2014 and loved his vision for the project. "I was kind of craving that kind of project where it's a bit more experimental and not necessarily narrative in a traditional way. And he had such a clear visual concept – Johann presented very strong ideas of how he wanted it to look and feel and sound."
They shot on 16mm film in black and white. "It was very analogue, and that was something I was really interested in trying out," recalls Grøvlen, who also stepped up as a producer of the film. The shoot lasted about three weeks in 2015, with a small crew – led by Jóhannsson – driving around the Balkans in a van.
"We talked about how to approach these monuments in a more abstract way. We talked about how we could create movement with the monuments, in something that is not moving at all. We wanted to treat them like spaceships."
The edit process was slow. "Johann edited the film himself for a couple of years, on and off while he was making music and doing all these other big projects. Then Thor hired an editor from Denmark, Mark Bukdahl, and that's when things started taking shape in a more defined way," says Grøvlen.
The film's collaborators decided soon after Jóhannsson's death that they wanted to complete his passion project, and secured the blessing of Johansson's management team and his estate.
While the edit was in good shape, finishing the music was trickier. Sound artist and composer Yair Elazar Glotman spent the year after Jóhannsson's death interpreting his friend's wishes and finishing the music (they are co-credited with the score).
"Yair worked so hard," notes Grøvlen. "It was a huge job to go through all his files and get an overview of what Johann intended to use and then fill in the blanks."
The team plan to release the film at festivals and theatrically, and also to tour it with live orchestras in the future (some footage and music from the project was presented at the Manchester International Festival in 2017).
Grøvlen and Sigurjonsson both believe Jóhannsson would be proud of the finished film. "I'm very proud of the film," says Grøvlen. "The concept from the beginning was so strong and clear. Our job was to just tie it together and make the best version of it we could."