Finnish director discusses debut feature The Happiest Day In The Life of Olli Maki, Finland's 2016 Oscar submission.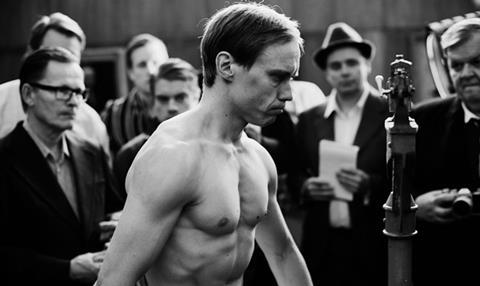 Juho Kuosmanen's debut feature, The Happiest Day In The Life Of Olli Maki, offers an unassuming but exquisitely crafted look at the eponymous Finnish boxer (played by Jarkko Lahti), who is more concerned with wooing new girlfriend Raija (Oona Airola) than winning the championship title in 1962.
"He was the boxer who didn't want to knock out anybody. As an artist, that's a 'wow' moment for me… he's realising, 'I already won the fight. I'm not doing a knockout just because the audience wants to see it,'" says Kuosmanen, who wrote the original screenplay with Mikko Myllylahti.
As a film-maker, Kuosmanen also stays true to his vision. Olli Maki is far from a typical, visceral Rocky-style boxing film; it is more of a minor-key character study, shot in black-and-white.
The film's understated charms have won over audiences around the world, starting in Cannes, where it was the winner of the Un Certain Regard award. "People are much more interested in 'the film that won Un Certain Regard' than a black-and-white Finnish debut," he says.
Olli Maki has certainly garnered interest, winning the top prizes in Zurich and Chicago, and screening in Toronto. Now it is the Finnish foreign-language Oscar submission; MUBI picked up US and UK rights to the film and will release theatrically. Les Films du Losange handles international sales and has closed more than 20 deals abroad.
One crucial audience to impress was Olli and Raija Maki. "It was terrifying. We had won the prize [in Cannes], but we had a huge responsibility to them," Kuosmanen says. Thankfully, they were fans. "Raija said it felt like living those days again, and that felt very, very nice."
Kuosmanen also felt a certain kinship to Olli Maki when he was feeling the pressure of making this debut film. Kuosmanen had won a Cannes Cinefondation Award in 2010 with his 60-minute film The Painting Sellers, so he knew his first feature could end up at the festival. "I was thinking about what do I want and what success is," he says.
"You can get lost with your own will and wanting to live up to other people's expectations. The way Olli was thinking back then, and the way I'm still thinking about a lot of things, we have a similar world view."
Kuosmanen praises his collaborators for giving him the freedom to make the film he wanted to make; producers are Aamu Filmcompany, One Two Films, Film Vast and Tre Vanner.
Now he will likely have offers to make bigger films abroad, but he only wants to do that if he finds the right project and is writing some Finland-set scripts. "The freedom that I gained with this film is the thing I want to most hold onto right now."