Best known for her TV and theatre work, Laurie Metcalf has earned her first Oscar and Bafta nominations for her turn in Greta Gerwig's Lady Bird.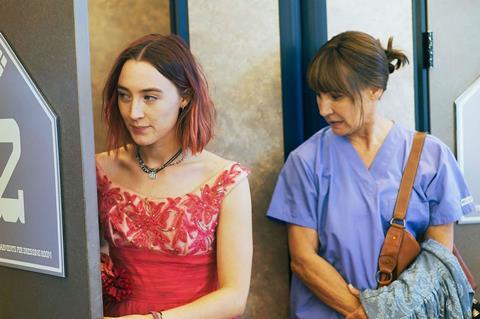 There is a pivotal — and ultimately highly dramatic —scene in Greta Gerwig's Lady Bird in which Laurie Metcalf's mother character is driving to Sacramento airport to see her daughter off to college. It was a nerve-jangling sequence to pull off, both physically and emotionally, not least because the car had a camera mounted on the hood which was partially obscuring Metcalf's view of the road. The actress was also required to delicately unfold the conflicted mother's agonising wave of emotions using just her eyes and facial expressions.
"I was especially worried about that scene as I knew Greta wanted to shoot it in one big, long take and I felt a lot of responsibility on my shoulders. I didn't know if I could sustain it for that long," Metcalf reveals. "So I broke it down in chunks: 'OK, when I see this signpost, that's when I start to have second doubts about myself, and then when I see this tree that's when I realise, 'Oh maybe there's time to get back there.' I have to technically break it down like that for the emotional journey. It was draining."
For an actress who usually likes to do many takes, Metcalf told Gerwig she would prefer to do this complicated and demanding scene just twice. "That's not usually how I work," she says. "I really do like to do things over and over again as I come from the stage and I find that things get better the more you rehearse."
Marion, the hard-working, sharp-tongued mother of Saoirse Ronan's 17-year-old, awkward, rebellious Lady Bird, is Metcalf's first significant film role. Her career has mostly been in TV where she played Jackie on the ABC sitcom Roseanne for nearly a decade, and in the theatre, both as a founding member of the renowned Steppenwolf Theatre Company in Chicago and on Broadway where she won a Tony award for her role in A Doll's House, Part 2 in 2017. The latter was produced by Scott Rudin who also produced Lady Bird. It was Rudin who suggested Gerwig send Metcalf the script.
"I've had teenagers of my own, three of them so far and with one of them approaching and so I really identified with the head-butting that's written into the script," says Metcalf. "I also appreciated the moments of empathy that remind us we are only seeing Lady Bird and her mother at a particular moment in their lives where there is a lot of antagonism happening and passive aggressive behaviour and buttons being pushed. But it hasn't always been like that and it won't always be that way."
When production began, other than an initial chat each morning to set the tone for the scene, Gerwig let her actors find their own way into the material.
"Everything was on the page. Everything was set to go," Metcalf explains. "Everything had been meticulously gone over by Greta before any cameras were rolling. Greta's writing is… seasoned… for someone who is as young as she is, frankly. As was her directing. She seemed like she had done it her whole life. You could sense she was her happiest watching the monitor, standing next to her cinematographer. She'd have this big grin on her face and she'd just look like it was pure joy. That's also the vibe on the set she created."
What difference did it make to Metcalf to be directed by a woman? She pauses. "The only difference that I could sense, besides loving to work with a director who really knows what they want and have a vision, is that there was a maternal vibe," she says softly. "That's how Greta is in the sense she wanted to make sure that everyone was taken care of, that everyone felt heard, listened to, appreciated, and I'll call that maternal. But I did, I felt nurtured on the set and protected and very secure."
Movement gathers pace
The timeliness of Lady Bird in being a film about women, written and directed by a woman, is not lost on Metcalf. She has been very affected by the female-led movement calling for an end to sexual assault, harassment and inequality in the workplace and describes the atmosphere at the recent Golden Globes ceremony as "electric". She continues optimistically: "I have a lot of hope. I think this has all been really positive. I hope there's not a backslide into complacency again, but I don't see that happening."
The campaign for equal pay for women resonates particularly for Metcalf. "It's really made me have more confidence in making sure that's not happening to me any more. Because it has," she says. "It's a touchy issue. It's always hard to talk about money with people you're working intimately with. It's always been a little taboo. Not any longer, I don't think. I want to correct that as soon as possible, for myself."
Metcalf is now returning to Broadway to star on stage with Glenda Jackson in Edward Albee's Three Tall Women. She recently wrapped a nine-episode reunion series of Roseanne and is hopeful there will be a follow-up. "I know everyone in the cast would love to come back and do it again if it's received well. I have my fingers crossed that we can do it again."
Following Metcalf's Oscar nomination, her first, for Lady Bird, it might be a case of if they can afford her. She laughs. "Right."