Dir: Agnes Varda. France. 2008. 110mins.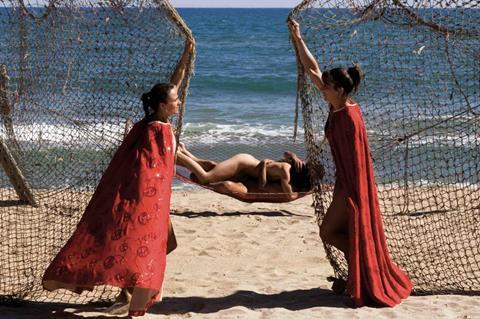 Agnes Varda takes a gentle look at her own life as she celebrates her 80th birthday in this charming, good humoured film which uses reconstructions of events in her life, old photographs and excerpts from both her and her late husband Jacques Demy's films. A film that puts the personal ahead of the professional and suggests Varda didn't encounter hardship and pain until the Demy's death, it will find a happy home at festivals, film events and cultural TV channels.
Born in Brussels, Varda moved with her parents to France during the Second World War and made her first film when Godard recommended her to a producer who was looking for someone to make a film as low-budget as Breathless. Varda was already an established photographer and unlike most New Wave directors who all came from a background in film criticism, she claims she had seen no more than nine or ten films by the age of 25. Indeed, it's only half way through the film that she gets to her introduction to the world of film-making and when she does, she's less interested in the language and history of film and her own contribution in it and more in the people she was close to, particularly Demy, and the political causes she committed to.
Varda travels from Paris to Los Angeles and from the beaches of the North Sea to those of the Pacific Ocean, to the places that have appeared in her films. Most of her work are mentioned as are such actresses as Jane Birkin and Sandrine Bonnaire with whom she has worked.
Varda has been exclusively making documentaries since 1990 after moving between fact and fiction and often combining the two in her film-making career which began with La Pointe Courte. This, however, is the first time she has been such a presence in front of the camera, constantly reminding the audience that this is a personal point of view of her life. The film crew around her is often visible at work, the many mirrors on display underlining the fact that this is a self-portrait, and there are abundant references to frames and framing. And if she mentions influences, it is Braque or Magritte rather than any film-maker although she doesn't forget Alain Resnais who helped her edit her first films and Chris Marker, the secretive film-maker who hides behind the portrait of a cat and has his voice digitally altered when he pretends to interview Varda.
This feels like the work of an octogenarian who wishes to be leave those close to her a well rounded self-portrait to remember her by. These intimate recollections, bathed in a tender, ironic nostalgia which is always good humoured and rarely bitter, are always pleasing to watch and there are amusingly imaginative surrealist set-ups (a beach in the heart of Paris or an all-women production office in a busy street). Some pruning would have helped.
Production companies
Cine-Tamaris
Arte Cinema
International sales
Roissy Films
(33) 1 53 53 50 50
Producers
Agnes Varda
Screen play
Agnes Varda
Cinematography
Alain Sakot
Helene Louvart
Julia Fabry
Jean-Baptiste Morin
Agnes Varda
Production design
Frankie Diago
Editors
Agnes Varda
Jean-Baptiste Morin
Baptiste Filloux
Music
Joanna Bruzdowicz
Stephane Vilar
Paule Cornet