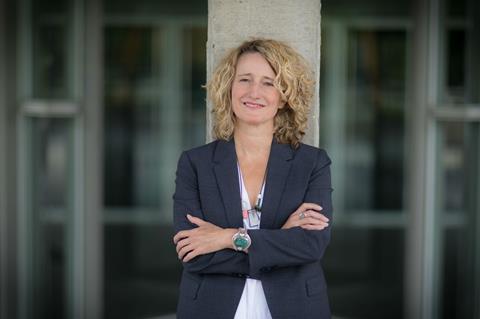 In charge of her first BFI London Film Festival, interim artistic director Tricia Tuttle has laid out her ambitions for this year's event.
Tuttle is running the event this year, working alongside managing director Anne-Marie Flynn, until incumbent head Clare Stewart returns from a year-long sabbatical in December.
For 2018, the LFF has slimmed its programme to 225 features (down from 248 last year). "That's a purposeful toning of the festival to make sure we give every film more breathing space," explains Tuttle.
Highlights include Luca Guadagnino's Suspiria, Alfonso Cuaron's Roma, Mike Leigh's Peterloo, Steve McQueen's Widows and Yorgos Lanthimos' The Favourite.
Many of the titles will travel to London off the back of world premieres at the Venice and Toronto festivals, and Tuttle says distributors view LFF as "a key launch pad for autumn season films, particularly those with awards season ambitions, as London is home to many Bafta and Academy voters."
She mentioned La La Land, Manchester By The Sea and The Shape Of Water as titles that "really built up a head of steam coming out of the LFF."
While Tuttle has been in the position of deputy artistic director since 2013, meaning her stamp is already firmly imprinted on the festival's programme, she explains that her key ambitions include "championing new female directors", as well as creating space for British film.
Tuttle says representation of female filmmakers was key this year. Across the entirety of the programme, women directors make up 38% of the selection, and 30% of the feature selection. Last year, female directors were 31% of the overall selection, and 24% of the feature film programme. "We're moving in the direction we all want to be moving in," comments Tuttle.
The festival head says that it "hasn't been that difficult to increase the amount [of women filmmakers] in the programme" and that, while the festival is focused on moving towards gender parity, "we don't set quotas for ourselves in the programming team".
"We're trying to serve our audience. It's always at the heart of our curatorial decision–making process, but we haven't set out to hit targets, we've genuinely found incredibly rich talent," she continues.
There is a higher percentage of women directors in the first time feature and short films sections, which Tuttle hopes means "the industry is nurturing female voices" and "that is going to have knock-on effect going forward".
This year's line-up features 39 titles that are UK films or co-productions with the UK, representing 17% of the programme. The titles include the world premiere of Ben Wheatley's Happy New Year, Colin Burstead, Tinge Krishnan's Camden-set musical Been So Long, starring Michaela Coel, Jon S. Baird's Stan & Ollie, with Steve Coogan and John C. Reilly, and Harry Wootliff's Only You, starring Josh O'Connor and Laia Costa. "The programme needs to represent the depth and range of filmmaking talent in the UK," Tuttle says.
Elsewhere, the LFF is attempting to become more relevant to the UK outside of London this year, with the previously announced gala screening of Peterloo at HOME in Manchester, "Our ambition is to provide a world class festival for London and UK," says Tuttle.
Festival changes
Changes to the LFF implemented by Tuttle and her team for 2018 include pulling the BFI archive selections back into its own strand, rather than dotting the films throughout the programme, which they hope will make them easier to find for audiences.
The festival is also shaking up its awards this year in a bid to make them more relevant to the public audience. Instead of the previous invite-only awards ceremony, this year the LFF will present its four key awards – for best film, best first feature, best documentary, and best short – on the penultimate evening of the festival at public screenings, with audience members purchasing tickets not knowing which films will triumph. The presentation of the award will be followed by a screening of the winning film.
On the TV side, the festival won't be increasing the presence of small screen content this year, but will screen the first two episodes of The Little Drummer Girl from the BBC, AMC and The Ink Factory.
Streaming giants
Festivals including Cannes and Venice have received controversy for programming Netflix titles that are unlikely to receive much theatrical play before being shown on the streaming platform, with French exhibitors putting so much pressure on Cannes that the festival felt it necessary to ban Netflix films from its Compeition this year.
LFF currently has no such issues, says Tuttle. "We have really great relationships with both Amazon and Netflix and a number of their supported projects in the festival", she says, pointing to David Mackenzie's Outlaw King, Cuaron's Roma, Guadagnino's Suspiria, and Krishnan's Been So Long.
Picturehouse dispute
The festival will again be using London's Picturehouse Central as one of its venues, a decision that proved controversial last year when union Bectu organised a strike during an LFF screening to highlight the ongoing wage dispute between Picturehouse-owner Cineworld and its workers.
Tuttle admits that the BFI is expecting further action from Bectu at this year's event. "It was ugly last year. It's not a great situation, we're really disappointed that the situation hasn't been resolved, but our commitment is to audiences and filmmakers.
"We are a London living wage employer and we absolutely encourage our partners to do that too. We support workers' rights to legally take action to improve their working conditions. [However] it's not a dispute between the BFI and its employees, it's not in our jurisdiction."